Découvrez la Culture Mauricienne
Ce contenu n'est pas disponible en français
There's a lot more to this paradise island than just beautiful beaches. Step away from the beach to learn how decades of colonisation have resulted in a richly blended culture, cuisine, and diverse customs.
You can find churches next to mosques and Chinese pagodas next to Indian temples. Throughout the year, various Indian traditions, Buddhist, Christian, and Muslim festivals, and devotion are observed with great fervour.
The island's culture is founded on its population's diversity, and it is articulated by literature, sport, cuisine, music, local crafts, religion, and tradition. This is all you can see from the comfort of your accommodation.
Literature
Mauritius has a diverse language population, with literature written in French, English, Creole, and Indian languages. Exoticism, multiracialism and miscegenation, cultural and social tensions, indianocéanisme, and more recently post-modernism and post-structuralism currents are all major themes in Mauritian literature.
Despite the fact that Kreol Morisyen is the most widely spoken language in Mauritius, the majority of literature is written in French, though many writers still write in English, Bhojpuri, and Kreol. Dev Virahsawmy, a renowned Mauritius playwright, writes exclusively in Kreol.
'Paul et Virginie,' written by French author Bernardin de Saint Pierre, is the most popular novel set in Mauritius. This book, first published in 1787, tells the story of two young lovers and touches on topics such as Mauritius culture and slavery during the French colonial era. The novel vividly depicts the island's problems, as well as the breathtaking scenery and Mauritian way of life.
Sport
As in other countries, football is hugely popular, especially England's Premier League. The most followed clubs are Liverpool F.C. and Manchester United.
The national governing body is the Mauritius Football Association. Internationally, Mauritius is represented by Club M in senior competitions, and by the U-17 and U-20 teams in youth competitions
Mauritius also has solid teams in volleyball and basketball, all competing to a high standard.
Horse racing, however, remains the national sport and is an integral part of the island's traditional heritage. You can experience horse racing live in the capital at The Champ de Mars Racecourse. Founded in 1812, it is the oldest racecourse in Mauritius and in the whole Southern Hemisphere!
If water-sports are your thing then Mauritius will spoil you with an array of aquatic activities from scuba-diving, to kite-surfing to sailing on the crystal seas all over the island.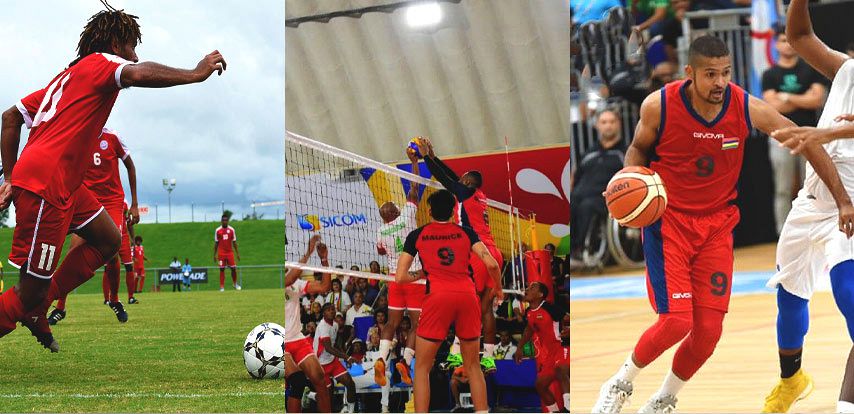 Cuisine
Mauritius' cuisine is a fusion of African, French, and other European cuisines, as well as influences from China and India. It's common for a meal to have a variety of cuisines.
Mauritius has some of the best street food in the world. Local vendors sell a mouthwateringly diverse variety of dishes. Dholl Puri is a flatbread rolled up with pickles and chutney and spread with yellow split peas. Gateaux piment, which are spicy fried split pea cakes, are common among the locals. Don't be afraid to try out some of the local delicacies. You may not be able to resist the smells that will entice you when you're out exploring the many shops and cafes.
The French took control of Mauritius in 1715 and renamed it Isle de France, ruling the island for most of the next hundred years. Although the British usurped the French in 1810, there is still a strong French influence on the area. This shows not only in its food like Coq au vin and civet de lievre, but also in the islanders' practice of serving good quality wines. The delectable shortbread cookies filled with jam known as napolitaines are a Mauritian specialty.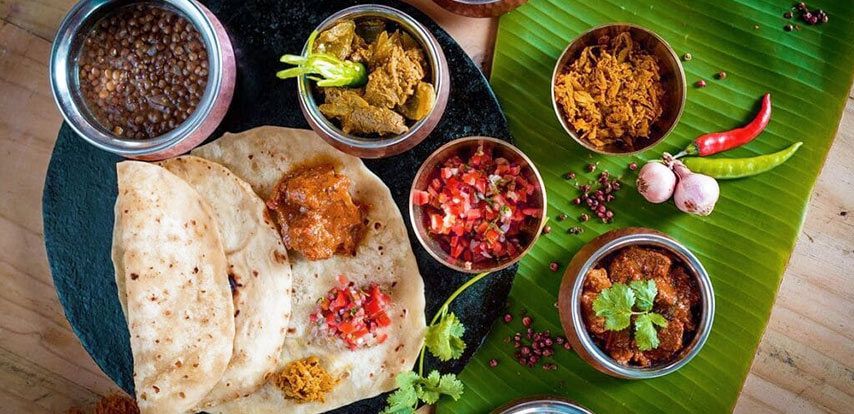 In the 19th century, Indian workers migrating to Mauritius took a blend of cuisine influences with them. Since the workers come from all over India, Mauritius has components of both northern and southern Indian cuisine. This means you will find hundreds of different types of curry on the island.
Mauritius is known for its fresh seafood, but also offers duck among other meat options. Although the chewy octopus curry isn't for everybody, it's worth trying if you have the chance. While its sauces contain common ingredients such as garlic, onion, and fresh curry leaves, Mauritian curry has its own distinct flavour.
Chutney, pickles, and lentil accompaniments are eaten with curries. Faratha, similar to Indian paratha, is a doughy buttery bread that is eaten with curries, which you can buy from the local markets and in restaurants.
At the end of the nineteenth century, migrant workers from southeast China settled in Mauritius. They are honoured for their contribution to making rice and noodles a staple of Mauritius' diet. Hakien is a native variant of the spring roll that is filled with flour batter instead of the usual roll wrapper.
A wide range of Asian restaurants can now be found throughout the island. Crispy squid and fried noodles are two other local favourites, all of which you can purchase from one of the several street vendors.
Music
Music plays a big part in Mauritian culture and the most listened-to styles are Séga, Reggae, and Seggae. Sega is a type of ritual music that originated in continental Africa and Madagascar. It is a musical representation of Mauritius' way of life: lighthearted, vivid, and joyful.
Men wear oversize shirts and baggy trousers, while women wear long and colourful skirts. You can get the séga attire at the central market in Port- Louis or Grand Bay. Tourists are often invited to join this cheerful dance barefoot when they visit the island, be it on the beach or in resorts.
Séga's well-known singers are Fanfan, Serge Lebrasse, Ti Frére, Michel Legris and Marlène Ravaton. The music has been passed down over the generations and is enjoyed by all in the community.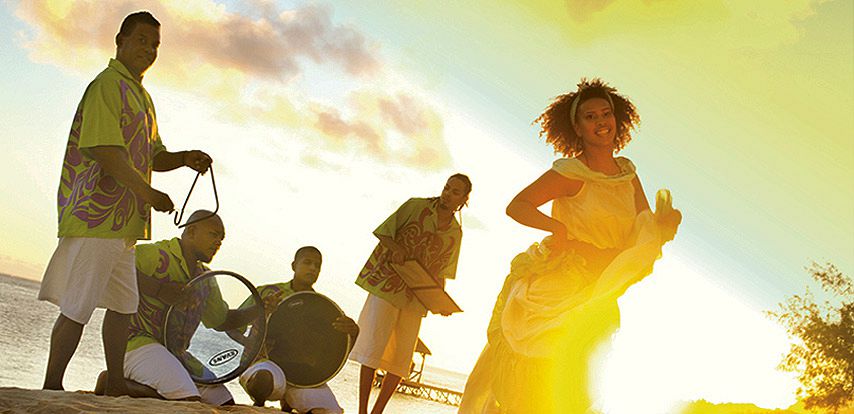 Festivals
In Mauritius, public holidays consist mainly of religious and traditional festivals. You will not find those public holidays anywhere in the world as in Mauritius which is a real cocktail of cultures and religions where each community faithfully preserves the traditions of their ancestors.
In Mauritius, New Year is celebrated all year long. First, from the 31st of December to the 1st of January, New Year's Eve is observed as it is around the world, and the 2nd of January is also a national holiday.
The Chinese then celebrate their New Year, also known as the Spring Festival, in late January or early February, which is the Chinese community's most significant festival. Events include feasting, fireworks, and parades with lion and dragon dances. The main events take place in Chinatown, Port Louis.
By the end of March comes the New Year of two Hindu communities, the Telegu celebrating Ugadi and the Marathi celebrating Gudi Padwa and with them, the whole of Mauritius celebrates this day which is also a public holiday.
Diwali takes place in late October or early November and is the Festival of Lights, celebrated by millions of Hindus, Sikhs, and Jains across the world. Diwali, which for some also coincides with harvest and new year celebrations, is the triumph of good over evil, and light over darkness.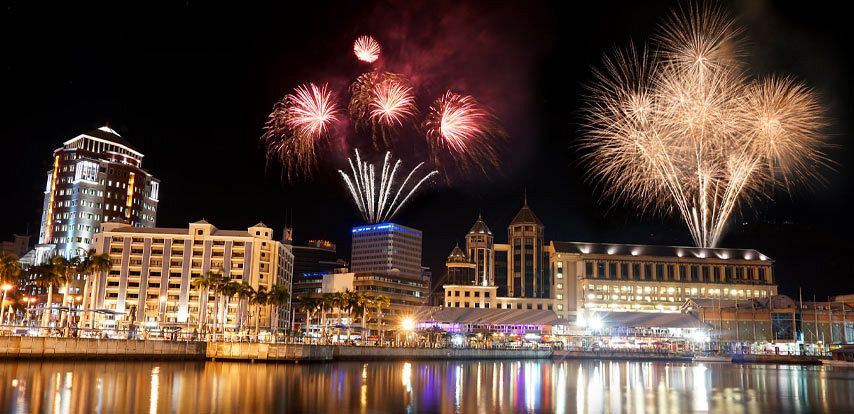 Other religious festivals are:
Maha Shivaratri is celebrated by the Hindus in honour of the God Shiva. Hindu devotees, clad in spotless white, carry the "kanwar '', a wooden arch covered with flowers on pilgrimage to Grand Bassin, to fetch holy water from the lake.
Thaipoosum Cavadee, a Tamil Hindu festival that takes place annually at the cusp of January and February. It sees devotees, many with pierced tongues, cheeks, or limes hanging from their skin by hooks, bearing ornate cavadees to the temple.
Holi - is celebrated in March and symbolises the arrival of spring. Men, women, and children are all dressed in white outfits, douse each other with coloured water and sprinkle with coloured confetti, paint, and powder. Although it's a Hindu festival, people from all faiths can't resist partaking in the colourful festivities.
Ganesh Chaturthi is celebrated by the Marathi, natives of Maharashtra. The festival is preceded by a strict fast and daily prayers in the temple. This celebration marks the birthday of Ganesha, the God of wisdom according to Hindu mythology.
Eid-Ul-Fitr is a Muslim festival celebrating the end of the holy month of Ramadan of the Islamic calendar with prayers, gift-giving, charity, and feasting. The date depends upon the visibility of the new moon of the lunar calendar.
Christmas is celebrated by all Mauritians, regardless of religion. During this occasion, Christmas trees are decorated and gifts are offered to children, friends, and relatives like in other countries.
The best part of all these festivals is that they are thoroughly enjoyed by everyone, irrespective of faith. The sharing of sweet boxes, gifts, and wishes unites the Mauritian community as one, and even tourists get to partake in the feasts and festivities. So, make sure you don't miss these massive celebrations!
Local Arts
With a cultural and artistic legacy that spans Africa, Asia, and Europe, it's no wonder that Mauritian arts encompass a diverse range of cultures, religions, ethnicities, and customs, with the visual arts sector particularly adept at expressing all these different dynamics.
Begin your exploration of Mauritian art at one of the island's renowned galleries, such as Galerie du Moulin Cassé in Pereybere, a 130-year-old sugar mill that houses a permanent collection of works by Malcolm de Chazal and nature photographer Diane Henry.
For more modern art and installations, visit 3A The Excellence of Art in Black River and Partage Gallery in Flic en Flac, or Seebaluck Art Gallery in Pointe aux Canonniers for a wide range of local paintings by Rodrigues and Réunion artists.
Visit the artisan market at Caudan Waterfront for local crafts and other forms of artwork, or Studio 44 in the same area for glassware, jewellery, and tableware.