Best things to do in Mauritius
Ce contenu n'est pas disponible en français
Find the must-do activities during your holidays in Mauritius
Mauritius is mostly known for its beautiful sandy beaches, turquoise waters and luxury hotels but Mauritius offers more than just a laze on the beach.
There are so many other things to do in Mauritius, including historical and cultural tours, visiting national parks and theme parks including Casela, and visiting coastal villages like Grand Baie.
There is a variety of watersports such as snorkeling and scuba diving, as well as other water sports such as kitesurfing, and adventure sports such as quad biking.
So, if you're wondering what the best things to do in Mauritius are, or what the must-see sights in Mauritius are, this is the guide for you.
Below are the top ten things to do in Mauritius, which should definitely be included in your Mauritius travel guide.
Visit the Capital, Port Louis
Port Louis,the capital of Mauritius, has absorbed many cultures, including those from Europe, Africa, China, and the Middle East. This can be seen in the architecture of Mauritius, whether it's colonial houses, churches, mosques, or temples. It is well-known for its shopping, but it also offers a variety of cultural experiences.
The world's first colonial stamp is on display at the Blue Penny Museum. An ancient dodo skeleton can be seen at the Natural History Museum. You can go to Signal Mountain for sunset views of the capital.
A typical Mauritian experience is to visit the busy markets of Port Louis to get a glimpse of local life. The sheer variety of fruits, vegetables, fish, and spices available in Port Louis Central Market will astound you, it is truly unrivalled. This place is also a delight for every street photography lover and watch the hawkers at work and don't forget to buy some souvenirs.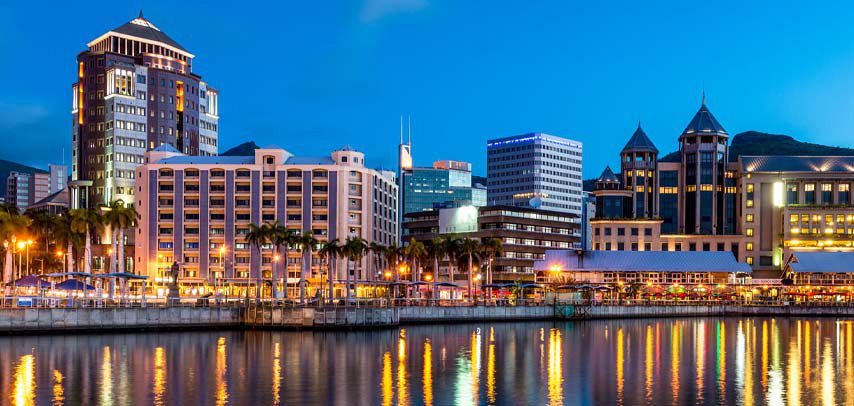 The Caudan Waterfront is the oldest shopping mall in Mauritius and is situated on the edge of the harbour in Port Louis. It became an abandoned warehouse and is named after a Frenchman who owned a salt pan here in the 18th century. It is now a bustling and popular hangout for locals, with boutique shops, restaurants, hotels, a cinema, and much more.
The Caudan Waterfront is also a nice place to go for a walk, eat some fresh seafood, or get some ice cream. The umbrella-covered promenade, which changes colors every now and then, is also one of the most famous Instagram locations in Port Louis. The umbrellas provide shade as well as a pretty photo backdrop.
The Aapravasi Ghat UNESCO World Heritage Site is one of the best places to visit if you want to learn more about Mauritius' past and history. It's a 19th-century Immigration Depot in Port Louis that offers tourists an insight into the British-established "Indentured servitude" experiment in Mauritius.
Between 1849 and 1923, it is estimated that half a million laborers passed through this location in Port Louis. The vast majority of them were Indians. As a result of this migration, approximately 70% of the present Mauritius population has Indian ancestors.The Aapravasi Ghat exhibits give you an insight into the living and working conditions of these brave people.
Book the Mauritius North Tour (Private Tour)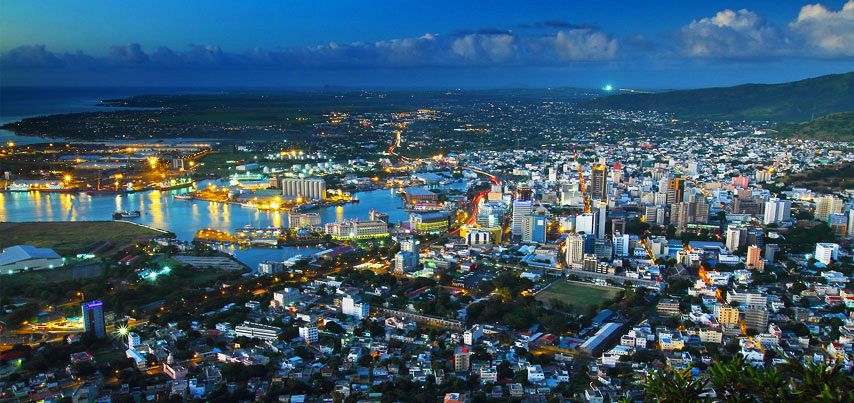 Swimming with dolphins
'Swimming with dolphins' is a must-do in Mauritius if you want to have an unforgettable experience. It's one of the most memorable things to do while on vacation in Mauritius.
The spectacular lives of these magnificent marine mammals can be explored in their natural aquatic habitat.
You'll be immersed in the fascinating world of these powerful marine mammals and come face to face with the dolphins.
This is a once in a lifetime experience to access the dolphins natural habitat and have a dolphin encounter in the open sea unlike several other dolphin centers, where a swim with dolphins program is limited to pools or shallow water experiences.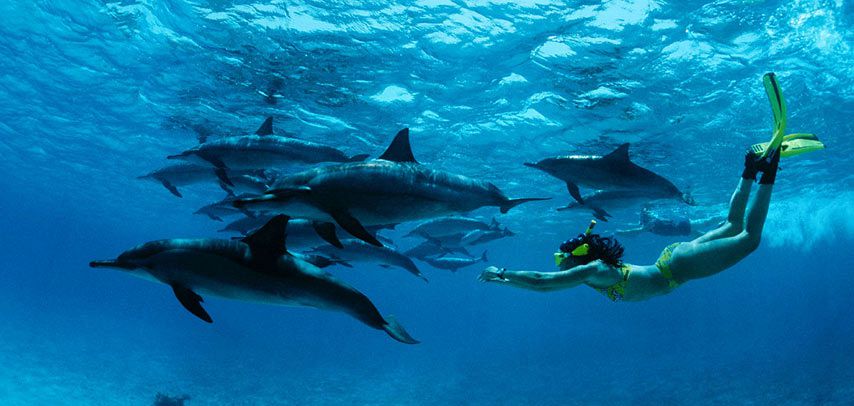 Three spots where you can swim with dolphins in Mauritius.
Tamarin/Black River - A group of around 20 dolphins can be seen everyday in the early hours of the day around Tamarin village located on Mauritius' western coast.
In the vicinity of Coin de Mire - Dolphins are often seen in the waters around the island of Coin de Mire, which is located 8 kilometers off Mauritius' northern coast. When dolphins are seen, boat/catamaran trips to the islands in the north of Mauritius (Flat Island, Gabriel Island, Round Island) are often stopped along the way to allow people to join them.
Ile aux Benitiers - located 500 meters from the coastal village of La Gaulette on Mauritius' south-western coast and the tranquility of its waters attracts dolphins. Swimming with dolphins and lunch on the island are among the activities available.
Book your Swim with Dolphins Activity
Hike le Morne Brabant
Le Morne Brabant is a UNESCO World Heritage site located on Mauritius' extreme southwestern edge. Its monolith, which rises to 556 meters/1824 feet above sea level, is a highlight. There are many caves and overhangs on the steep slopes of the summit. It is surrounded on three sides by a lagoon and is a popular tourist destination. The Mandrinette and the thyme are two rare plants found on the mountain and it's excellent for hiking with a guided walk.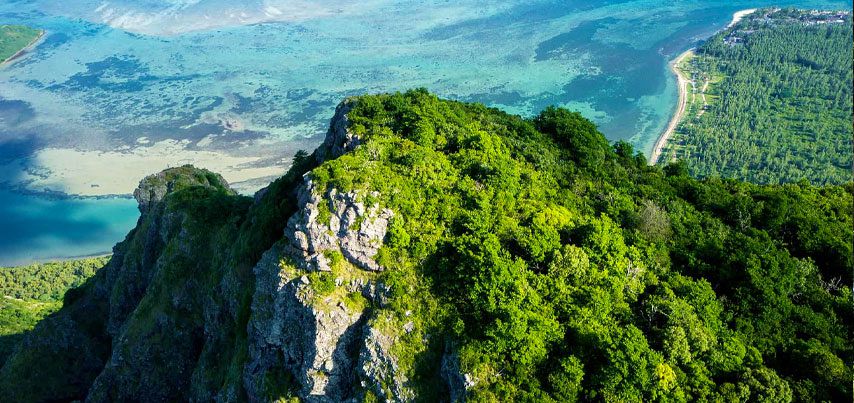 You'll have the opportunity to go on an exciting mountain hike, savoring the thrill of the challenge as you ascend to 556 meters above sea level. The stunning view surrounding you, with turquoise lagoons and green mountain ranges reaching out, will astound you once you hit the top.
The hike takes around 3-4 hours and you will get to know the turbulent history, the folklore and myths that wrapped the mountain up for several years
The beach of Le Morne, which is perhaps even the most beautiful beach in Mauritius, is also worth seeing after the hike for a refreshing swim.
Book the Half Day Hike at Le Morne Brabant
Hike through the Black River Gorges National Park
The Black River Gorges National Park is situated in Mauritius' hilly south-western region. It includes humid upland forest, drier lowland forest, and marshy heathland over a wide area. Two information centers, picnic areas, and 60 kilometers of trails are available to visitors.Many endemic plants and animals can be found in the park including the Mauritian flying fox and all of the island's endemic birds.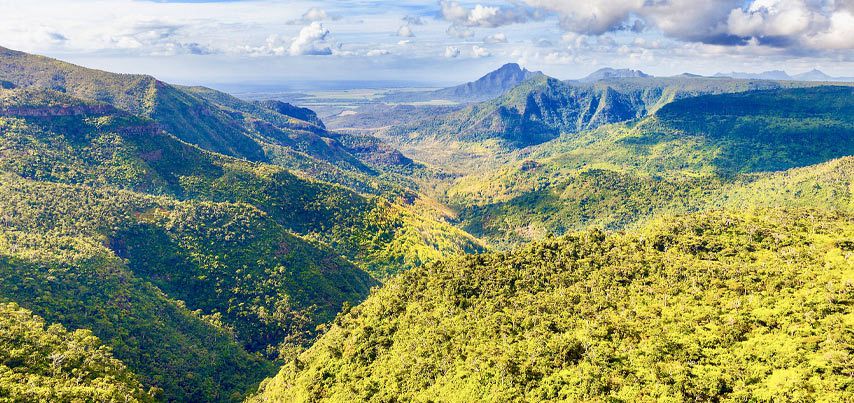 The main highlights of Black River Gorges National Park are Gorges Viewpoint, Alexandra Falls, Macchabée Viewpoint, and Piton de la Petite Rivière Noire (the highest mountain of Mauritius).
If you're planning a trip to Mauritius and want to visit the Black River Gorges National Park, a full day trip is highly recommended. You'll be able to go on one of the many walks, have plenty of time to explore the park, and enjoy a delicious picnic with a view; it's truly a breathtaking place to visit.
Book your Hiking Trip - Black River Gorges Park
Beach-Hopping
Mauritius is a beautiful tropical island with pristine white sand beaches, turquoise blue waters, coral reefs, rich flora, and fauna which attracts visitors all around the year.And, if you're a beach bum who wants to spend your vacation indulging in exciting water sport activities, Mauritius is the place to go.
With bountiful beaches scattered all over the island from north, south, west and east, Visitors can plan for a Beach hopping in Mauritius by easily booking a tour or renting a car.
Beach hopping in Mauritius is one of the best things to do during your vacation because of the pristine, secluded, and stunning beaches. The following are some of the best beaches in Mauritius for beach hopping:
Flic en Flac
Belle Mare
Grand Baie
Le Morne
Trou aux Biches
Mont Choisy
Blue Bay
Tamarin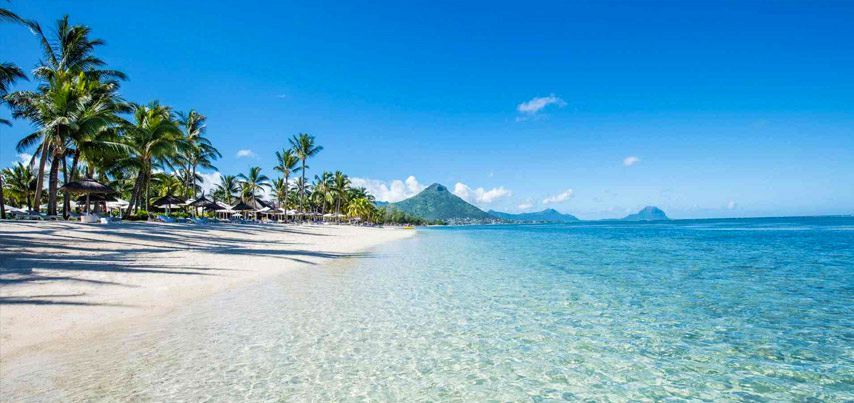 With an ideal temperature all year long, waters harbouring treasures for everlasting memories, lagoons stretching out to the coral reefs, passes, outer reefs, drop-offs or shipwrecks, Mauritius has multiple diving opportunities for both beginners and experienced divers.Internationally recognised courses (CMAS and PADI certifications being the most renowned ones worldwide) are also offered by diving centres.
However, diving isn't the only way to experience Mauritius' fascinating underwater world; snorkeling and flippers are also popular and Blue Bay Marine Park is considered as the best snorkeling spot on the island.
Parasailing, kayaking, water skiing, windsurfing, deep-sea fishing, dolphin and whale watching are also among the most common water sports in Mauritius.
Savor the Mauritius Cuisine
The cuisine in Mauritius has often been described as a melting pot of flavors. It is a mix of various influences with French, European, Indian, Chinese flavors.
Popular dishes include their curries, farata or a type of Indian bread, seafood dishes as well as a popular street food called dholl puri, which is a wheat bread stuffed with ground split peas. Must-try dishes include; Vindaye, made with mustard, vinegar and spices, it's traditionally served cold as an accompaniment to fish and Rougail, a special rich ragout-like stew made with tomatoes, garlic, ginger and pieces of chopped sausage, squid, prawns or fish. From high-end fine dining restaurants to roadside shacks, you will be spoilt for choice!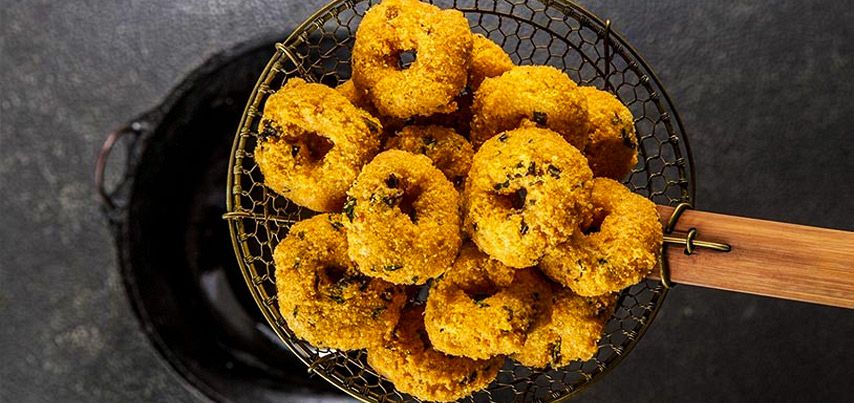 Some of the best Mauritian recipes and absolute must-try delicacies in Mauritius are found in small street stalls (particularly in Port Louis). The superb street food of Mauritius, like the other Mauritian dishes, showcase the country's wonderful ethnic diversity.
The island has incredible desserts too where you can find anything from delicate French-inspired tartlets filled with banana, cream or nuts and bread pudding to flan, napolitaines (little sugary shortbread creations) and an array of fresh tropical fruit.
There's no doubt that Mauritius is a gourmet's paradise. It has everything you could possibly want to satisfy your palate and enhance your trip to this beautiful island.
Visit Grand Bassin Sacred Lake
A visit to Grand Bassin Sacred Lake, also known as Ganga Talao is a must and is one of the most important Hindu pilgrimage sites outside of India.The lake and temple are surrounded by adorned Hindu gods, creating a peaceful environment.
Visitors around the world come to pray, meditate, play with the local monkeys, or simply stroll around the lake and take in the beautiful scenery.
Grand Bassin is definitely worth exploring for a few hours and take a stroll around the pretty lake and up to the top of the peak for spectacular views, and take time to see the statues and temple. It's a good idea to go with a guide who can give you a bit of background about all the gods depicted on the statues.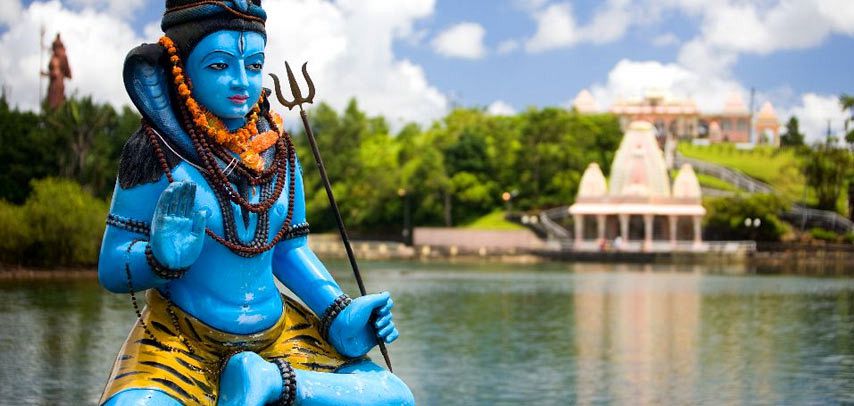 Half a million Hindus visit the lake, the island's holiest site, during the festival Maha Shivaratri, which occurs each year at the end of February or the beginning of March. Don't miss this spectacular festival, which is one of the largest Hindu festivals outside of India, if you visit Mauritius during this period.
Because of its proximity to natural attractions such as Black River Gorges National Park, Grand Bassin is great for adventure travellers who would like to experience Mauritius' wilder side by hiking, abseiling and canyoning in the region's waterfalls, forests and rivers
Book the Mauritius South West Tour (Extended Private Tour)
Catamaran cruise
Mauritius is one of the best places for catamarans trips.Catamarans are ideal for group cruises because they can conveniently dock and anchor in Mauritius' shallow bays and near proximity to the island's stunning beaches and islets.
It's the perfect way to cruise the island's waters and take in the scenery in total safety and comfort. Those who have always wanted to go on a catamaran cruise in Mauritius should certainly do so; they will not be disappointed!
Discover the Mauritian coasts while sitting comfortably and sipping a drink on a luxury catamaran that will allow you to spend an ideal day. Sail the island's crystal clear waters and take in the idyllic setting with a welcoming crew that will cater to your every need.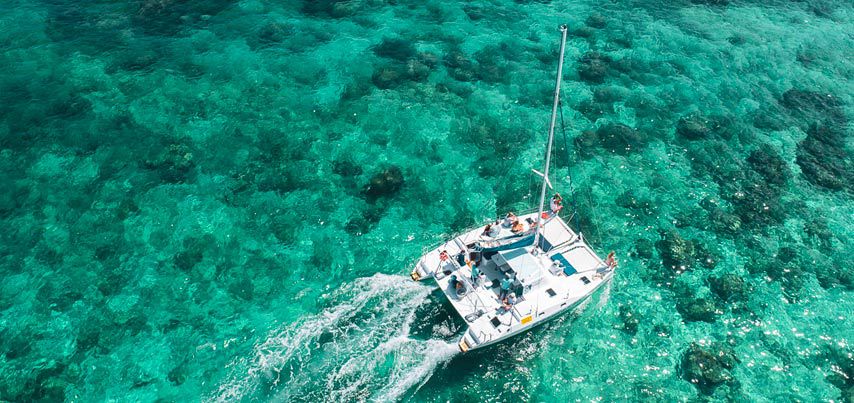 A cruise aboard these stable and comfortable sailing boats normally lasts all day, but you can also go for several days or opt for a tour specifically to see the last rays of sunlight.
There's also a large selection of day cruises to several islets surrounding Mauritius, with different departure points. Spend a day on Gabriel Island or Flat Island in the North or visit the famous Ile aux Cerfs island on the East coast. You can also cruise along the West coast, spend some time on Ile aux Benitiers and swim with the dolphins.
Enjoy Chamarel's Stunning Landscape
Chamarel is a charming village in Mauritius' southwest corner and one of the island's most popular tourist destinations. Rum Distillery and 7 Colored Earth Geopark are two of its most well-known attractions.
The 7 Colored Earth is the area's most incredible and well-known attraction. It's a large area of sand dunes with a variety of sand colors, including red, brown, violet, green, blue, purple, and yellow. This place is simply incredible, particularly when the sun shines and all the colors are impressively bright and intense.
A tortoise park is also located in the same location. There are already six giant tortoises living here. They are about 150 years old and come from Seychelles islands.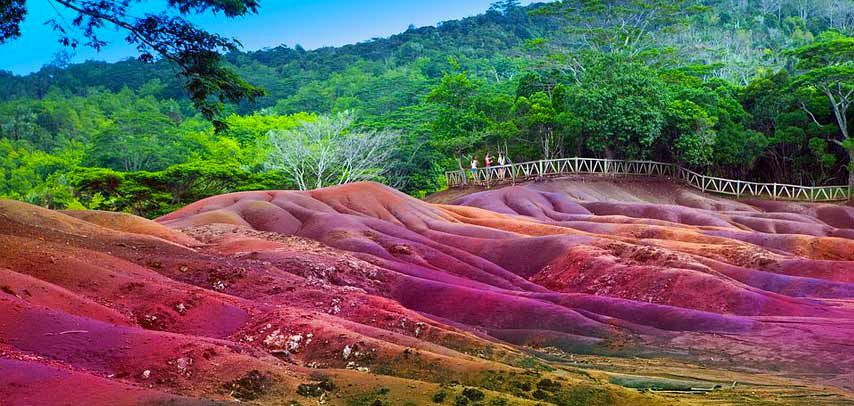 Not far from the 7 colored earth, you can see another attraction of the area which is the Chamarel waterfall. It's the highest single-drop waterfall of Mauritius, about 100 meters high. You can reach the viewpoint of the waterfall by car, or you can hike for 3 hours to the base pool of the waterfall where you can also swim.
Ebony Forest is a lesser-known attraction located in chamarel and it's well worth a visit. It's your chance to see a variety of ebony trees, as well as a variety of birds and the mesmerizing blue geckos! The views of the coast and the UNESCO World Heritage Site of Le Morne are truly breathtaking.
This vast forest area can be explored on guided jeep tours or by walking.
Book the Chamarel: The Ultimate Discovery Tour
Spend a day at Casela Wildlife Park
Casela World of Adventures, also known as Casela Nature Park, is one of the best places to visit in Mauritius. It's a kind of outdoor amusement and animal park that's suitable for both families with children and adults.
More than 140 bird species from all five continents can be found in this nature reserve. Tortoises, deer, fish ponds, lions, tigers, and monkeys are only a few of the animals found there.
A visit to Casela Park will reveal extraordinary experiences and guarantee close-up views of the animals, birds and other wildlife.As the park aims to provide its guests with a once-in-a-lifetime experience and to fulfill their innate need to learn and care for the animals, you will have the opportunity to eat, pat, and even hold some of the protected animals.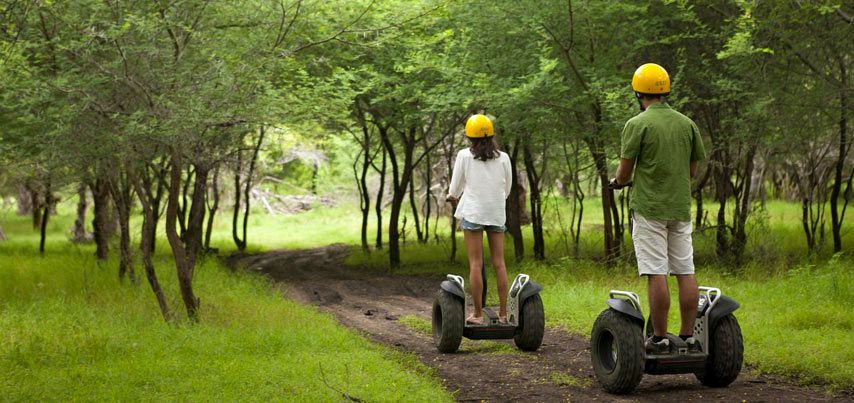 The beautifully landscaped adventure park also offers a range of activities including animal interactions, a variety of heart pumping activities like zip line, giant slide, canyoning, and quad-bike safaris.
Highlight will be the walk with lions and feel the pride of strolling next to the king of the jungle, accompanied by the expert animal caretakers or you can opt for the Big Cats Drive Thru which allows you to watch the lions in their natural habitat in a safely sheltered vehicle
Visit Ile aux Aigrettes
One of the best places to visit in Mauritius is Ile aux Aigrettes, which is located in the southern part of the island. An old calcareous coral reef is partly covered by sand and soil on this islet.
It is well-known around the world because many of the plants found there cannot be found anywhere else, and it was designated as a nature reserve in 1965.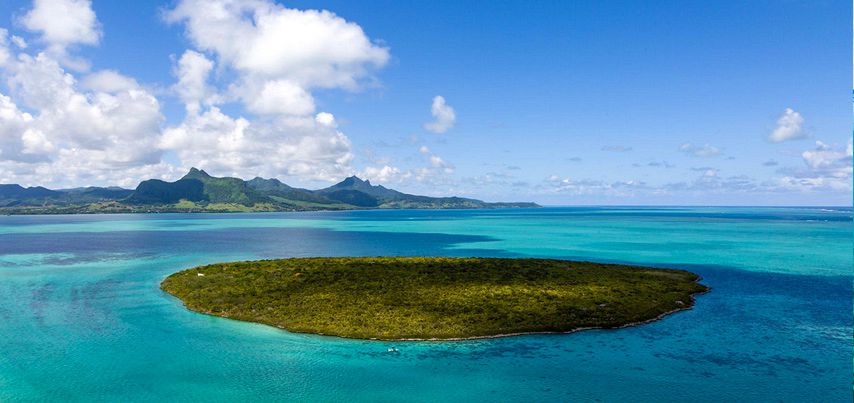 Some of the world's rarest birds, such as the kestrel and the pink pigeon, can be found here. Other species found on the island include the Aldabra giant tortoise and the green Gecko Phelsuma.
The boat trip to Ile aux Aigrettes departs from Pointe Jerome near the village of Mahebourg and is operated on a daily basis and the tour takes about one and half hours with an additional 10 minutes each way for the boat trip.
Book your visit to Ile Aux Aigrettes Island
Aerial view of Mauritius
Seeing Mauritius from above is one of the most unforgettable things to do in Mauritius. You can opt for an helicopter tour, seaplane tour or even skydiving where you will be able to witness the breathtaking view of the island.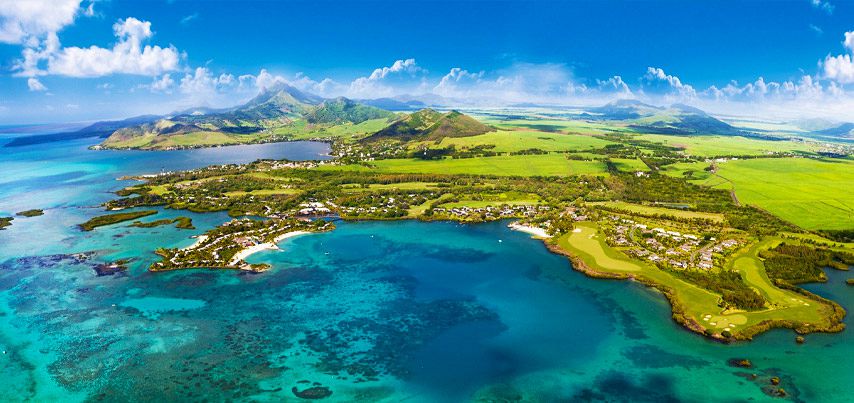 Helicopter Tour
Mauritius is known around the world for its stunning coastline, which features crystal-clear turquoise lagoons and glistening white beaches. There's no better way to experience all of this beauty than from the air.
So, if you're looking for something truly unique to do in Mauritius, a helicopter tour is highly recommended. The breathtaking views and vibrant colors can leave you speechless. Stunning views of the azure sea and lush green mountains can take your breath away.
This is one of the most unforgettable experiences and one of the best things to do in Mauritius.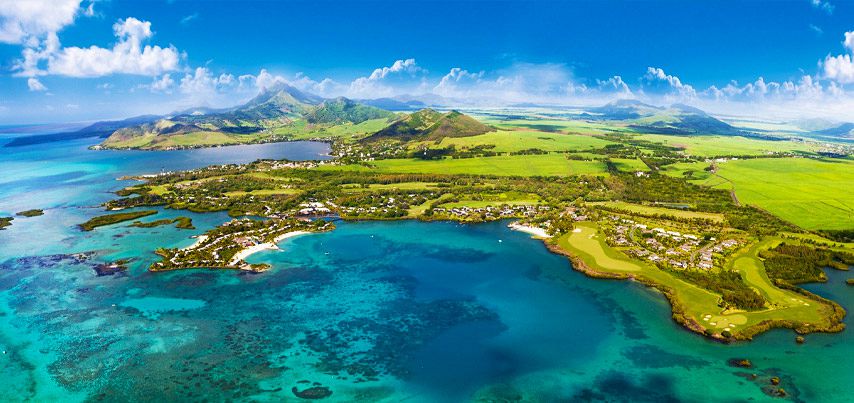 Seaplane Tours
You can enjoy a panoramic view of the shores and coral reefs from a seaplane which takes off from the turquoise lagoons of the north or the south of Mauritius. A flight in a seaplane will also allow you to immerse yourself in the unmatched scenic beauty of Mauritius landscapes from the sky.
However, the most photogenic (and unexpected) sight is the Underwater waterfall, which has enchanted the whole world after its images went viral on the internet. This natural wonder is truly breathtaking when seen in person.
Skydiving
If you're looking for thrills on your luxury holiday to Mauritius, why not try the ultimate adrenaline sport and jump out of a plane. At Skydive Mauritius you can tandem skydive for spectacular views of Mauritius from the air, including lush green forests and turquoise blue waters.
Skydiving for the first time is an unforgettable experience, and when combined with the views of the world's most beautiful island, a skydive in Mauritius will be etched in your mind for the rest of your life.