Les Meilleurs Street Food à l'île Maurice
Ce contenu n'est pas disponible en français
Mauritian food is rich in variety due to the country's unique blend of Indian, African, Chinese, French and British influence and the streets are where you'll indulge in Mauritian food at its finest and cheapest. Our island's people have a well-entrenched tradition of eating on the run at roadside stalls serving up an array of flavours and the local markets and streets are actually the place to go for an authentic Mauritian food experience.
Experience the Mauritian way of living by sampling typical Mauritian dishes: steamed dumplings in succulent broth, rotis which is Indian crêpes filled with cooked vegetables and spices, grilled peanuts and, for those who are a little daring, gato pima, deep fried chilli cakes. A street food experience is so much more than just a chance to try tasty, low-cost local cuisine and it is also the perfect way to blend with the locals and soak up the truly unique atmosphere of Mauritius.
Here is a list of the mouth-watering street food of Mauritius that definitely going to make you drool:
Dholl Puri
Dhal puri is recognized as Mauritius' national street food. This Bihari-style pancake-style flatbread is filled with cooked yellow split peas that have been blended and seasoned with turmeric and cumin and It is usually served with rougaille, curries, pickles and chili paste.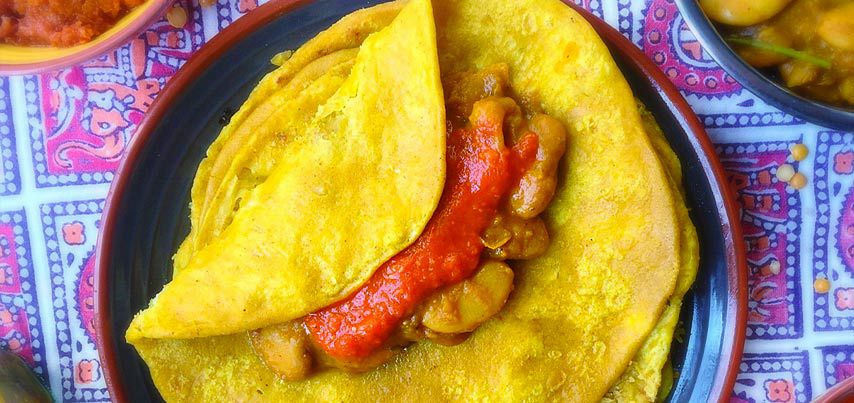 Roti / Farata
Rotis are cooked on a tawa, or hot plate. Made of white flour, they are gorgeously layered (a bit like puff pastry, but soft), and ideally should almost melt in your mouth and can be used for so many dishes.. In fact, you will find farata and dholl puri sold together. Farata and roti differ slightly in terms of thickness but the street language for them is roti.
That's what Farata or Roti are all about; a flour based flat bread served with a variety of Mauritian curries, chutneys or pickles too and is easy to find at a street food stall.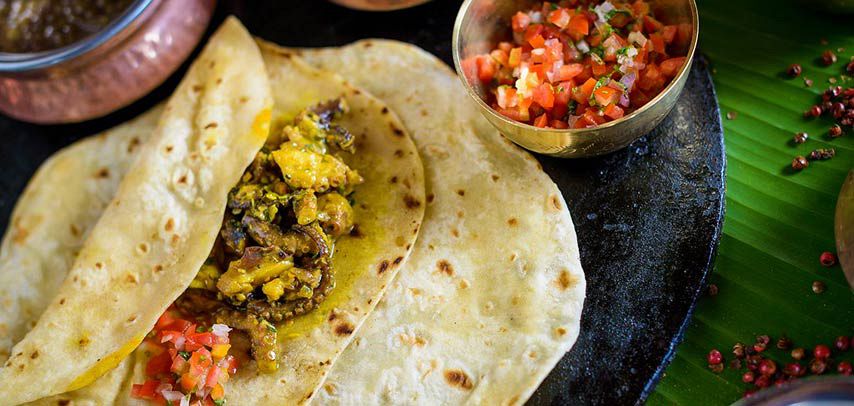 Boulettes
Chinese dumplings are known as boulettes in Creole. Boulettes are vegetable dough balls that are usually filled with meat or seafood and served alone, with broth, or with noodles. Any Mauritian would tell you that boulettes are their favorite street food, a steaming bowl of goodness. A bowl of bouillon boulette is just what you need if you've had too much to drink over the weekend.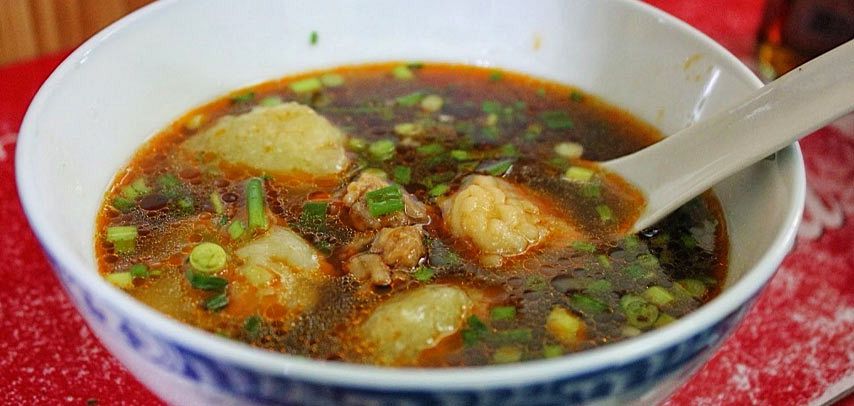 Gateaux Piments
The most well-known snack in Mauritius is gato pima, or chilli cakes.Similar to 'Bhajia' or 'Bhajji' in Indian cuisine, these deep-fried gadjacks (appetizers) are wholesome, delicious chilli cakes that are crisp and crunchy on the outside and soft on the inside. They are made from split peas, chillies, spring onions, cumin and coriander.It goes perfectly in between the soft Mauritian baguette with some butter and hot sauce. Gateaux Piment is ideal during lunch, and also for breakfast sometimes.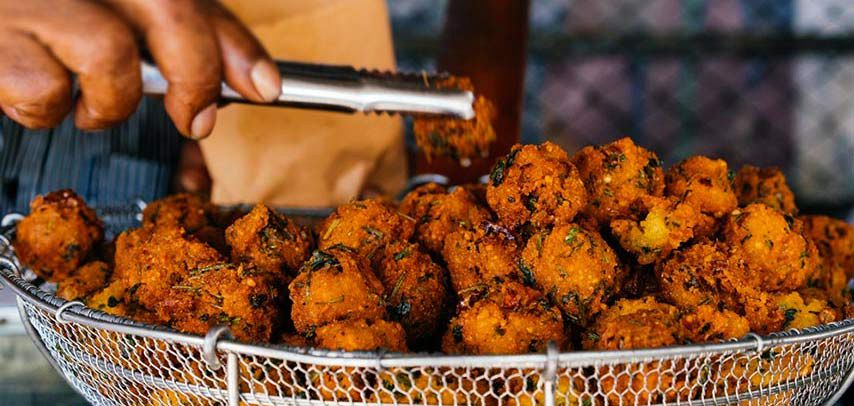 Samosa and other fritters
Another famous snack in Mauritius is the Samosa, which is crunchy and flaky and delicious. They're deep-fried triangular pastries with potato, corn, cheese, chicken, or fish fillings.The samosas are a typical Mauritian snack you will find at every street corner. These surely help if you are on the road and having some shopping and suddenly feel hungry. Just have some samosas, you'll surely fall in love with that small delicacy.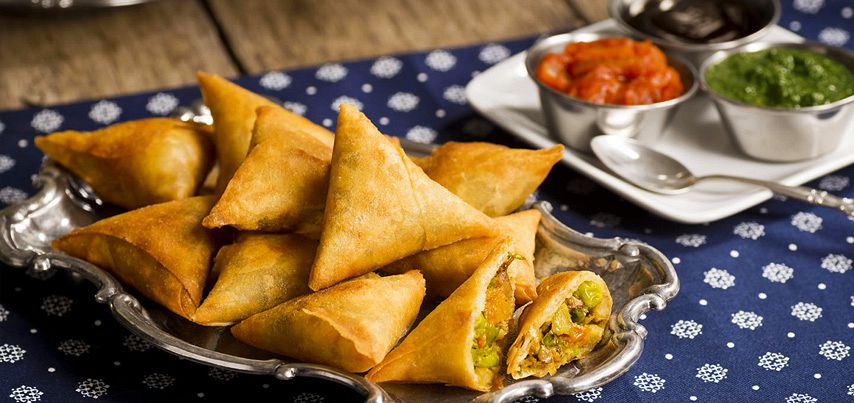 Another special Sino-Mauritian street food favorite in Mauritius is the Gato Arouille. This savory dish is made up of small taro (a root vegetable native to Southeast Asia and South India) dumplings that are traditionally made with a perfect blend of grated ginger and taro and seasoned with salt and sugar.The ingredients are then combined with cornstarch, made into a rough dough, rolled into small balls and deep-fried to perfection for that satisfying crunch on the outside but beautifully soft inside.
Other favorite snacks among Mauritians are all sorts of vegetable fritters
gateau bringelle (eggplant cakes) ,
gâteau pomme de terre (potato cakes)
baja (deep-fried dough made from chickpea flour)
dupain frire (deep-fried bread dipped in batter)
chana puri (deep-fried dough with potato filling).
Biryani
Biryani like its Indian version can be made with meat, chicken or with vegetables.This fragrant rice dish is based on the Hyderabadi Biryani and is made with a variety of spices, long-grained Basmati rice, meat, and yoghurt. It differs slightly from the Hyderabadi edition, though. Potatoes are cleverly used in Mauritian Biryani to absorb the spices at the bottom of the vessel during cooking, keeping the rice from burning or sticking.We recommend going to the port or the market if you want to try this dish. You will be served a traditional Mauritian biryani and will be able to observe the preparation process. You may be tempted to make it at home when you return back after having this delicious meal.
Haleem
Haleem is a traditional soup-like stew that combines elements of Middle Eastern, Asian, and Indian cuisines to create the ultimate comfort food. It is traditionally made with meat, such as lamb, as the main ingredient, but it can also be made vegan.The meat is then cooked for hours with the other ingredients, including onion, cardamom, lentils, garlic, ginger, split peas, barley, turmeric, chilli, and pepper. It's served hot, with spring onions (or other garnishes) on top, and freshly baked bread like baguettes or "round bread" on the side.
Alouda
We recommend trying an Alouda, a trendy local drink, to complement your Mauritian street food experience and helps alleviate the heat.The sweet and traditional Mauritian drink, influenced by the Indian drink Falooda, is made with grated homemade agar-agar jelly, milk, basil seeds, and topped with ice shavings.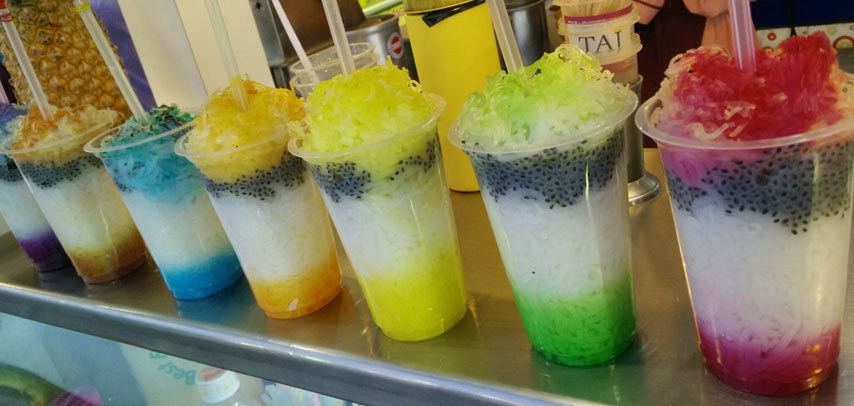 Mine Frite (fried noodles)
The thriving Chinese community in Mauritius has given rise to Mine Frite, another name for Mauritian fried noodles. The noodles are typically made from yellow wheat, which gives them a naturally bright yellow color, and are served with a variety of vegetables such as carrots, cabbages, pumpkin leaves, and any other vegetable of your choosing. Mine Frite with garlic sauce is sold by street vendors in the marketplace.
Mine Bouille (boiled noodles)
Mine Bouille consists of boiled noodles topped with chopped spring onions and eaten with meat or vegetables. If you want a heartier meal, this dish can be served with a side of boulettes.
Mine Bouille is sometimes served with "chatini pomme d'amour" (chopped tomatoes, cilantro/coriander, onions, chilies and seasonings) or "oeuf roti" (hard-boiled egg glazed with a mixture of sweet soy sauce and spices).