Les Meilleurs Lodges de l'île Maurice
Ce contenu n'est pas disponible en français
When we think of Mauritius, the sea is clearly the first thing that comes to mind, but it also hides a lot of surprises, especially in terms of accommodation. There are luxury hotels to meet your needs and desires, but there are also several lodges to provide you with a break from your everyday routine. Most of them are found in natural settings so as to make you feel revitalised.
Here is a list of some of Mauritius' most beautiful lodges:
Lakaz Chamarel
Unwind with yoga and meditation, take in the serene setting by the pool and embrace the slower pace of life found at the Lakaz Chamarel.
Lakaz Chamarel is an alternative to many larger resorts and is located in the flourishing hills above the coastal villages of Black River and La Gaulette on the island's south west coast. Made up of just 20 individually furnished rooms and suites located amidst a stunning natural site, its environment is peaceful and calm, with artfully bohemian style touches throughout.
Explore the nearby surroundings on a bike ride or discover the spa. The chef will take you on a culinary journey around the island with delicious delights showcasing the vibrant mix of cuisines and fresh ingredients that Mauritius is known for. The Lodge is located 15 mins from the famous beaches Le Morne and Baie du Cap and you can also reach the beach on bike which you can rent onsite.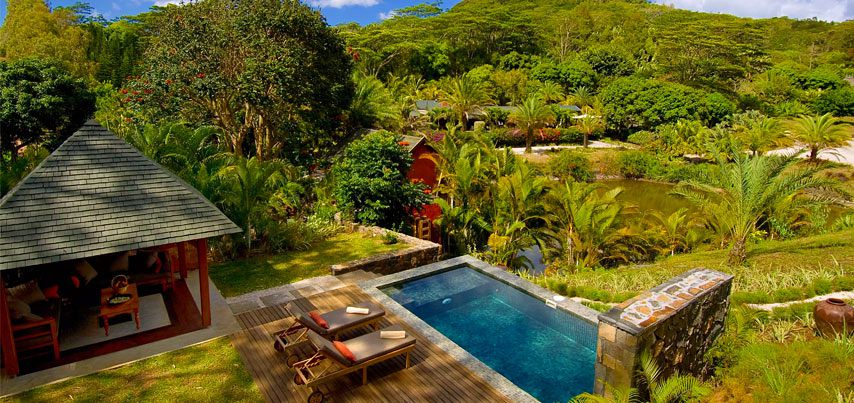 Bubble Lodge
The atypical Bubble Lodge invites you to spend a night under the stars for an authentic immersion either in the heart of the wild environment.
New concept in Mauritius, the lodge offers unique accommodation in the form of transparent bubbles without any impact on the environment. They are all located in the heart of Mauritian nature in wild places. In absolute calm, opt for a one-night stay to experience an unusual moment as close as possible to the flora and fauna of Mauritius.
Nestled in one of the oldest tea plantations on the island, Bubble Lodge Bois Chéri is located in the Curepipe region in the highlands of Mauritius. Placed on the edge of a small lake and surrounded by unspoiled nature, the lodge's bubbles offer you an exclusive and out of the ordinary experience. As for Bubble Lodge Ile aux Cerfs, it can be accessed by a 10- minute boat ride from the east coast of Mauritius.
Experience nature like never before with a starry night and an eco retreat amidst nature at Bubble Lodge Bois Chéri or Bubble Lodge Ile aux Cerfs. These ecolodges promise lovebirds an incomparable relaxation in privacy and luxury.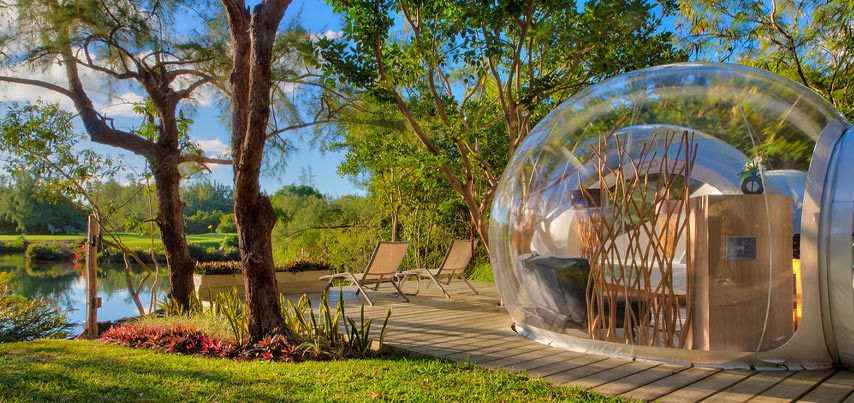 Chalet Chamarel
How about a romantic getaway or a weekend with friends away from it all, up in the mountains with a breathtaking view of the ocean?
Located on the mountain of Piton La Porte in Chamarel, it provides a breathtaking panoramic view of Mauritius' west coast, stretching from the legendary Le Morne to La Tourelle and Tamarin Bay, with Bénitiers Island and the turquoise lagoon in between. It is undoubtedly one of Mauritius' most beautiful views.
On the other side of the hotel, you can see the Chamarel forest's lush green valleys all the way to Bel Ombre and the south coast's shore. The 11 chalets are spaced out to provide an ideal intimate and private atmosphere in the middle of nature. The eleven lodges of Chalets Chamarel provide a special and equally breathtaking panoramic view of the Ocean and forest.
The SeaForest Restaurant, which overlooks an infinity pool, offers authentic and local venison meat dishes, as well as international cuisine. The chalet's wonderful location is only 5 minutes away from Lavilleon Adventure Park, where you can try out some adrenaline-fueled activities.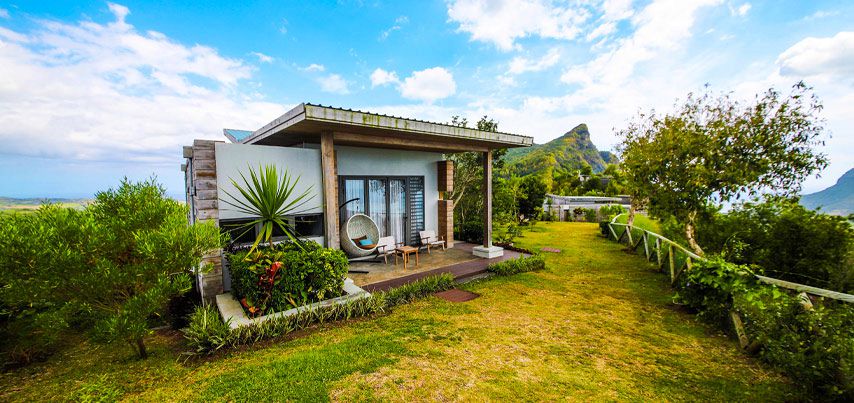 L'Exil Lodges
L'Exil Lodges is the place to go if you want to get away from your everyday life and be surrounded only by nature, far from the traffic of the city centre and the tall buildings.
It is located in the village of Riviere Des Anguilles, in the unspoiled Combo Forest in the south of Mauritius. In contrast to the traditional filaos, palm and coconut trees, white beaches, and blue lagoon of a typical Mauritius getaway, L'Exil Lodge provides guests with an enjoyable and more peaceful experience. It's the perfect spot for nature lovers who admire tranquillity, quietness, greenery, waterfalls, and a natural environment.
Since the Lodge is located in the middle of a forest, you will need to forget about your daily life when you are there. You can only have access to WiFi in the Lodge's lounge. Away from technology, social media, and other such distractions, you'll be able to disconnect and yet reconnect with nature. With an open view of the endemic forest and scenic view of waterfalls, it is the perfect spot to take a true break from your busy life.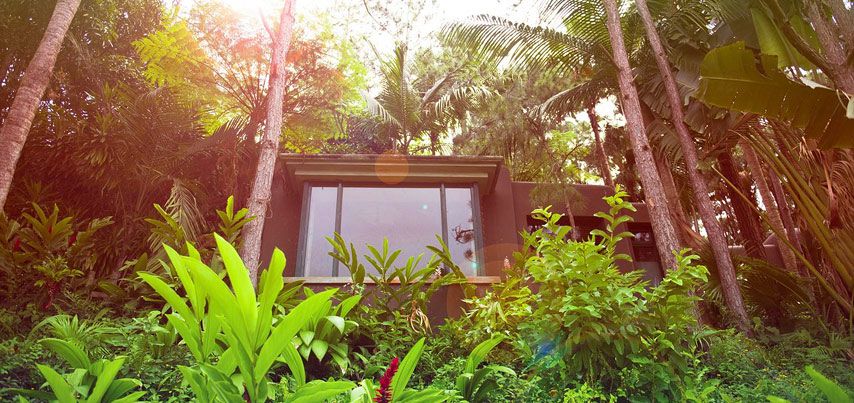 Andrea Lodge
Head to Andrea Lodge for a peaceful and relaxing experience in a well-preserved natural setting away from commercial outlets.
Andrea Lodge is beautifully situated in a pure natural setting above the Anguilles River in Souillac, perched on black basalt cliffs beach overlooking the ocean. It's a comfortable accommodation that is well suited for friends, families and even groups on green vacations. You will without a doubt be able to relax with a gentle breeze blowing most of the time and might as well spot whales and dolphins on their migrating voyages across the deep blue sea.
These secluded lodges welcome visitors in a rustic and refined style while providing all the amenities and unforgettable insights into the hidden nature-side of Mauritius. There are various activities available, including guided cliff top walks through the protected deer park, excursions to local sites of interest such as waterfalls and beaches, mountain biking, and horse riding. Alternatively, guests can relax in the lovely gardens and swim in the pool.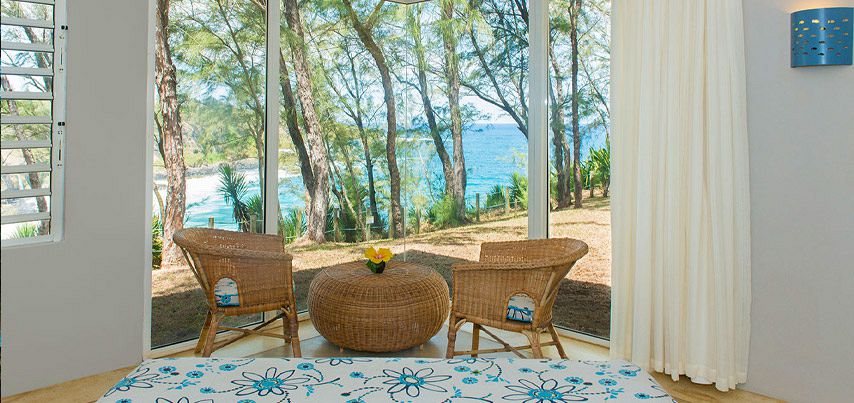 7 Cascades Lodges
Far away from bustling everyday life, the individual buildings of 7 Cascades Lodge are literally built into a pristine nature setting.
Living up to its name, 7 Cascades Lodge sits right on top of the trail leading down to the famous waterfalls. The Tamarind Falls, also known as 7 Cascades, are undoubtedly one of Mauritius' most impressive natural locations, with 11 waterfalls and 13 abseils, deep pools, cliff jumps, and lush green vegetation surrounding them.
The Restaurant and Lodges are surrounded by trees, lakes, rivers, and waterfalls, offering many chances to explore nature like never before. The friendly staff will be pleased to greet you and introduce you to some of the local delicacies through their cuisine. The Lodges are designed to enhance your sense of nature, calm, and quiet, and to provide you with a relaxing escape from the stresses of daily life.
There are a lot of activities you can do at 7 Cascades. You can choose to go hiking or spend a full or a half day canyoning. It is recommended to get a guide who will help you during the hike as there are not many clear trails to follow. At some points, the hike may be quite challenging, but it will be worth the effort. Bird watchers and nature lovers will enjoy the hike to these waterfalls.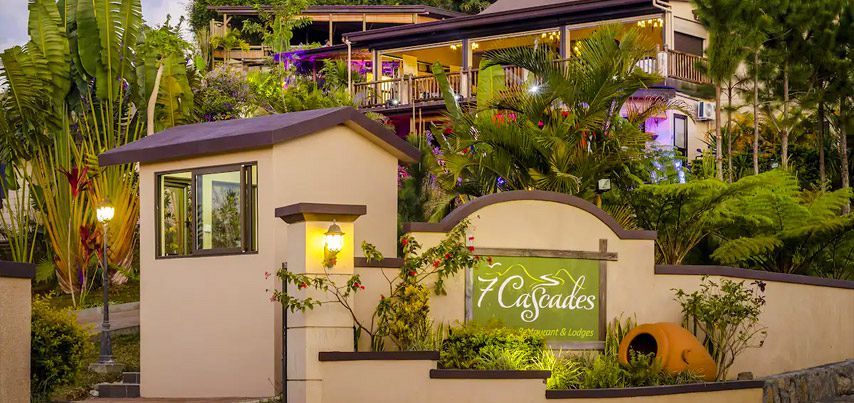 La Vieille Cheminée
Experience an authentic nature trip in the Mauritian countryside and discover the hospitality of the locals while trying out many outdoor activities.
La Vieille Cheminée is a small working farm with 6 private eco lodges located in Chamarel. This authentic village, nestled in the mountains that dominate the southwestern coast of Mauritius, is just 15 minutes drive away from the beach. These chalets, scattered over the estate, have all the modern comforts for a pleasant stay where you can appreciate the tranquillity and authenticity of the place.
Many of the cabins have completely fitted kitchens, allowing you to shop at the local markets or the property's grocery store and prepare your meals at home.
Since La Vieille Cheminée is above all a farm, you will also find a large choice of fresh, organic seasonal products produced directly on-site. On request, La Vieille Cheminée will send your cooked meals directly to the farm.
La Vieille Cheminée is a true-to-life playground for outdoor enthusiasts. You will go hiking on the estate's many trails in addition to enjoying the farm and swimming in its pool. There is also a stable where you can go horseback riding to see the region's natural wonders.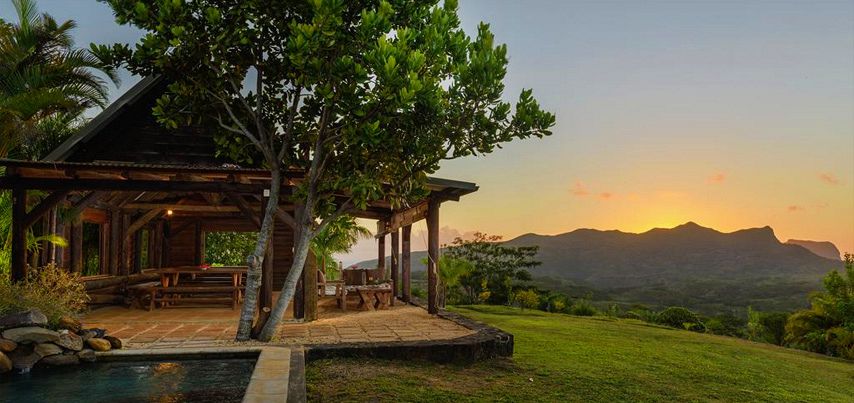 Domaine de La Grave
Have you ever stayed in a chalet in the middle of nowhere? The Domaine de la Grave chalets immerse you in nature.
Domaine de La Grave, named after the mountain at its base, is the proof that the heavens can still be found on Earth. Situated in the middle of the forest, the lodges allow you to spend a night in the tranquillity that the mountain provides along with your friends, family or partner. This one-of-a-kind spot, nestled in an unusually named village called Bananes, represents one of Mauritius' few remaining virgin forests.
Away from the city's bustle, Domaine de La Grave is home to deer, monkeys, wild boars, and a variety of other animals that roam freely. Further, its waterfalls, rivers, and ponds form an overlay of vibrant colours and shapes, making it all the more charming and jaw-dropping.
At Domaine de la Grave, you will participate in a variety of activities such as walks, hikes, kayaking, and other fun-filled nature immersions. The Domaine's Table d'hôte presents an interesting and unconventional array of local flavours and perfumes you'll certainly never forget while keeping everything traditional.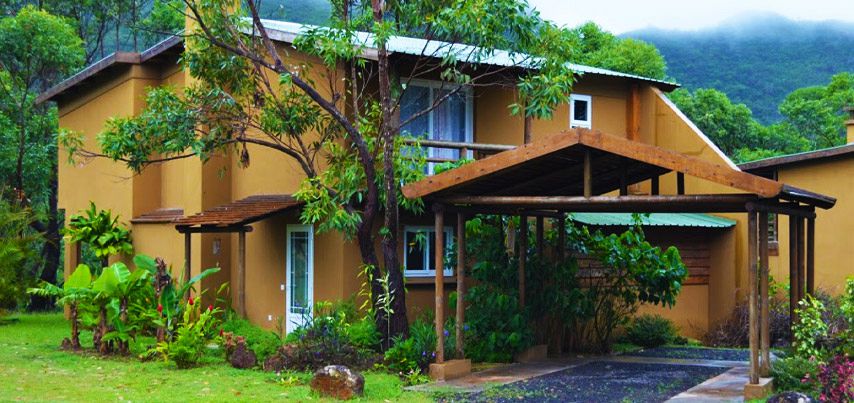 Nativ Lodge & Spa
The Nativ Lodge & Spa is an invitation to get away from everything remotely stressful and simply enjoy being in the moment.
Located in Mahebourg in the south east of the island, The Nativ Lodge & Spa is set in a beautiful tropical garden on the banks of the river La Chaux. You will be able to relax in one of the eight lodges, which were constructed from an old lime kiln, to evoke the area's historical significance and take in the stunning panoramic views of nature. A zen atmosphere is created by the river, which you can explore in a kayak or a traditional fishing boat trip.
The beds face the bay as an offer from nature to re-energise yourself. The lounges overlook a private garden, furnished with sun loungers for some relaxation in very peaceful surroundings. The lodge's bar-restaurant opens on the river La Chaux and the luxuriant garden, allowing you to peacefully savour delicious meals amidst nature. The restaurant provides local cuisine using fresh local produce; vegetables from their own garden and the market, and seafood from local fishermen.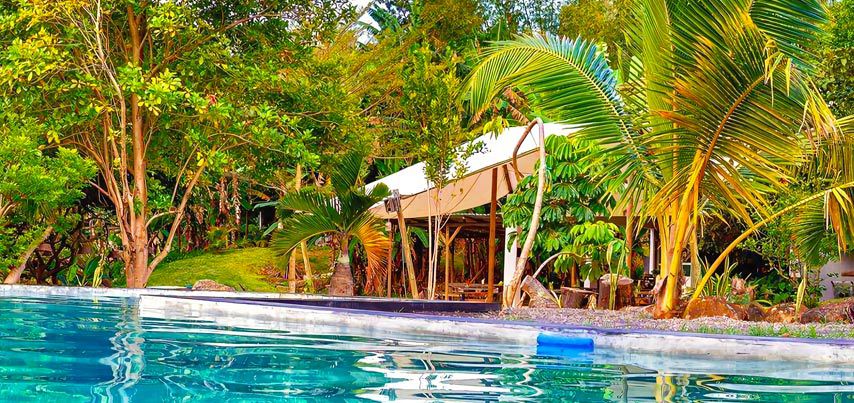 La Hacienda
Retreat to La Hacienda with your special someone, or closed ones for an unforgettable stay in nature.
La Hacienda is a community of exclusive guest houses perched on Lion Mountain, on the south-eastern coast of Mauritius. The guest houses, which are surrounded by luxuriant native forests and vegetation, offer an eco-wilderness experience, while the meticulous design of each guest house imparts a 'boutique hotel' ambiance.
With a kitchen, dining room, bedroom/s, toilet, and terrace/s, the guest houses are fully self-contained.
La Hacienda is a Spanish word denoting a large farm estate or manor house. This name was chosen for the property due to its history as a fruit plantation, as well as for the Mexican influence on the décor and style of the guest houses. Local natural materials, such as rock, wood, and plant fibres, were used in their construction to match their surroundings. Though each guest house is secluded, they all have breathtaking views of the mountains and the sea.