Best Family Activities in Mauritius
Ce contenu n'est pas disponible en français
Mauritius is a well-known tropical paradise destination for its spectacular beaches, crystal clear lagoons, and luxurious hotels. Not many people are aware, but this volcanic island is an equally entertaining family destination with plenty of fun activities to enjoy together. Whether you're looking for a short break or an extended vacation, there are a number of activities and places to visit that will entertain both adults and children, which makes it perfect for family getaways.
Families will have amazing opportunities to bond and create lifetime memories by adventuring in nature hikes with waterfalls views, unique parks, safari adventures, sea excursions and so much more. The island is also a multi-ethnic community with several cultural attractions making it a great way to introduce your children to different cultures.
If you are looking for things to do in Mauritius as a family, then look no further! We have compiled the most epic and entertaining activities for you to enjoy with your loved ones!
1. Dolphin Cruise
No child or teen or grown-up is going to refuse a unique experience of swimming with dolphins in their natural surroundings! You can indulge in the adventure of a lifetime, swimming with dolphins or watching them from aboard a luxury cruise.
There is a large selection of trips on the West coast of Mauritius to watch dolphins and come face to face with these remarkable marine mammals. All the trips are done under the supervision of professionals while respecting these splendid marine mammals, their environment, and their daily living habits. Swimming with dolphins is an incredibly moving experience that will bring you into contact with strikingly beautiful scenery, unspoiled landscapes, and wonderful animals.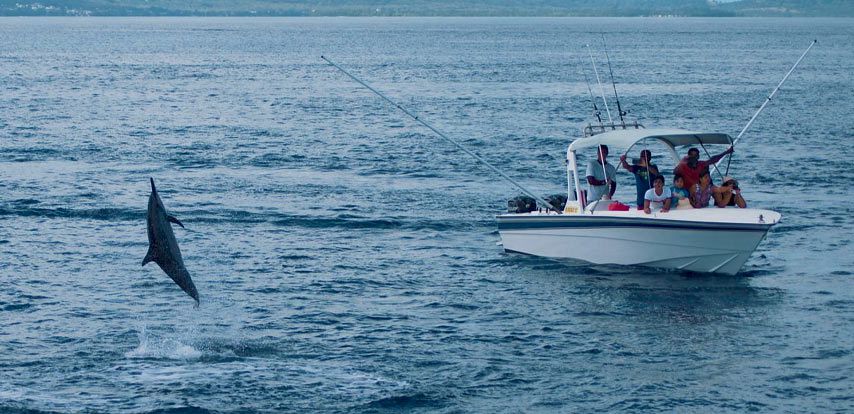 Make sure to immerse in one of these unforgettable trips during your holiday and have an unforgettable experience. The dolphin cruises are often done early in the morning. You get to start the day with an amazing experience and some cruises also involve swimming with amazing creatures. The trips last from 2 hours to a whole day.
Some cruises even allow you to cruise past islands, or even visit them while spending quality time with your family, the real islander way! For the convenience of clients, all the trips are offered on both a shared basis and an exclusive basis.
Book the Dolphins and Whales Activities
2. Casela Nature Park
Casela Nature Park is home to beautiful sceneries and species of numerous endangered animals and birds including the white lions and tigers, as well as some fun rides for guests to enjoy!
Located in the South-West of Mauritius, the park spans over 350 hectares and is divided into 5 zones, each with its own unique characteristic. The park is home to extraordinary animals and it is a dynamic and vibrant park catering for an amazing diversity of leisure, nature, and animal activities. Whether you want to come close to tigers and lions with an authentic Safari experience or to introduce your children to tamed animals and the vast flora of Mauritius, Casela World of Adventures is surely the best choice for the whole family.
For adventure seekers, mud-karting and quad-biking activities are highly recommended. You can also go for the zip line activity, where you can discover the outstanding views of Mauritius' west coast above the forests.
At the park, the whole day can be spent indulging in numerous adrenaline-rushing activities and once in a lifetime experiences.
Book your Casela Nature Park Activities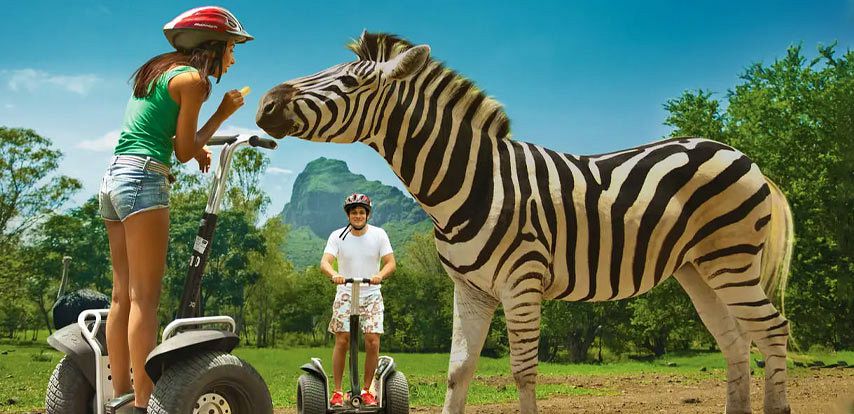 3. La Vanille Nature Reserve
La Vanille Nature Reserve, also known by many as the Crocodile Farm & Nature Park, is home to various species of animals, reptiles, and plants. Discover thousands of Nile crocodiles in the park and watch them in maximum safety. If your children love animals, you really can't miss a trip to this gorgeous reserve.
As part of your visit to the La Vanille Nature Reserve, the park's guides will guide you through some unforgettable walks. You will get to stroll through luxuriant greenery where banana trees, palm trees, and giant bamboos provide shade for the crocodiles and the giant tortoises. You will experience an encounter with the giant tortoises, and get a rare chance to feed, pet, and play with them. While at the park, one should not miss the crocodile feeding show that takes place daily.
La Vanille Nature Reserve also offers a mini zoo of Mauritian fauna where you can find most of the Mauritian mammals and reptiles including skinks, Phelsumas (geckos), giant tortoises, turtles, bats, deer, mongooses, monkeys, wild boars, as well as domestic livestock such as goats, fat-tailed sheep, and donkeys.
Another must-see is the park's rare collection of butterflies and other 23000 species of brightly-colored insects.
Book your activity at La Vanille Nature Reserve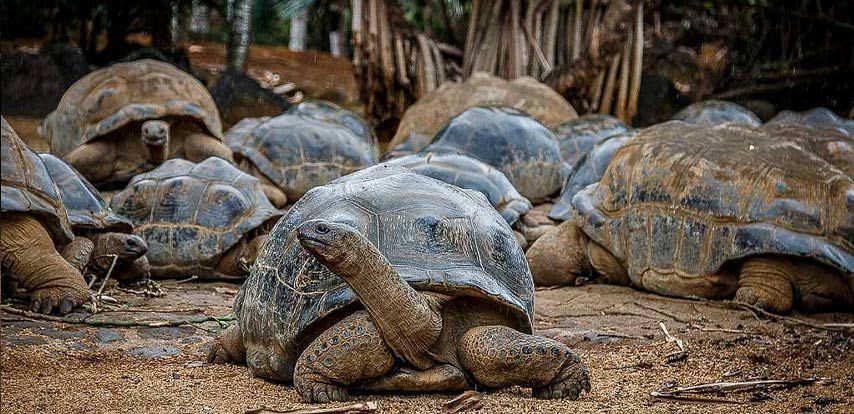 4. Splash & Fun Leisure WaterPark
The Splash and Fun Leisure WaterPark is the largest and most famous water park, located on the East Coast of the island in Belle Mare. The water now offers a range of fun activities, water slides, wave pool, and even amusement park rides, among others.
Designed to cater for a day full of fun for everyone, the Splash and Fun Leisure WaterPark has a shipwreck structure and a pirate-themed architecture that will set you right in the mood for an adventure. The park is equipped with numerous water attractions, dry attractions, pools, and a gift shop to guarantee a perfect day.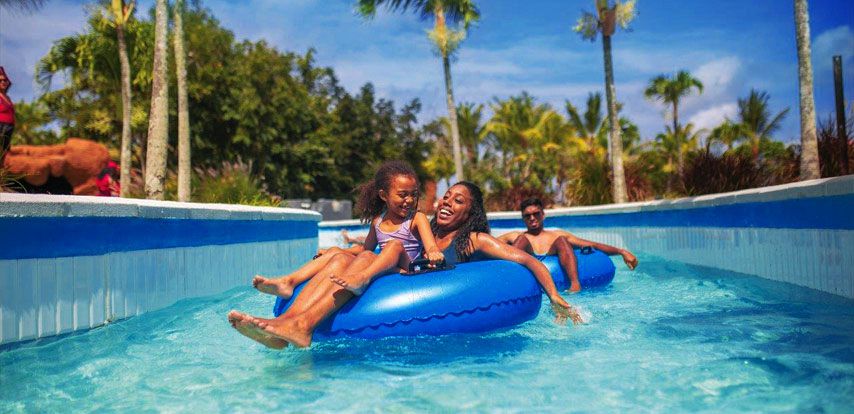 For those who want to take things slow and not get wet, you can opt for the 5D & 7D cinema which projects immersive visuals to make you live an experience like no other. Among the dry land activities, there are also Bumper Cars, Merry go round and the Pirate Ship. To refill your energy there are several food outlets available from where you can grab burgers, sandwiches, crisps, snacks and drinks.
One of the highlights is the VR (virtual reality) World, which consists of many of the most advanced VR equipment and games for a great out of this world fun experience for the young and old alike. Onsite there are highly trained lifeguards to ensure everyone's safety.
Book the Splash and Fun Leisure Park - Entrance to the Waterpark
5. Ile Aux Cerfs Trip
Ile aux Cerfs Island is a beautiful island near the east coast of Mauritius. With its swaying casuarinas, palm trees and the pure white beaches framed by the vivid turquoise waters, this amazing paradise island is the perfect setting for a relaxing day of sun worship.
There are various island trips and packages for different budgets and preferences.
Among the selection of tours, you will find the Budget Tour and the Standard tour both done on motor boats where you will get to spend a full day at Ile aux Cerfs, having a delicious lunch at one of the island's amazing beach restaurants.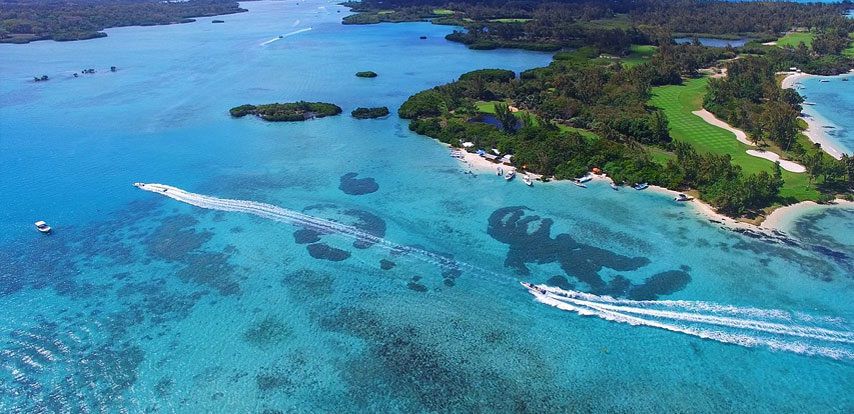 For a more luxurious day experience, you can opt for the Ile aux Cerfs Private Beach for a privileged access to the exclusive Flibustier private beach and succulent seafood lunch.
There are also catamaran cruises departing from either Trou d'eau Douce or Pointe Jerome that will guarantee a memorable sailing day experience at sea. While for those looking to travel in speed, there are speed boat trips both on a shared and private basis.
During your time on Ile aux Cerfs, do enjoy one of the great activities offered on the island such as the Parasailing, Banana Rides, Tube Rides and the Ile aux Cerfs Treetops Adventure.
Book your trip to Ile aux Cerfs
6. Parc Loisirs Gros Cailloux
Located on the west of the island, this leisure park is ideal for family outings. It offers a varied range of fun outdoor activities to both children and adults, such as ziplining, quad biking, a selection of water sports and more.
The leisure park is spread over 1000 acres, crossed by several rivers, including a lake. A huge garden dotted with sugarcane fields, fruit plantations and green spaces with various flora, including hibiscus, araucarias or bougainvillaea. Dating back to the eighteenth century, this former sugar estate created by Pierre St Aubin also houses old buildings making it a charming heritage site.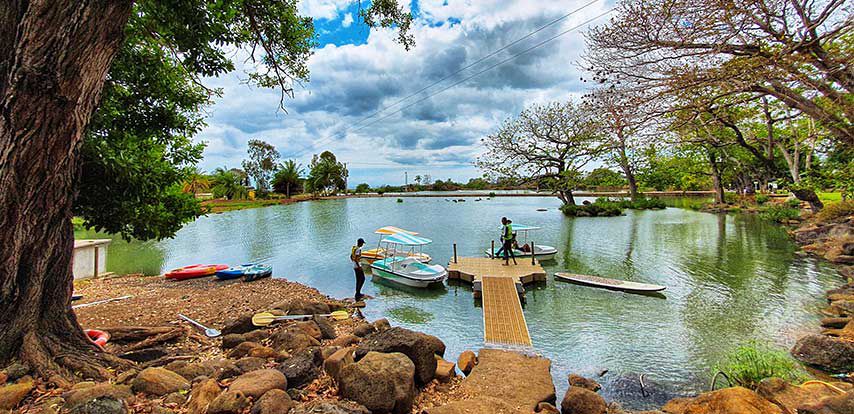 You can experience an incredible adrenaline rush with activities like Quad Biking, Zipline, Tube Ride while discovering some of the island's flora and fauna with fun activities. You will receive a safety briefing on precautions and equipment before you are all set to explore the park.
Kids will have the time of their lives when they enter another world at L'arche de Noé, a section designed for the little explorers. There is an animal farm where they will get feed lovable animals such as ducks, geese, turtles, rabbits, and birds like cockatiels, turtle doves and lovebirds, amongst others. They can as well learn how to fish for tilapia or fly through the air on an exciting child-friendly zipline that soars above the forested area.
Since after all this fun you will undoubtedly be famished, lunch is offered at the onsite restaurant in a scenic setting.
Book the Family Adventure Combo Package in the West of Mauritius
7. DodoQuest - Escape Rooms Adventure
Dodoquest is an adventure game, basically an 'escape quest', inspired by unique scenarios of Mauritian history and other oddball settings. It offers you an extraordinary experience to teleport you anywhere! You will be placed in a game situation under a themed room, which has authentic design, complete with dramatic sound effects, interactive objects and special smells to give you a real game sensation.
The Dodoquest offers you a real situation of adventures, amusements, entertainment, and mind boggling puzzles to solve. You have 59 minutes to find objects, solve puzzles, and unlock all the locks to set you free. Bring your family to enjoy an incredible adventure in Mauritius. Use your logic, tactics, and strategies to find the exit and complete the ultimate challenge !
Book the Family Adventure Combo Package in the West of Mauritius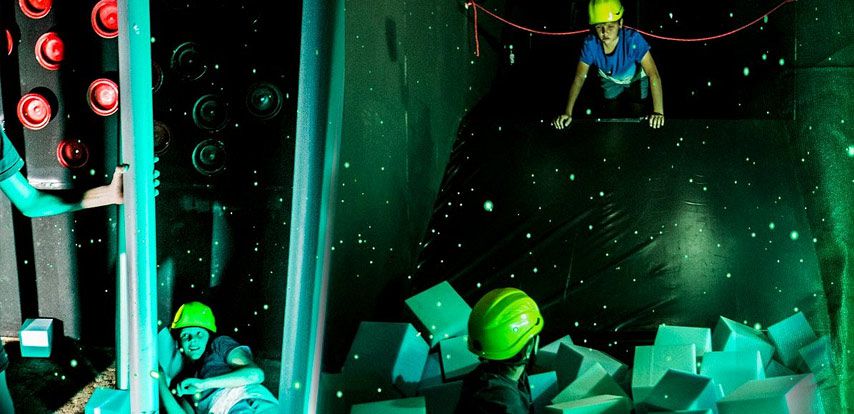 8. Chamarel - The Ultimate Discovery Tour
Discover tropical nature at its best through The Ultimate Discovery Tour of Chamarel. This tour can be done on either a private or a shared basis; it starts at 08:00 and ends by 18:30. It's an excellent full day family outing that is packaged with fun, adventure and discovery.
This package is an absolute must for all adventure-lovers as it offers you the chance to explore the flora and fauna of Mauritius whilst also discovering key Mauritian landmarks and sites.
Your journey will kick off with a 2-hour exploration of the Ebony Forest. After visiting the forest reserve, you will head towards the Chamarel Waterfall, where you will have a great viewpoint of the gorgeous waterfall plunging down from almost 100 metres. Next, you will visit the 7-coloured Earth, a geological curiosity that attracts many people.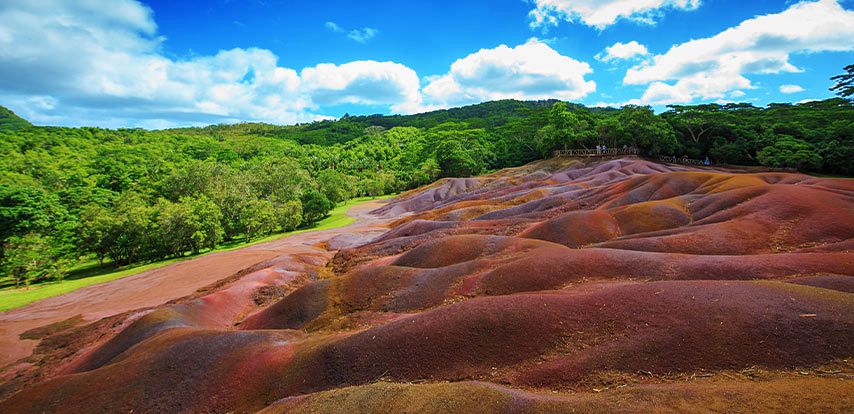 For lunch, you will have the choice between a delicious meal at the Rhumerie de Chamarel restaurant or the Varangue sur Morne. You will then visit the Rhumerie de Chamarel, where you will get a behind the scenes look at the rum-making process, and finally, your discovery tour will end at the Curious Corner of Chamarel.
Curious Corner as the name states is for those of us who like snooping around and have an ever-probing mind. It is a fascinating, fun, and social excursion into the wonderful world of optical illusions.
Book the Chamarel: The Ultimate Discovery Tour
9. Ile aux Aigrettes
Ile aux Aigrettes is a tiny coral island (25 hectares) just off the coast of the town of Mahebourg. The island has been declared a nature conservation site and today is being preserved by the Mauritian Wildlife Foundation. A habitat rehabilitation and management project has been established to restore the vegetation and fauna of the island to its original state. A visit to this island is both fun and educational; both adults and children will become more aware of the core components of the conservation of biodiversity.
The tour on Ile aux Aigrettes takes about one hour and a half, plus another 10 minutes each way for the boat trip. As part of this tour you will discover Ile aux Aigrettes and enjoy original Mauritian nature with an expert guide alongside leading the way. You will discover plants and animals, unique to Mauritius and found nowhere else in the world. Some of them have come close to extinction like the pink pigeon, the Mauritius Kestrel, endangered skinks and of course, the giant tortoises.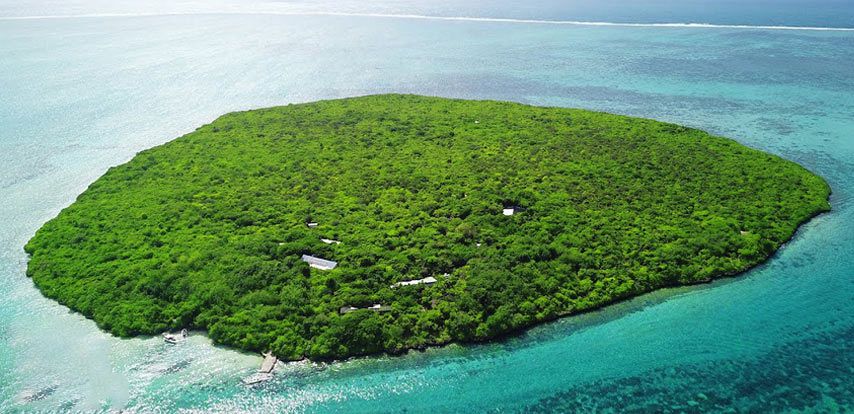 It is recommended to take a glass bottom boat toIle aux Aigrettes as you will get the chance to explore the Blue Bay Marine Park which is home to wide variety of fish species that include Damselfish, Surgeonfish, Butterfly fish, juvenile Sailfin tangs, as well as tiny Pipefish and large Trumpet fish.
Book your trip to Ile Aux Aigrettes:
10. Odysseo - The Oceanarium of Mauritius
Discover the largest oceanarium in the Mascarene Archipelago and the first of its kind in Mauritius. Over and above the richness of its onsite aquariums, Odysseo is a place where you can have fun while learning and educating yourself.
With its 5500 m2 of visiting domains, the oceanarium will showcase some 45 different aquatic habitats comfortably hosted in 2000m3 of pristine water. Visitors will encounter some 200 species (3,500 specimens at the opening) of the Indian Ocean.
With Odysseo, the Mascarene region is ready to welcome its largest oceanarium ever and also the first of its kind in Mauritius!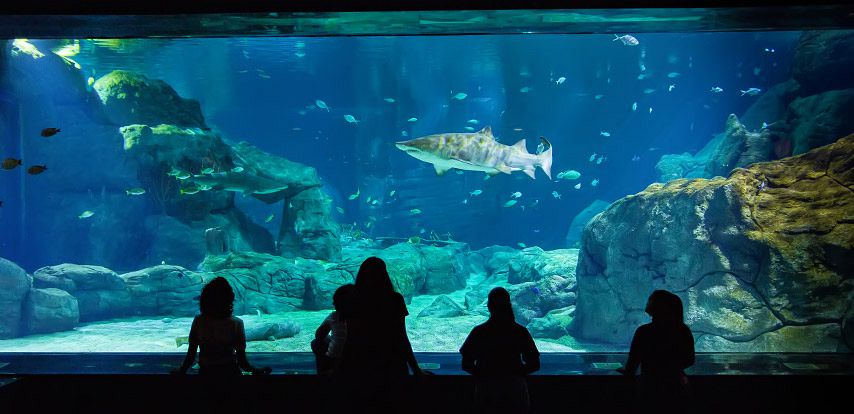 After your visit, you can visit the gift store where you can purchase stuffed animals, t-shirts, books, educational games about the marine environment, goodies, jewellery, etc. to take home.
Odysseo's purpose is not only to create wonder for visitors but also to awaken their curiosity and desire to learn more. We are all citizens of the ocean and it is important to understand the essential role it plays in maintaining the equilibrium of our planet! The ocean has so much to offer and we all have a role to play in its protection. Together, let's protect and save our ocean and planet!