10 Best Places to go Shopping in Mauritius
Ce contenu n'est pas disponible en français
Your holiday in Mauritius would be considered as incomplete without a shopping trip. Mauritius has a reputation of a shopping paradise. The island has become known worldwide as a manufacturer of quality textiles, uniquely designed jewellery including diamonds and a wide range of handcrafts such as artificial flowers, model boats, wooden art and many more.
There are a variety of malls and shopping destinations all over the island, which will cater for all kinds of shoppers. While visiting the markets, do make sure to bargain in order to get the best deals.
Shopping in Mauritius allows you to enjoy high value for money and with the variety of entertainment options available, it becomes an interesting and enjoyable experience. From inexpensive shopping venues to high-end malls, here's a list of the most popular shopping venues in Mauritius.
1. Bagatelle Mall
Built in 2011, Bagatelle Mall is one of the leading malls for both locals and tourists. The mall is located in Moka which is in the centre of the island, very easily accessible and with a large parking space. With over 150 stores including some world-famous luxury brands, the mall is a one-stop shopping venue for all your needs. The mall combines the most famous brands, entertainment and everyday leisure, all in a wonderful setting.
The mall has a spacious food court, a movie theatre, a hypermarket and many other entertainment options which makes it an ideal place for families. At the food court, there are many local vendors whereby you will get the chance to try some Mauritian dishes e.g dholl puri, fried mauritian noodles and biryani, the famous rice preparation with layers of marinated meat.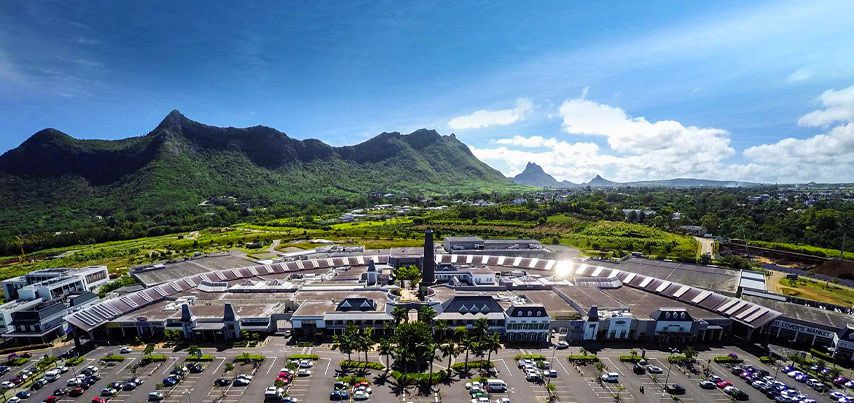 Over the years, Bagatelle Mall kept on innovating and it has now become a must-see place for tourists. The mall has a unique architecture, plenty of space to walk around and a great variety of local and international retail brands.
Location: Reduit, Moka
Operating Hours:
Monday - Thursday: 09:30 - 20:30
Friday - Saturday: 09:30 - 22:00
Sunday: 09:30 - 15:00
2. Grand Baie La Croisette
Located in Grand Baie, Grand Baie La Croisette is the biggest mall in the Northern region of the island. The mall offers a multitude of services and facilities including an unparalleled array of retail outlets, restaurants, a cinema, a supermarket, a children's play area, a banking, a telecommunication store, and a medical centre, among others. The mall is very animated with all the events and sales organised all year round.
The mall offers a wide variety of world-renowned and local retail brands. If you are a fashion victim, then you should definitely visit the Fashion Galleria, a 3504 m2 fashion section dedicated to high fashion, designer jewellery shops and accessories outlets among others.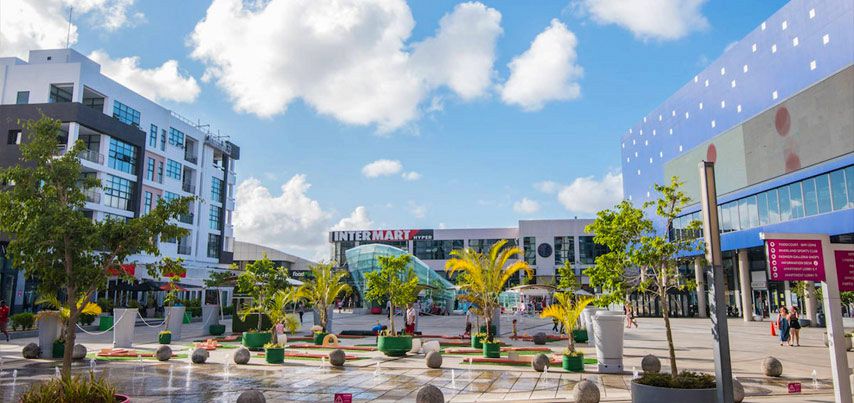 If you are looking for dining options, you will be amazed by the wide range of options available from fast food to upscale restaurants. Although the prices tend to be on the higher side, this one-stop shopping mall offers internationally branded products as well as Mauritian-crafted souvenirs.
Location: Grand Bay
Operating Hours:
Monday - Thursday: 09:30 - 19:30
Friday - Saturday: 09:30 - 20:30
Sunday: 09:30 - 16:00
3. The Central Market - Port Louis
The central market of Port Louis (also known as the Port Louis Bazaar) is one of the most frequented markets of Mauritius and the one most visited by tourists. The Port Louis Market is the ideal place to buy and try locally-made foods and drinks, especially Alouda, the refreshing beverage made with milk. The things on sale are cheap and the market brings you closer to the local life. The market is a very popular meeting point for both locals and tourists.
The Port Louis market has several sections. There is a section that sells fruits and vegetables, a section for meat products and seafood, upstairs a shopping mall that sells souvenirs and a clothing section.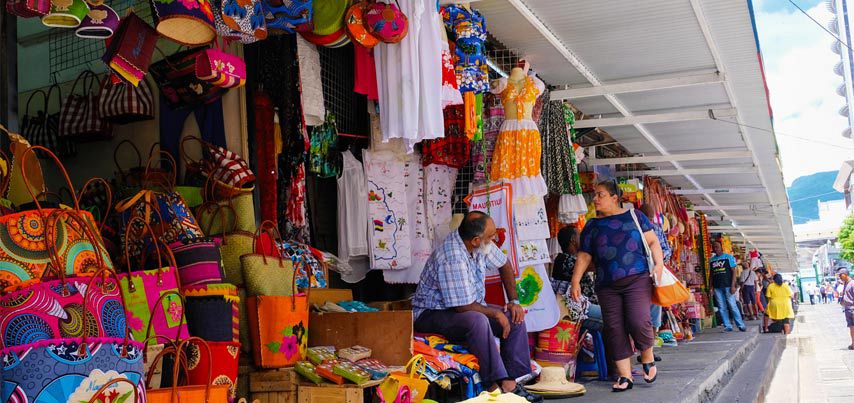 Port Louis market is a great place to find many interesting products. You will find local crafts, textiles, religious artefacts, spices and other artefacts for very cheap prices. There is also a corner of food that sells vegetarian food like Dholl Puri, Briani, Halim and other selections of additional local dishes.
Operation hours:
Monday to Saturday: 05:00 - 16:30
Sunday: 05:00 - 11:30
4. Port Louis Waterfront and Le Caudan Waterfront shopping complex
The bustling Port Louis Waterfront offers exciting shopping and entertainment venues intermingled with world-class hotels and restaurants overlooking the Port Louis Harbor.
Le Caudan Waterfront shopping complex with its 170 boutiques, is a shopper's must-visit and the centre for local artists and Mauritian artefacts. It has become an essential component of the vivid tourism and cultural life in Mauritius. There are many stores of both local designers and renowned international brands offering the latest fashion, including chic and casual wear, contemporary accessories, cosmetics and high-tech stores. You will also find a multitude of speciality shops selling unique local goods such as replica ships, Indian garments and beautiful paintings from local artists.
The shopping avenue also boasts cinemas, a marina, a bookstore, restaurants and coffee shops, a museum with two of the rarest stamps in the world and a casino.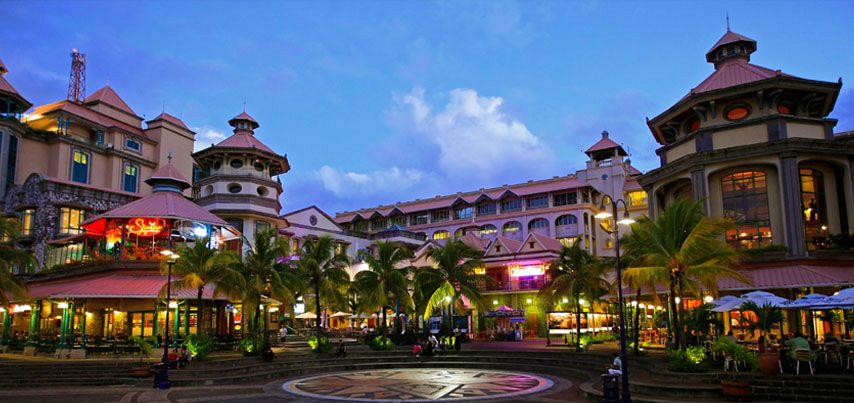 The craft market in particular is less authentic and a bit pricier than the Central Market, but it is also less crowded and thus, is pleasing to shop and look around. It is built like a big court with 2 floors and it consists of around 36 stalls full of a vast variety of locally made products, textiles, Mauritian spices, fruits and many souvenirs for very cheap prices.
Location: Port Louis
Operating Hours:
Monday - Saturday: 09:30 - 18:00
Sunday: 09:30 - 12:30
5. Cascavelle Mall
Cascavelle Mall is a one-stop-shop located in the western part of the island, connecting Black River, Tamarin and Flic en Flac. Open seven days a week, the aim of the shopping centre is to become the leading mall in the West, by offering an array of shops, restaurants, and leisure and entertainment facilities in order to meet the needs of everyone. There are about sixty shops at Cascavelle Shopping Village, local and international brand shops, 2 food courts, a supermarket, general retail stores and clothing.
Cascavelle Shopping Village has an animated open-air setting, with airy seating spaces, for relaxation and recreation, and gorgeous views on the sea and the mountains. In addition to its many shops and restaurants, it offers leisure options including a bowling alley and a splash pool for children. During the festive period, it's a must-see mall owing to its mesmerising decoration and the special atmosphere that adorn the place.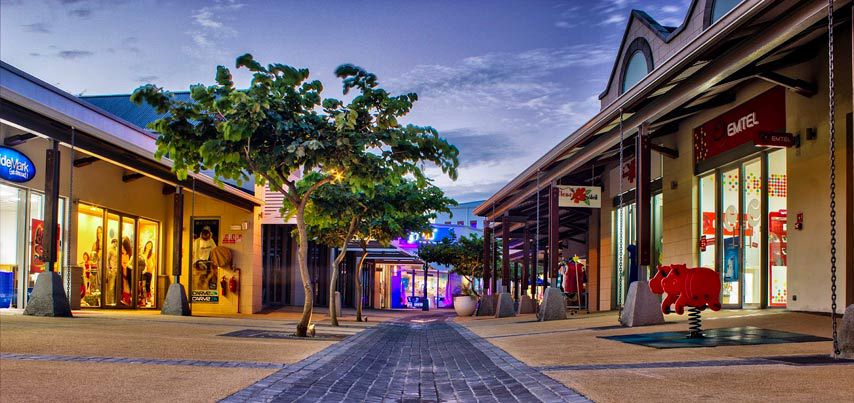 The whole food court area was recently refurbished with fast-food outlets and restaurants offering cuisines from around the world. Some of the outlets present are Debonairs, Steers, popular Mauritian brands such as dholl puri maker Dewa & Sons, La Rose de Damas, which offers Arab cuisine and a Juice Bar among others.
Location: Bambous
Operating Hours:
Monday - Thursday: 10:00 - 19:00
Friday - Saturday: 10:00 - 21:00
Sunday: 10:00 - 15:00
6. Quatre Bornes Market
The Quatre Bornes market, located in the centre of Quatre Bornes at Saint-Jean Street, is very popular with tourists and locals. The market specialises in textiles and clothing, including souvenir t-shirts, fabrics sold by the metre, printed Mauritian wear, casual wear and much more.
The market of Quatre Bornes is one of the most famous markets in Mauritius. On Wednesdays and Fridays, the Marketplace focuses on food. Hundreds of stalls offer a wide variety of fruits and vegetables, fresh produce and local specialities.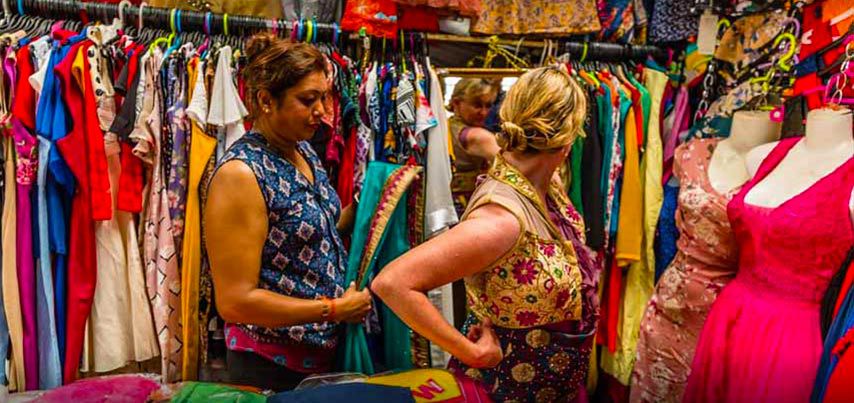 Every Thursday and Sunday, the Mauritian city is transformed into a textile capital. The Market of Quatre Bornes then offers traditional fabrics and textiles of all kinds. This is an opportunity to make great deals because you will find much more attractive prices than on other Island markets. As tourists are quickly spotted by the merchants, do not hesitate to negotiate prices!
Operation Hours:
Tuesday to Friday: 08.00 - 16.00
Saturday: 06:00- 16:00
Sunday: 08.00- 16:00
Monday: closed
Recommended to visit: Thursday & Sunday
7. Grand Baie Sunset Boulevard Shopping complex
Grand Baie Sunset Boulevard is a beautiful complex facing the main Grand Baie beach and where you can shop in a relaxed atmosphere. The Sunset Boulevard Shopping Complex is the perfect place for shopping lovers where you can enjoy duty-free shopping and find all the leading local brands, as well as many international brands.
You can buy souvenirs, textiles and many local products here. The shops at Sunset Boulevard are open from Monday to Saturday till 6 pm, some till 8 pm. On Sunday the Shops close at around 2 pm. Sunset Boulevard Shopping Complex also offers some good collections of Jewellery at several stores such as Poncini, Diamond Design, Mikado, Kavanagh, Mad´s, Passion and Helidore.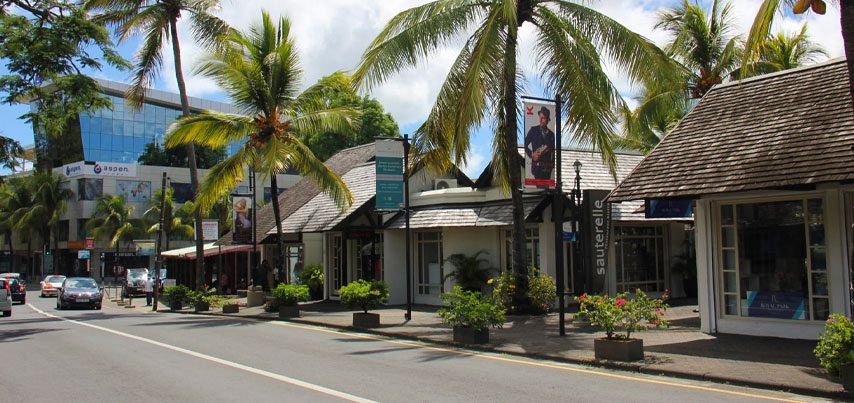 Since it's located in one of the most famous tourist areas of the island, there are several dining options offering both local and international cuisines located nearby.
Location: Grand Bay
Operating Hours: Monday - Sunday: 09:00 - 22:00
8. Flacq Coeur De Ville Mall
Flacq Coeur De Ville Mall, is a shopping centre located on the East side of the island and has rapidly become a famous meet-up place for people in the area as well as tourists. The 13,600m2 shopping mall has over 90 shops, a very spacious food court with a good choice of different cuisines, a kid's play area, beauty salons and a hypermarket. Visitors visiting the mall will also have free access to WIFI.
Flacq Coeur De Ville Mall, People can all shop under one roof with a wide variety of both local and international retail brands, and several electronic shops and ladies can pamper themselves at the spa. For the sports maniacs, there is a well-equipped fitness centre attached to the mall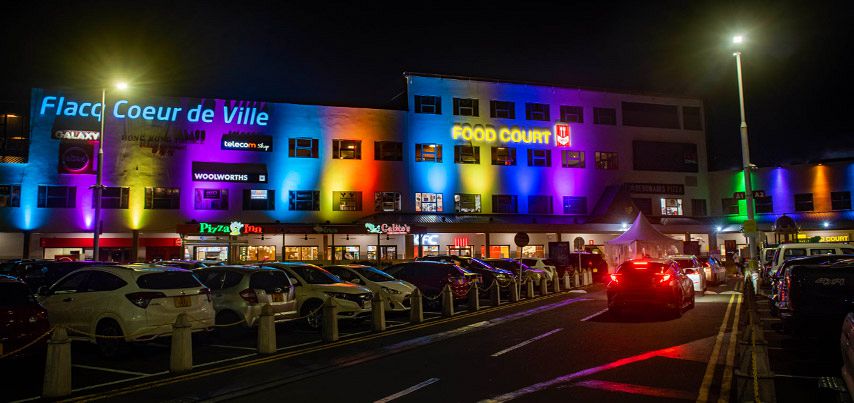 Over the weekends and festive seasons, it is well-animated with several shows which makes it perfect for great family moments.
Location: Flacq
Operating Hours:
Monday - Saturday: 09:30-20:30
Sunday: 09:30-15:00
Phoenix Mall
Phoenix Mall is ideally located in the centre with easy accessibility from all over the island. It is the perfect place to fulfil all your needs, whether it comes to shopping, a place to dine or just for some family fun.
Phoenix mall which was previously known as 'The Centre Commercial of Phoenix' is special to Mauritian people, as in 1994, it was the island's first shopping mall to house a hypermarket. Over the years, Phoenix Mall was refurbished several times and in 2012, it came up with the concept of 'Market Place'. This concept portrays the Mauritian culture with some traditional small shops and a beautiful courtyard where people gather and enjoy some delicious food.
The mall which has a unique architecture boosts more than 30 local and international retail stores, several dining options and general stores. With all that's on offer, Phoenix Mall guarantees a perfect and unique shopping experience.
Location: Vacoas, Phoenix
Operating Hours:
Monday - Thursday: 10:00 - 20:30
Friday - Saturday: 10:00 - 22:00
Sunday: 10:00 - 15:00
10. Bo'Valon Mall
Built in 2019, Bo'Valon Mall is one of the island's newest malls and it is located in Grand Port village, in the South East, just a few kilometres from the airport. The village of Grand Port is full of history from the 1900s and the whole concept of the mall is derived from it.
The mall which is 4,000m2 boasts a supermarket, a food court and 46 other shops. Among the shops, you will find a great variety of retail outlets, health & beauty stores, sports outlets and home designing stores.
This mall is very practical for visitors residing in the South part of the island.
Location: Vacoas, Phoenix
Operating Hours:
Monday - Saturday: 09:30 - 20:00
Sunday: 09:30 - 14:00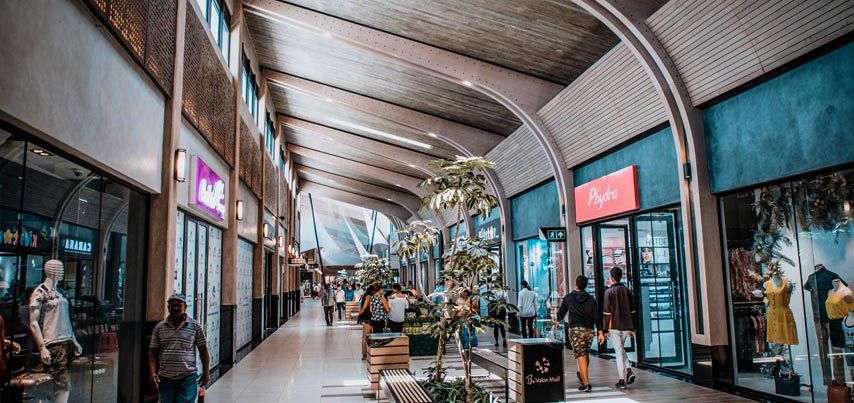 Shopping avenues have grown rapidly in Mauritius since the early 2000s. They used to be known mainly for branded items but today, malls have diversified by including food courts and entertainment options. While holidaying in Mauritius, you can spend an entire day at a shopping mall and make your shopping journey a real activity.
Trips and Tours Including Market and Port Louis Waterfront Visits:
Below you will find details on some shopping tour packages, offering visits to many of the main markets and the Port Louis Waterfront:
Tailor Made - Mauritius Shopping Tour:
You may also create your own Tailor Made Tour and visit any of the shopping venues of your choice by using this link.