10 Meilleures Activités d'Adrénaline et Extrêmes à Maurice
Ce contenu n'est pas disponible en français
10 Best adrenaline & extreme activities in Mauritius
Skydiving
Many people would consider jumping out of a plane at 10,000 feet (or being thrown out by a tandem jumpmaster) for the sheer thrill of it, but if you're looking for some very heart-pumping extreme activities in Mauritius, this is by far one of the best.
On a tandem skydive, imagine free-falling at 200 km/h for 60 seconds before your parachute opens and gently brings you down to earth. Although the adrenaline rush of skydiving is thrilling, it is the breathtaking 360-degree views of Mauritius that make this extreme sport so worthwhile.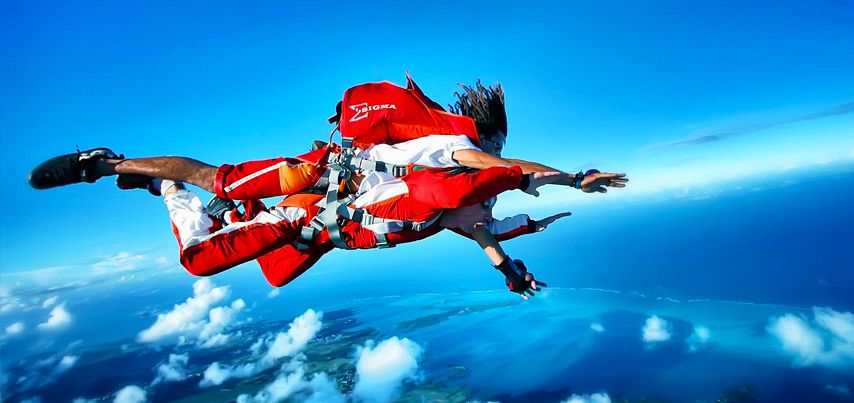 Tandem jumping means you won't have to do it alone; instead, you'll be harnessed to a professional and experienced coach who will guide you through the entire process and, of course, be there with you throughout. Skydiving in Mauritius is sure to be a once-in-a-lifetime experience for those brave enough to try it.
Book the Mauritius Skydive - Tandem Skydiving
Ziplining
One of the most thrilling and adrenaline-pumping activities to do in Mauritius is zip lining.
Zip lining is a thrilling way to take in the stunning scenery and a spectacular view of the forest canopy. Zip lines of various lengths, heights, and speeds are available depending on your level of bravery, allowing you to explore different environments while getting a small or big adrenaline rush.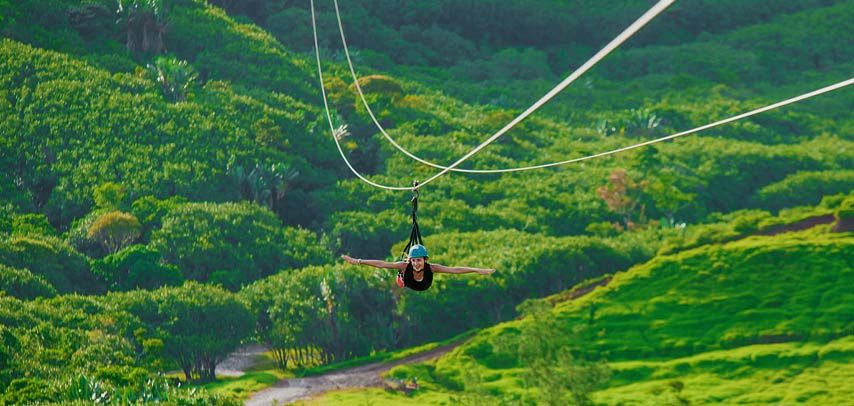 Adventurous will be delighted to know that Mauritius has the longest zip lines in the Indian Ocean. Many locations on the island offer zip line activities, which are becoming increasingly common among families where you can build self-confidence in a beautiful surroundings.
Book your Canyoning and Zip lines Activities
Kite Surfing
One of the most popular extreme activities in Mauritius is certainly kitesurfing. The thrilling sport that seems to combine surfing, wakeboarding, paragliding, windsurfing and gymnastics, is certainly one for the sports enthusiasts or those who have had a little bit of fitness training behind them.
Surrounded by reefs that form the perfect lagoons and waves, Mauritius is a real haven for Kite surfers. Consistent trade winds blow from 15 to 30 knots during the winter period (May to November) which makes Mauritius waters a pleasant playground for kite lovers and waves enthusiasts.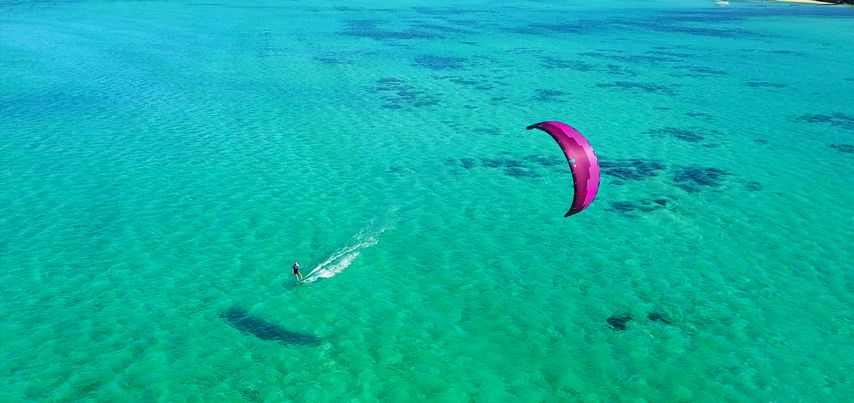 There are two famous spot for kitesurfing lessons which are :
Le Morne: - is renowned as the world's most popular kitesurfing spot. This fantastic location, located on the island's southwest coast, allows kitesurfers to ride the wind and waves alongside Le Morne Brabant Mountain.
Book the Kitesurfing in Le Morne
Bel Ombre: - This massive flat lagoon on the southwest coast of Mauritius is another famous spot for kite-surfing in Mauritius. Wind conditions here are stable due to the steady trade winds that blow from the sea which makes it a superb place for beginners as well as the professionals.
Book the Kitesurfing in South-West of Mauritius
Canyoning
Canyoning is an outdoor activity that involves descending torrents, streams, rivers, and gorges with or without permanent water, as well as waterfalls, basins, and vertical sections. Discover the most beautiful scenery of the island by combining hiking, diving, and abseiling.
Mauritius has a lot of beautiful scenery. Its waterfalls, canyons, and waterfalls make it an excellent canyoning place. This popular activity allows you to not only explore the island's lesser-known corners but also experience its adrenaline rush.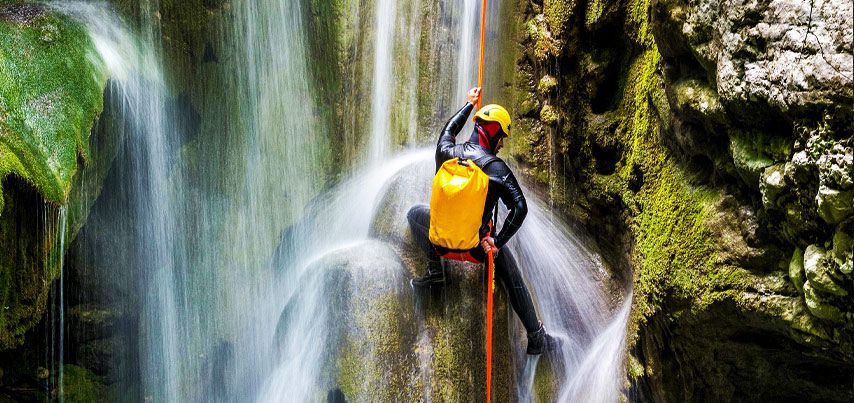 The canyon of Tamarind Falls, located near the small village of Henrietta on Mauritius' central plateau, is the only canyon worth visiting. With 11 waterfalls, numerous jumps, deep ponds, and lush vegetation, this site remains one of the island's most spectacular canyons, suitable for all levels of adventurers – from beginners to serious adventurers.
Book the Canyoning Excursion at Tamarind Falls
Mountain Biking
Mauritius is not only a wonderful place to visit for beach vacations and honeymoons, but it is also a fantastic hiking destination. Mauritius, which is surrounded by green fields, lush woods, and mountains, provides easy access to many outstanding natural areas where you mountain bike. The most scenic mountain bike tours in Mauritius can take you across turquoise lagoons, deserted beaches, waterfalls, endemic and lush forests.
There are few beautiful places to go mountain biking in Mauritius but biking at Bras D'Eau and Macchabee Forest are highly recommended.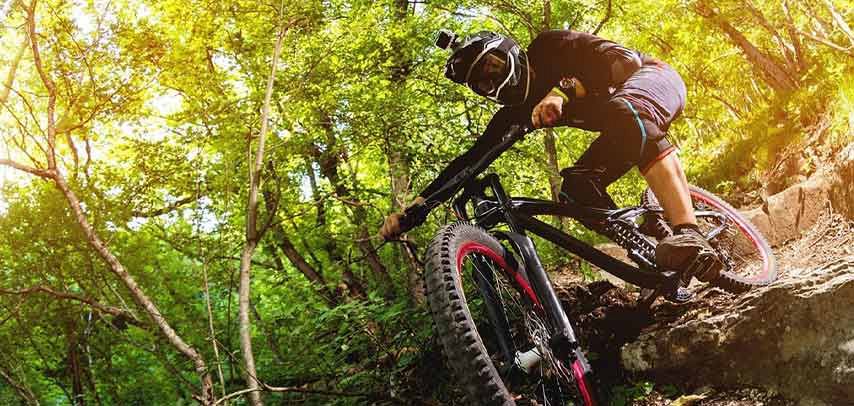 Biking at Bras D'Eau - This exciting 4 hours biking is run every day and can be enjoyed with your partner, friends and the family. It involves roughing up around 30Km through the wild nature at Bras D'Eau.
Mountain Biking at Macchabee Forest - its 4 hours Mountain Biking which involves roughing up around 30km of the South West Region including the protected area of Macchabee Forest Reserve.
Book your Mountain Biking Adventure
Scuba Diving
The coast of Mauritius is home to an abundance of marine species, breathtaking underwater scenery, and numerous shipwrecks. Divers of all levels of experience will appreciate the island's rich natural beauty because it is surrounded by coral reefs of varying depths.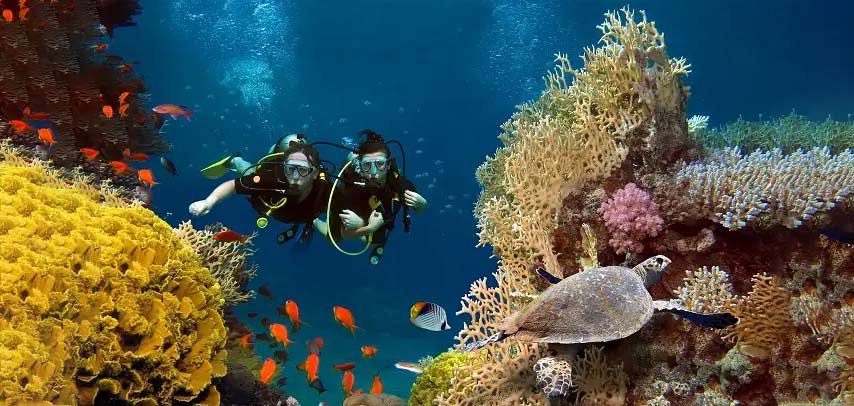 The sea conditions vary around the island, making for a unique diving experience. Beautiful underwater terrain can be found in the east and south east, but visibility can be reduced in the winter as the seas get rougher. Visibility is strong all year in the colder waters of the west coast, allowing divers to enjoy the rich marine life on that side of the island. Although diving is possible all year, the best season is from November to March, when visibility is excellent and water temperatures hover about 28°C.
Paragliding
Paragliding in Mauritius allows you to spread your wings and soar through the sky, taking in the breathtaking views of the island from a bird's eye perspective.
This activity is perfect for adrenaline junkies, as it will increase your adrenaline levels and leave you perplexed and delighted.
Mauritius enjoys a tropical climate throughout the year. Summer months, from October to December, are hot and humid, and spending time on the beach can be exhausting. Also, if you're looking for an adrenaline rush, the best time to visit Mauritius is from October to November. The weather is dry, cooler, and with a reasonable wind speed, making it ideal for paragliding.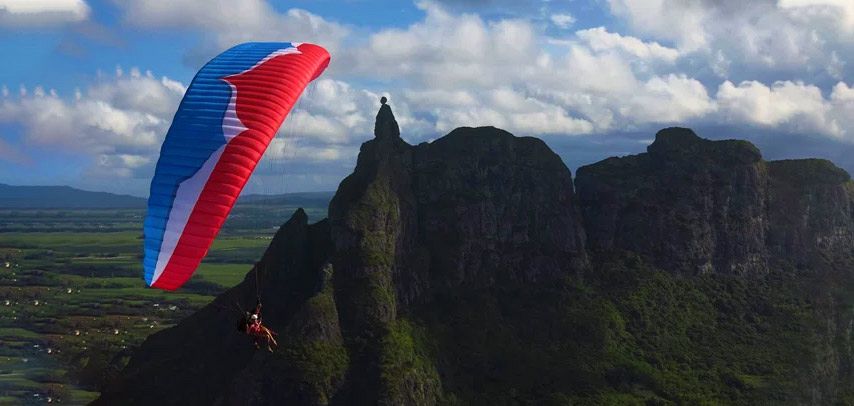 Grand Baie, Pieter Both, Le Pouce, Tourelle de Tamarin, Mahebourg, Trou d'eau Douce, Belle Mare and Corps de Garde are the best paragliding spots in Mauritius.You get to see the beautiful white sand beaches, turquoise blue waters, mountains, lagoons and much more in just one go with Paragliding.
River Trekking
River trekking is a combination of hiking, bouldering, and climbing along rural river canyons and is in some ways similar to canyoning. River trekking involves particular techniques like climbing on wet surfaces, understanding the geographical features of rivers and valleys, dealing with sudden bad weather, and finding out possible exits from the river as needed.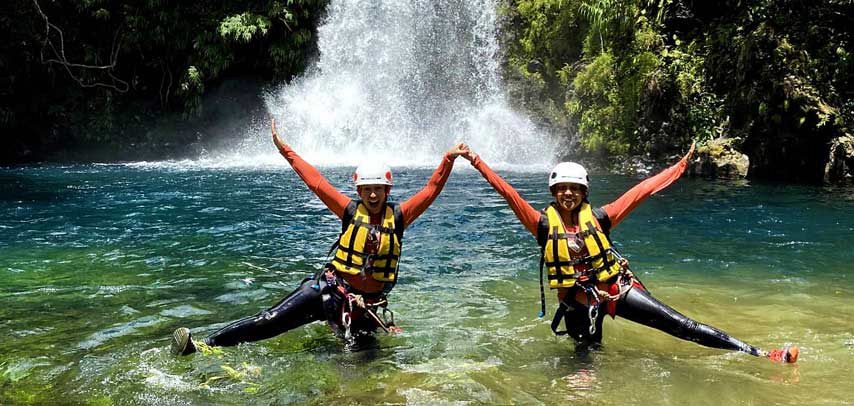 River trek can be experienced at Galet river in the south of Mauritius and it's a great way to discover the beautiful nature of Mauritius.This is a fantastic adventure trek that allows you to cool off in fresh tropical waters while learning about Mauritius' aquatic fauna and flora. The river trek takes place in a scenic nature reserve along a freshwater river.
Book your River Trek Adventure
FLYn'DiveTM
Fly like 'Iron Man' and Dive like a dolphin with this thrilling FLYn'DiveTM Sea Tandem adventure.
If you're looking for a rush of adrenaline and excitement, where you can fly like Iron Man and dive like a dolphin, the FLYn'DiveTM adventure is for you and it's a fabulous way to have a fun and exciting time with friends and loved ones who want a taste of this watersport.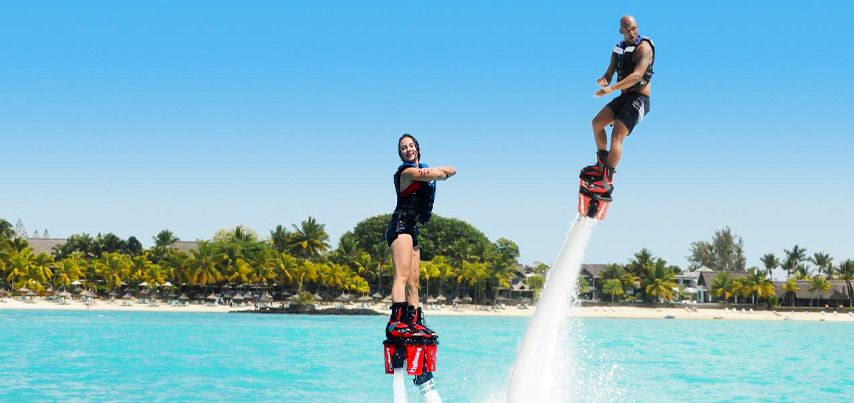 To ride the FlyboardTM, you don't need any previous experience.
The FLYn'DiveTM is a water-powered amphibious jetpack. This ingenious system uses a Jet Ski's engine to propel a pair of jet boots into the air by directing water through a long hose attached to it. It's one of the few devices that allows humans to travel without the use of any mechanical devices. It's safe and expertly driven to provide you with the best adventure experience you've ever had. It is not to be missed on your trip to Mauritius.
FLYn'DiveTM Tandem Activity can be experienced at the beach of Grand Bay in the North of Mauritius. Just imagine the rush of being able to burst out of the clear waters and fly up seemingly without gravity, where you will get to witness the glorious beauty of Grand Bay.
Mountain Hiking
The stunning island destination of Mauritius is world-renowned for its dazzling natural beauty. Long golden beaches, breathtaking turquoise lagoons, and lush tropical jungles are among the most fabled features. But, in addition to its undulating volcanic landscapes, Mauritius has some spectacular mountains, many of which are best explored by hiking
Hikers, trekkers, and rock climbers who want to explore Mauritius' mountains will be rewarded with breathtaking views, incredible tropical forest trails, and the chance to see some incredible endemic flora and fauna.
There's even a mountain here that carries some serious historical importance - there's definitely no lack of choice when it comes to incredible trails and mountains in Mauritius to discover.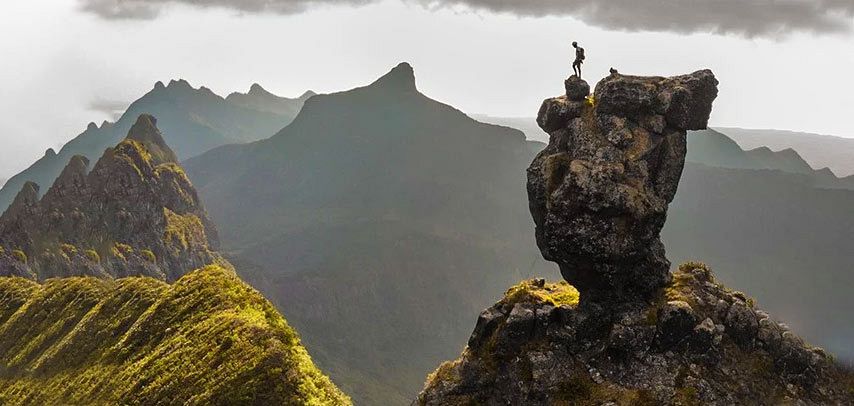 Below are some of the most famous mountain hiking:
Le Pouce - The Pouce, an iconic peak in the island's center, has long been a popular hiking destination in Mauritius. The summit, which is 812 meters above sea level, takes an hour and a half to two hours to reach.
Overall, the hike is suitable for people of all fitness levels; the only portion that beginner hikers can find challenging is the final stage, as you reach the summit.
Book your Hiking Trip at Le Pouce Mountain
Le Morne - This well-known UNESCO World Heritage Site is now a must-see for all visitors, regardless of whether or not they enjoy hiking. The first section of the hike, which leads to a plateau, is relatively easy to reach. The second point, on the other hand, necessitates a bit of vigour and a willingness to do some mountain climbing.
When you reach the summit, which is about 550 meters above sea level, you'll see the mountain's iconic white cross and a panoramic view of the island's southwest.
Book your Hiking Trip at Le Morne Brabant
Black River Peak - The two hour, nine kilometre hike takes you to the top of the island's highest peak at 828 metres, providing unrivalled views over the deep green, forested surrounding below.
Book your Hiking Trip at Piton De La petite Riviere Noire
Lion Mountain - The mountain is 480 meters high and can be difficult for those who are not used to hiking. It takes around 2 hours each way and from the top as well as along the way, this mountain offers some spectacular views.
Book the Lion Mountain Guided Hike
Signal Mountain - Port Louis, the charming colonial capital, has its own mountain. The radio antennae atop Signal Mountain gave the mountain its name. With a height of just 323 meters, it's a short and fun walk to the summit, where you can see the island's spectacular sunset.
Corps des Gardes - Corps de Garde, at 780 meters, is not far behind Le Pouce. Some claim this mountain, which has volcanic roots and is made of basalt rock, resembles a sleeping night watchman. On a four-hour hike through dense bush, you'll get a great view of the island's other mountains, including Rempart, Tourelle de Tamarin, Black River Piton, and the majestic Morne Brabant.
Pieter Both - is the second highest mountain in Mauritius at 820m located in the Moka range.It is an iconic and unique mountain as it is easily noticeable due to its round-shaped boulder at the extreme top of the hill, almost making it similar to a human head
Trois Mamelles - The hike forms part of the isolated range comprising Mt Rempart to the west and Les Trois Mamelles to the east. Set your inner adventurer free with this hiking trip to the middle peak of the trio, as you climb to an altitude of 600m.