Things to do in the evening in Mauritius
Ce contenu n'est pas disponible en français
Evening activities in Mauritius
Mauritius has something for everyone, from world-class resorts to a range of outdoor adventures and water sports for adrenaline junkies. There's also a bunch of great jaw-dropping beaches and islands for the on-the-go traveller.
Even, if you are a night bird, you will not be disappointed because this island offers numerous opportunities for an unforgettable night out. The capital of Mauritius, Port Louis, and the Royal Road on Grand Baie are home to a variety of restaurants and bars and nightclubs that keep the pulse racing till late in the night. The sea-facing hotels draw a large number of visitors for those who would like to enjoy a romantic or family and friends dinner and even party at their resort.
Whether you're looking to amp up the party vibes or wind down for an evening or night activities, here are some recommendations other than nightclubs to indulge in before or after dark.
Catamaran Sunset Cruise
Mauritius is an excellent location for romantic sunset cruises, as it offers a relaxing atmosphere and breathtaking scenery. The sunset and dinner catamaran cruise is an ideal way to spend quality time with your loved ones, whether they are your partner, family, or friends.
In the North, you will sail off at a leisurely pace into Grand Bay's spectacular sunset aboard a magnificent catamaran with great music in the background, an all-inclusive open bar, Mauritian snacks and a selection of canapés.The cruise will take you out of the lagoon, heading the direction of Gunner's Quoin. You will sail along Gunner's Quoin and will get to see the island from close and contemplate its spectacular sea cliffs. During your cruise, you will see other iconic northern islets and you might come across whales and dolphins in their natural environment.
You can also enjoy an unforgettable two hour sunset cruise along the south east coast of Mauritius which departs near the town of Mahebourg where you will have the opportunity to sail across crystal clear water while taking in the beautiful scenery all around you. You'll also get to see a stunning sunset as the sun sets behind the mountain ranges, changing the sky's colors and creating a blend of colors in the sky.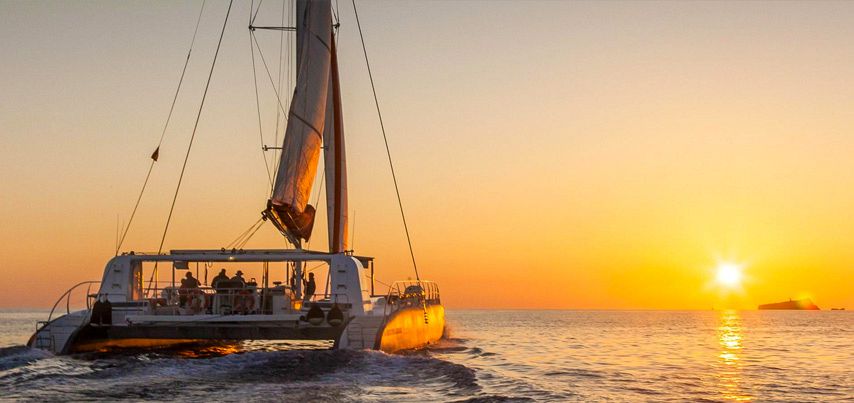 The sunset cruise takes you across Blue Bay Marine Park, the popular Ile aux Aigrettes Island, and the historically famous Ile de la Passe. Live music in the background, a selection of canapés and snacks accompanied with some refreshing drinks (alcoholic and non-alcoholic drinks) are served during the cruise.
You can visit the link below for more information about Catamaran Sunset Cruise and you can make your reservation on the same website.
Dinner in a Restaurant
Savour some delectable Mauritian cuisine in some of the best restaurants of Mauritius. A multitude of international restaurants are found at hotels and resorts, some of which feature celebrity chefs and Michelin stars. Non-residents are free to book and eat at most. Mauritius also has plenty of dining options outside the hotels where you can try the varied and delicious local cuisine at affordable prices.
Look for Creole fish rougaille (a spicy tomato sauce), daube (beef or chicken stew), and vindaye (deep-fried fish covered in turmeric, ginger, chillies, and mustard seeds), Indian specialties like octopus curry, crayfish and smoked blue marlin.
Grand Baie is the only area with a happening evening dining scene and to a lesser extent, Port Louis. Depending on where you're staying, it's also often a long drive from resort to restaurant.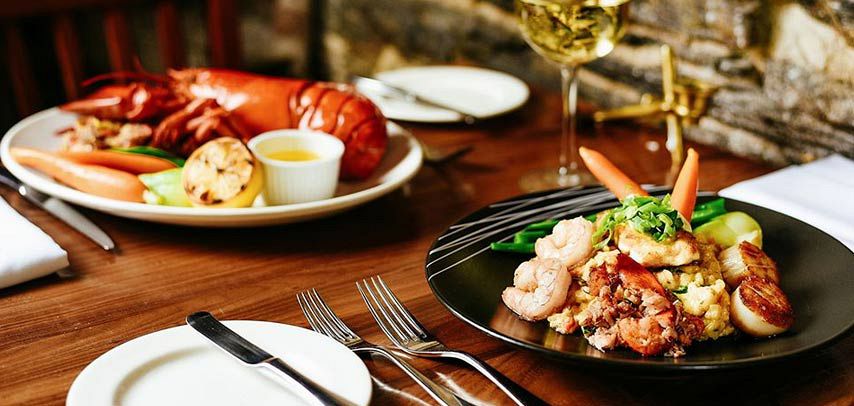 The selection below suggests places to try local food and international cuisine around the island;
Maison Eureka in Moka
Safran Restaurant located in Shangri-La's Le Touessrok Resort & Spa,Trou d'Eau Douce
Domaine Anna Restaurant in Flic en Flac
Rasoi by Vineet in Belle Mare
Château Mon Désir in Balaclava
Le Capitaine in Grand Baie
The Deer Hunter at Constance Belle Mare Plage Resort
Restaurant Le Chamarel
Miss Daisy Bistrot in Rose Hill
Le Chateau de Bel Ombre
Le Café des Art in Trou d'Eau Douce
However, we do admit that food that you will come across as you roam around the bustling streets are those that will really tickle your taste buds. It is also said that the central Port Louis is perfect if you want to try street food during your time in Mauritius. Right from Roti (flat bread), Street Biryani, Samosa, Dumpling Soup and plenty of others to experience the best of street foods.
Late night Shopping
Mauritius is full of amazing shopping areas, few shopping malls and supermarkets which keep their doors open after the sun goes down. So there's no need to stick to daytime shop opening hours to catch up on essential retail therapy on the island.
Shop opening times vary across Mauritius, with some shops opening late on specific days or at weekends. Always check the individual shop opening hours in advance – but for a handy overview, take a look at best places to shop in Mauritius at night below, which are usually open late especially on Friday and Saturday night.
Grand Baie La Croisette: Discover Grand Baie La Croisette, a mall dedicated to fashion, amalgam of flavors and entertainment.
The mall offers an unparalleled retail mix combined with world-class fashion, dining, entertainment and leisure attractions. Along, being the biggest mall in the North, Grand Baie La Croisette also offers the only multiplex cinema for all movie lovers. With over 110 retail and food outlets, Grand Baie La Croisette is Mauritius's largest shopping and entertainment destination for all Mauritians and tourists in the north.
Opening Hours:
Mon – Thurs: 09:30 – 19:30
Fri - Sat: 09:30 – 20:30
Sun - 09:30 - 16:00
Grand Bay Coeur de Ville: At walking distance from the beach, you will discover the shopping mall Grand Bay Coeur de Ville with its hypermarket Super U, where locals and tourists can find anything they need in a modern, jovial & clean environment. From local fresh fruits, bread, fresh meat & fish to craft souvenirs and with over 70 shops, nice fast food corners, Chinese and indian restaurants, a bowling club and a casino, Grand Bay Coeur de Ville is a real reference in Mauritius.
Opening Hours:
Mon – Thurs: 09:00 – 20:30
Fri - Sat: 09:00 – 21:30
Sun - 09:00 - 15:00
Mont Choisy Le Mall: is your one-stop local shopping destination in the north of Mauritius. The shopping center is a popular meeting place for everyone, going out with family, friends or colleagues. It offers a unique shopping experience by offering various stores, but also by highlighting local artisans on site. It also features open-air restaurants overlooking a beautiful garden, providing an excellent playground for children while their parents are busy having their food. Its location makes it very accessible to anyone traveling to the north.
Opening Hours:
Mon – Thurs: 09:30 – 19:30
Fri - Sat: 09:30 – 21:30
Sun - 09:30 - 15:00
Bagatelle Mall - is Mauritius's most popular shopping and retail destination. Its prominent location and extensive retail and leisure offerings draw shoppers from all over the island. Bagatelle Mall brings together the world's most coveted brands, shopping comfort, entertainment, and daily leisure in a magnificent atmosphere.
Bagatelle Mall has the largest range of specialty stores making it the most expansive and convincing lifestyle shopping experience on the island. The large Food Court also provides a variety of delectable choices for hungry shoppers.
Opening Hours:
Mon – Thurs: 09:30 – 20:30
Fri - Sat: 09:30 – 22:00
Sun - 09:30 - 15:00
Cascavelle mall - Cascavelle Shopping Village is a one-stop-shop in the western part of Mauritius, with a supermarket, designer stores, everyday service providers, an attractive food court, and restaurants. It is located at one of the busiest junctions in the western part of the island, linking Black River, Tamarin, and Flic en Flac.
Opening Hours:
Mon - Thurs: 10:00 -19:00
Fri – Sat: 10:00 - 21:00
Sunday & Public Holiday: 10:00 -15:00
Enjoy an evening package in a hotel
It can be difficult to take a break during the day, so why not take advantage of a hotel evening package. A hotel evening package allows you to relax after a long day and enjoy a one-of-a-kind hotel experience at night.
Hotel Evening Packages, which include dinner, evening entertainment, and access to hotel facilities, are ideal for unwinding and enjoying a resort environment with your loved ones at an affordable price.
Some of the popular hotels which offers an exclusive evening package are listed below
Aanari Hotel & Spa All-inclusive Evening Package
Aanari Hotel & Spa is located on Flic en Flac beach and offers an all-inclusive evening package which includes an apero before dinner at the Colonial bar, a delicious themed dinner buffet at Mei Yan restaurant and unlimited supply of soft drinks, mineral water and local alcoholic drinks.
Book the Aanari Hotel & Spa All-inclusive Evening Package
Tamassa Hotel All-inclusive Evening Package
Tamassa Hotel located in the south of the island in Bel Ombre, the luxurious 4-star Tamassa Hotel has the ideal package for you to keep this unique evening going with delicious food, complimentary beverages, and entertainment.
Book the Tamassa Hotel All-inclusive Evening Package
Romantic spa treatments
Romantic spa treatments are one of the most effective ways to ensure that you and your loved one have an unforgettable holiday filled with unforgettable moments spent together. There are several spas for couples around the island that cater to intimate moments and couples packages, allowing you to have a romantic spa day or one of the most memorable romantic spa getaways.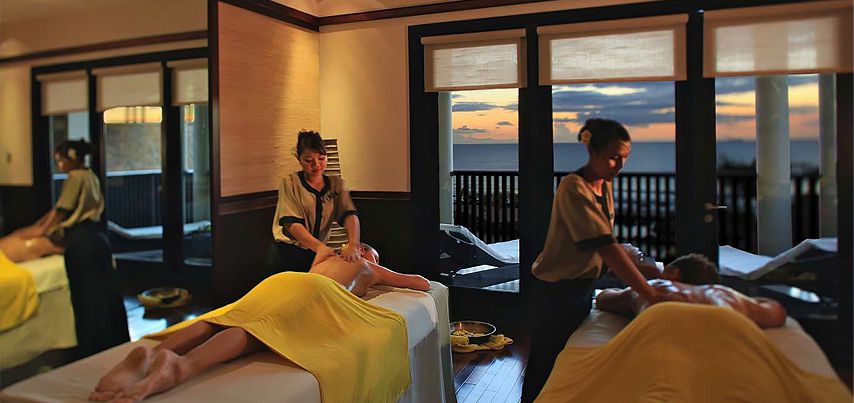 We have the right package for you which is the Ultimate Romantic Lovers Package and as part of this package you will enjoy an Exclusive Couple Spa Package and an Exclusive sunset dinner cruise taking you for a journey through romance and love.
Book the Ultimate Romantic Lovers Package
You can also book an Exclusive Romantic Dinner & Spa for Couples at Tamassa Hotel where you can enjoy an evening of pampering and luxury with your partner at the LUX* ME spa in one of Mauritius' finest all-inclusive resorts together with a delightful 3-course dinner.
Book the Love to Love - Romantic All Inclusive Evening at Tamassa Hotel
Sunset Horse riding by the beach
A sunset beach horse ride, with a refreshing sea breeze blowing past and splashing about in the cooling shallows of the ocean is another unique experience which you will cherish and never forget.
Riambel beach which is located in the south of Mauritius, offers a true taste of paradise where you will also have the privilege of enjoying breath-taking views of the resplendent tropical sunset over the Mauritian lagoon.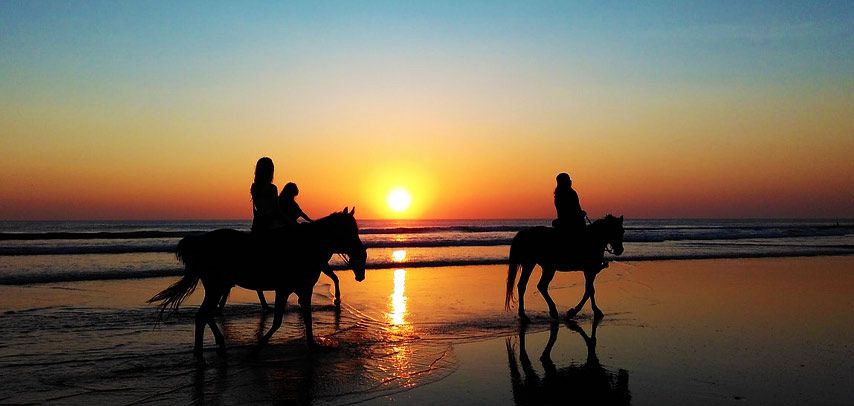 This activity is appropriate for people of all skill levels, including those who have never ridden a horse before. Galloping with horses would be restricted to experienced riders only.
Depending on the level of rider and to ensure safety throughout the journey, you will be accompanied by a trained team member on foot or by horse.
Book the Romantic Sunset Horseback Beach Riding at Riambel
Dinner cruise on catamaran
A dinner cruise is the perfect way to end a perfect day in paradise. Board a sailing catamaran and enjoy an evening of calm water cruising along the west or north coast depending on your preference, taking in the sights and sounds of this tropical island and its surrounds as they transition from day to night.
As with all dinner cruises, each journey starts with a refreshing cocktail from the bar. Stroll the interior or exterior decks with your glass charged, admiring the view as the sky changes from blue to red to orange to silky black, loaded with thousands of sparkling stars.
The water is calm, the weather mild and the night is yours to enjoy. Sit down to a delicious three-course set menu dinner featuring some of the island's best produce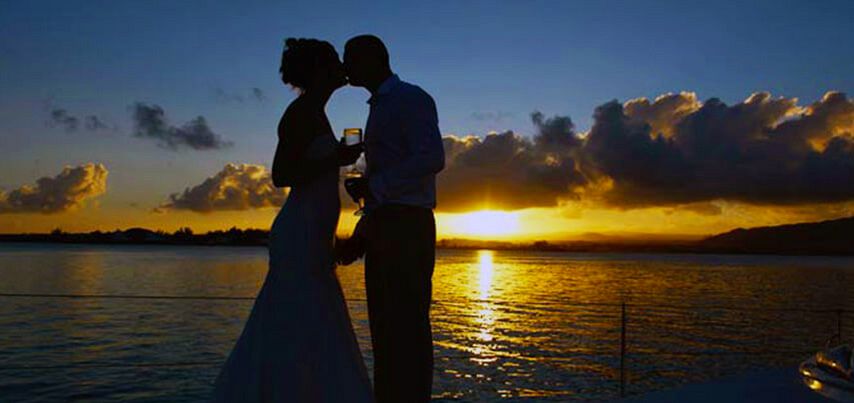 You can enjoy a private dinner cruise on a catamaran by choosing one of the options below:
Private Catamaran Sunset Cruise With Dinner in the North
Snacks, a full dinner made especially for you, and a range of alcoholic and non-alcoholic beverages are served on the sunset catamaran trip which will take you out of the lagoon and towards Coin de Mire Island (also called Gunner's Quoin). You'll also get a great view of the other northern isles as well as Mauritius' central mountain range as you sail past Fort Malarctic, Cap Malheureux, and other significant historical places.
Book the Private Catamaran Sunset Cruise With Dinner - Grand Baie
Private Sunset Catamaran Cruise with dinner in the west
On this cruise, enjoy a relaxing evening sailing through Black River while watching the tropical sunset from the comfort of a private catamaran. The South Western region of Mauritius is one of the island's most beautiful places, and a must-see for anyone visiting the island.
This cruise is all about enjoying a relaxing evening on board a catamaran with friends or family in a unique atmosphere while having dinner served on board by the attentive and welcoming crew.
Book the Private Catamaran Sunset Cruise with Dinner - Black River
Romantic dinner on the beach
Indulge your loved one with an exceptional evening of romance as you enjoy an exclusive dinner set against the most stunning beach backdrop, with the stars as your only companion.
Whether it's a proposal, birthday celebration, a wedding anniversary, or simply surprising her, there's no better place to make this moment special and memorable than the beautiful beaches of Mauritius.
Most hotels and resorts can arrange a dinner on the beach creating the perfect mood of romance and sophistication for the lovebirds staying at the hotel.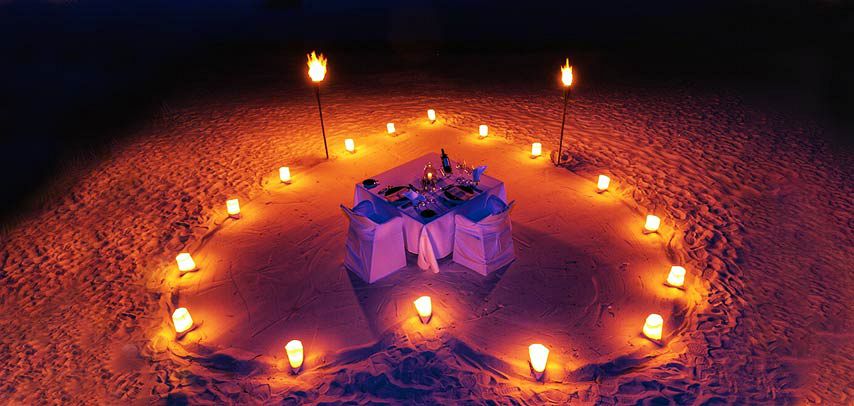 Night Safari trip
For the more courageous, you can also admire the Mauritian nature at night and have the chance to witness unique moments in the heart of a reserve. You will be able to enjoy a wonderful sunset, then extend your wilderness getaway until night falls and you can see moments of unbelievable wildlife.
The Heritage Nature Reserve's night safari located in Bel Ombre, is designed in a way for visitors to absorb the uncanny environment. It's a 2 and a half hour journey, and the visitors will be taken across the different geographical areas of the region. At every trip, a guide will be provided with the visitors to give them a better understanding of the area.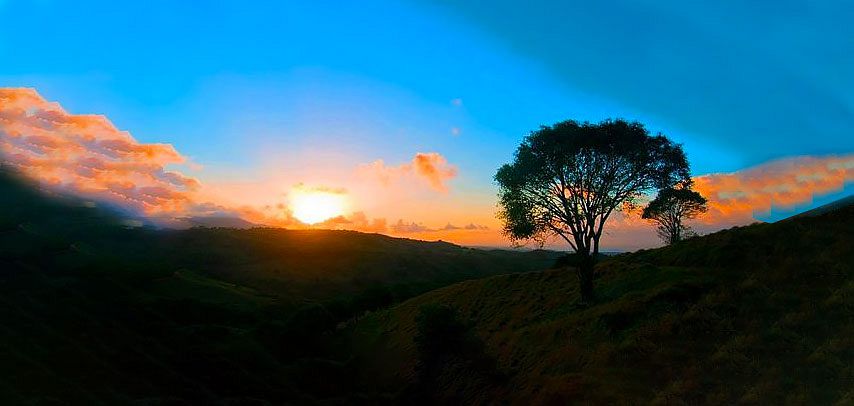 In the reserve, there is also a secret waterfall that is particularly attractive at night. Stop the car for a while and watch how the waterfall continues to flow down and becomes mingled with a narrow stream.
At the end of the trip, the visitors will be taken back to the camp where refreshments like food and drinks are provided.The night safari around the reserve is meticulously designed so that visitors can relive their adventures for years to come.
Book the Night Safari in a Native Wildlife Environment (4x4)
Dinner in the middle of the sea
Discover a new way of spending sea time with an awesome floating beach concept and get away with a peaceful atmosphere where you can have dinner under the stars..
Z'ile Beach located in Mont Choisy, offers a new and exciting way to spend your time in the middle of the sea. With this incredible floating beach idea, you can celebrate the most joyous occasions in a unique atmosphere.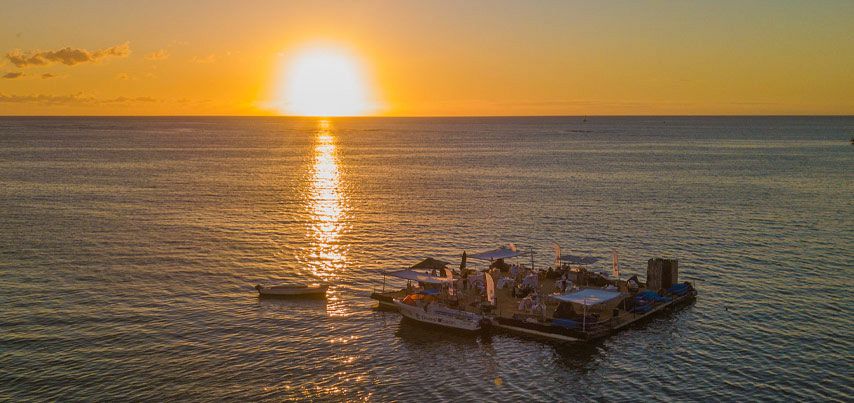 The 'Dinner Under the Stars' package is perfect for couples. As dusk falls, take in the stunning views as a plethora of stars light up the night sky and a cool sea breeze softly ruffles your hair. This beautiful dinner on the beach with your toes in the sand is a once-in-a-lifetime experience.
This is an exclusive opportunity to dine in the middle of the sea and offer your loved ones an unforgettable moment in complete privacy.
Escape the hustle and bustle of the mainland, whilst still enjoying comfort, seclusion and an exclusive romantic atmosphere like no other with delicious canapés and dishes, paired with exotic cocktails while calming music plays in the background.