Bleu De Toi Guest House at Pereybere

Address: ;
Bleu de Toi, Chambres d'hôtes
Route Côtière – Pereybere
Mauritius
Telephone:
(230) 269 17 61
Email:
info@bleudetoi.mu
Content is not available in French for the moment.
Bleu De Toi Guest House - Pereybere - Mauritius
Welcome to Bleu de Toi, our little piece of paradise. Bleu de Toi is nested in the shelter of tropical palms, hidden from the outside world. Whether you are planning a family holiday, a relaxing or romantic getaway, chill in the laid-back luxury of our discreet chambers d'hôtes. With magical Mauritius in your grasp and the clear blue waters and dazzling white sandy beaches at your feet, you can idle away the time in boundless luxury.
About Bleu De Toi Guest House
This petite hotel comes with an all-round setting covering all for that is necessary and adding on top some specials. Nicely set with love and care for details and design, this hotel is directly managed by its owner who takes great care in having all the setting blend in well with colours and designs of the furniture. Sitting on the verandah and enjoying a coffee gives a feeling of peace and satisfaction.
The setting is really pleasant to the eye, and comforting as well as relaxing to the mind. The hotel comes with 8 double rooms, some rooms are also ideal for a couple with a child. For the hot summer the air conditioners will come in handy. In the afternoon you might want to enjoy a movie, your room is equipped with its own TV plasma screen with DVD and satellite channels. To keep your belongings a safe is available, for some drinks you'll have access to a minibar.
From time to time you might want to sit in the lounge at the reception and enjoy reading some magazines which connects right to the beautifully set verandah where you can enjoy your coffee and surf the net. There is also a playground for Petanque, and a kiosk in the garden where you can sit protected from the sun.
The hotel can also be used to organize for weddings and birthday parties. The owners would be glad to work out a package. The hotel offers breakfast and dinners upon special requests.
Bleu De Toi Location
Bleu de Toi is perfectly situated in the north of Mauritius, between the famous touristic town of Grand Bay and picturesque Pereybere. Grand Bay is well known for its colourful streets, fantastic shopping, outstanding restaurants and relentless nightlife and Pereybere for its pristine white sandy beaches and crystal clear waters, a mere 5 minutes walk from our charming hotel.
1hr 15 drive to the airport, depending on traffic and peak-hour
30 minutes drive to the capital city, Port Louis
5 minutes drive to Grand Bay village (Supermarkets, Bars, Casino, Night Clubs & Restaurants)
5 minutes walk to Pereybere village
1 minute walk to a Spa
2 minutes walk to Bus Stop
5 minutes walk to a bank ATM
5 minutes walk to restaurants
10 minutes walk to a supermarket
About the Rooms
Our 8 luxurious rooms have been tastefully decorated and offer a sense of calm that is hard to find. Take a dip in the pool, relax in the gardens or enjoy the intimacy of your air-conditioned bedroom surrounded by paradise. Although all our rooms provide the same services they have been decorated to add unique individual character for every taste.
Room Facilities:
Air conditioning
Mini bar
WIFI access
Personal safe
Ensuite bathroom
DVD + DSTV (satellite TV)
In room service
Household service
Laundry cleaning (supplement required)
Dining at Bleu de Toi
Breakfast:
With great pride, we offer a generous continental breakfast daily between 07h30 and 10h00.
Restoration:
Bleu de Toi is not open to the public and does not have a restaurant however we cater exclusively for in-house guests on request. Our dedicated team is always more than willing to present lovely candle-lit dinners and fresh seafood BBQs. Alternatively we have well established relationships with all the top restaurants in Northern Mauritius, ranging from traditional Creole, Italian, Indian, classic international cuisine and of course the very best seafood that Mauritius has to offer.
Sun downers:
Our specialty, the afternoon "sun downer". Join us around the pool or on the terrace for cheeky afternoon sundowners. Enjoy an ice cold bear, a light cocktail or a bottle of wine from our cave. Every afternoon is relax time.
Prices & Booking details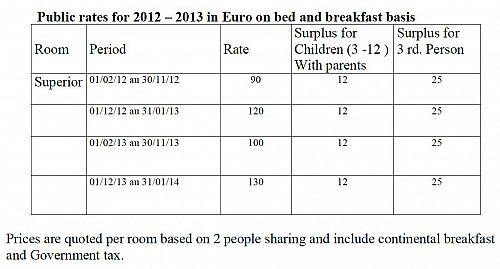 Occupancy: 8 rooms, maximum occupancy: 16 persons (2 pax per room)
Booking: by phone: (230) 269 17 61 or by email: info@bleudetoi.mu