Camel Ride Activities at Casela
| | |
| --- | --- |
| Lieu: | Ouest |
| L'âge minimum: | 5 |
| Heures de service | 09:00 - 15:00 |
| Jours Opérant | Lundi, Mardi, Mercredi, Jeudi, Vendredi, Samedi |
| Durée | Flexible |
| Heure de L'Activité | Flexible |
| Transports | Offert en Supplément |
Ce contenu n'est pas disponible en français
Camel Rides at Casela World of Adventures - Mauritius
Have you been wondering how it feels to mount a camel? The Casela World of Adventures brings to you the majestic animal of the deserts for a unique safari experience on the back of a dromedary (also known as Arabian) camel.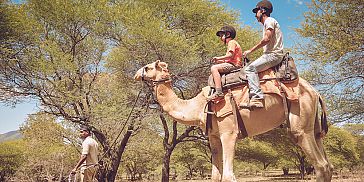 Enjoy a fun camel ride at Casela World of Adventures. Comfortably seated on the back of the dromedaries, you will discover the beautiful Casela park and enjoy magnificent surrounding views! A camel ride is an experience that will not be soon forgotten.
Camels are one of the most social and loving animals you will ever meet and you will be glad you spent a little part of your day in their company. Their height and special gait makes camel riding a greatly enjoyable experience.
For those who just want to get a taste of what it feels like to mount this majestic animal, you can choose the shorter, tamer version - the Paddock Camel Ride!
Along with a visit to the Casela Park we offer you the following two camel ride activities to choose from:
Paddock Camel Ride
Camel Ride in Safari
---
Additional Info about the Camel Rides
Never experienced a camel ride before? Then this Paddock Camel Ride is perfect for you! To get a better feel about what it's like to ride aboard a camel, enjoy this 5-minute ride within its paddock.
For a longer ride and a richer experience, opt for the 45-minute camel ride in the safari which will take you across the stunning nature park of Casela. Witness the breath-taking scenery and wildlife of the Casela World of Adventures.
Important: The Camel Rides are done at the Yemen Reserve which is part of Mauritius Safari and Bird Park. Accordingly, we offer you to purchase the Camel Rides excursion together with the entry tickets to the park.
---
Visit of the Casela Nature Park – World of Adventures
About the Casela Safari and Bird Park: The Mauritius Casela Park is a real nature and adventure park. It is located besides the Rempart Mountain on the South-West of Mauritius offering magnificent views of the countryside rolling down the west coast of Mauritius.
Visit to the park includes:
Toboggan (Avalanche Mines) - a thrilling fun ride on the first toboggan slide in Mauritius. The Toboggan includes two slides placed on a slope on which one slips with buoys.
Tulawaka Gold Coaster – an adrenaline-inducing alpine coaster that runs along 800m. Perfect for all thrill seekers. It can be ridden solo or in tandem.
Walk thru the aviary - Walk through the bird aviary and interact with various colorful bird species from around the world.
Safari photo - This great value tour lets you find yourself face-to-face with zebras, ostriches, deer, African antelopes, white rhinoceros, impalas and kudus during a unique safari tour on-board one of the safari vehicles.
Big Cats Kingdom - For Big Cats lovers, this is a dream come true! Visit the Big Cats' park to enjoy a close view of the lions, caracal and tigers.
Giraffe and pygmy hippo viewing - Come face to face with these majestic animals for a unique viewing experience.
Camel and llama viewing - Meet the camels and llamas, considered as one of the friendliest and most loving animals you will ever meet. Spend some time getting to know these amazing creatures.
Monkey Kingdom - have some fun watching the long-tailed monkeys skip and hop about, in their enriched, natural habitat.
Kid's playground - A new kid's playground that will offer sensation to the young ones!
Petting farm and Tortoise pen - Ideal setting for people of all ages, especially children to interact with farm animals as well as tortoises.
3D Interactive Map and 4D Cinema
---
Additional Info about Casela World of Adventures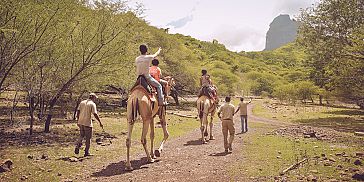 The Mauritius Casela Park is a real nature and adventure park. It is located besides the Rempart Mountain on the South-West of Mauritius offering magnificent views of the countryside rolling down the west coast of Mauritius.
The park includes four thematic worlds: Safari, Nature, Mountain and Water, as well as a hub for discovery and learning.
Safari Kingdom: Quad, Photo-Safari, dedicated area for Big Cats and suitable for safaris and interactions with Giraffes.
Nature Kingdom: Bird Park, Canopy Park, Animal show.
Mountain Kingdom: Canyoning, Via Ferrata, Zip Lines, Climbing Wall
Water Kingdom: Wave pool, Toboggans (children and adults), a lagoon as well as an artificial river.
Discovery Centre: 4D Cinema, discovery of natural science and History of Mauritius through giant 3D Maps.
---
Comments
Camel ride times: 09:00, 10:00, 11:00, 13:00, 14:00 and 15:00.
The park is open every day except on the 25th December and 1st January
Duration of Paddock Camel Ride: 5 minutes
Duration of Camel Ride in Safari: 45 minutes
Maximum number of participants per slot: 4
Minimum Age: 5 years
Weight limit: 120kg
Tulawaka Gold Coaster: Riders can go solo as from 12 years old (minimum height 1m40) or in tandem. Those under 4 years old should be accompanied by an adult
Note:
It is advised to wear long pants and closed shoes.
Please do not scream, shout, kick, slap or jump up and down while riding or while in close proximity to the camels; it may scare the animals and cause an accident.
All participants must be physically and mentally capable to perform this particular activity.
Participants should not have any major hearing or visual impairments. If the health and safety restrictions for your activity are not respected, "NO" refund will be considered. These rules are for your safety.
---
Prices
Visit of the Casela World of Adventures Park (Entry tickets)
Price per Adult: 22 Euro
Price per Child (ages 5-12): 15 Euro
Camel Ride
Paddock Camel Ride: 9 Euro
Camel Ride in Safari: 42 Euro