Tyroliennes à Vallée des Couleurs
88% Niveau de satisfaction
Basé sur 3 avis
| | |
| --- | --- |
| Lieu: | du Sud |
| L'âge minimum: | 8 |
| Heures de service | 09:00 - 17:00 |
| Jours Opérant | Tous les jours |
| Durée | Flexible |
| Heure de L'Activité | Flexible |
| Commentaire | Durée - selon le forfait de tyrolienne choisie. Niveau de difficulté: Facile à moyen |
Ce contenu n'est pas disponible en français
Zip line Excursions at Vallée des Couleurs - Overview
Mauritius has always been famous for its tropical natural beauty and a visit to Vallée des Couleurs while you are on the island imposes itself as a wondrous getaway.
Experience an aerial adrenaline rush through a thrilling Zip line adventure at the Vallée des Couleurs, through which you will get to discover the beautiful scenery of the South Coast of Mauritius, including the entire nature park, its waterfalls and canyons from high above.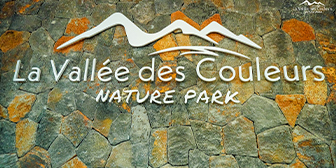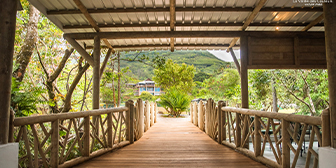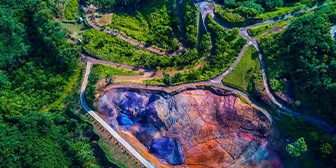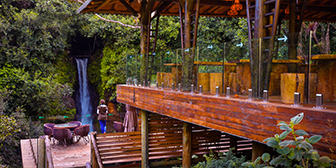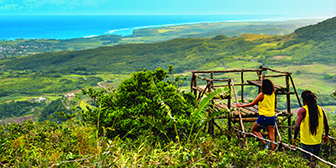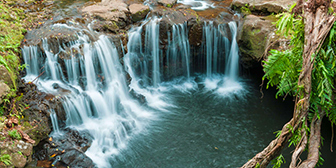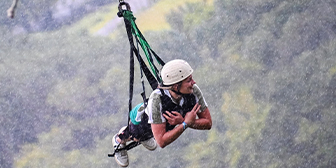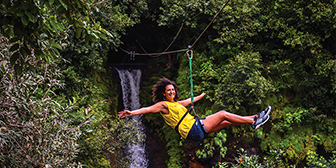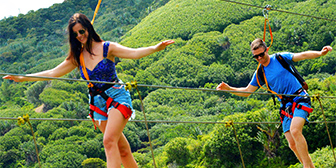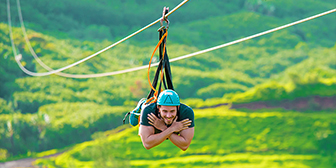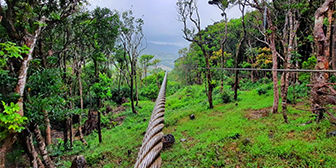 As part of this activity, you will:
Experience a thrilling zipline adventure at the Vallée des Couleurs
Admire the remarkable nature reserve
Enjoy an aerial view of the dense rich valley
Ride the longest zip lines in Mauritius
Have a selection of Zip Line excursions including the 3rd longest zipline in the world
Discover the 23 colored earth, 6 Waterfalls and its breathtaking scenery
Enjoy a luscious lunch at Citronelle Restaurant ( Optional)
---
The Zip line Excursions package inclusions are:
Entry fees to the nature reserve
Spectacular glides along zip lines of different length - 500m, 1.5 km (single line), 1.6 km (7 lines) or 3.1 km - as per your package
Opportunity to contemplate a fantastic land of 23 Coloured Earths from above and back on land
Safety Equipments provided
Professional guides during the zip line excursions
Optional: 3-course Lunch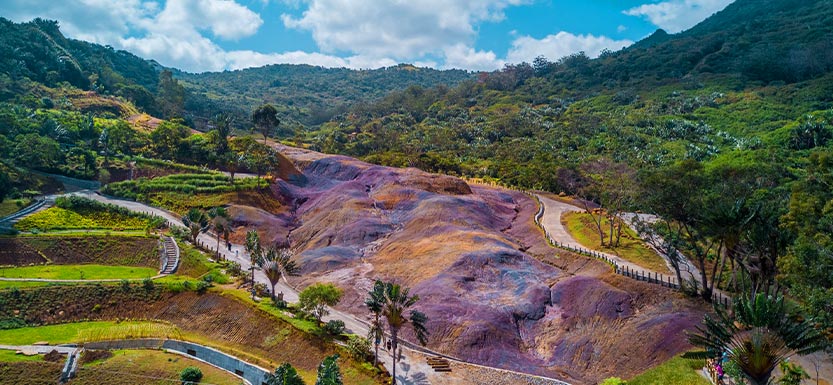 ---
| | |
| --- | --- |
| Operational Days : | This activity is offered every day . The nature park is open every day, including 25th December and 1st January. |
| Operating Hours : | 09:00 - 17:00 |
| Duration : | The times below serve as in indication for the zip line activities: |
| Duration of the 500 meters zipline excursion: | 15 minutes |
| Duration of this Super Longest zipline (1.5 km) excursion: | 30 minutes |
---
Zip line Excursions at Vallée des Couleurs
Located in the South of Mauritius, La Vallée des Couleurs Nature Park is one of the most famous and unique attractions of the island which fascinates Mauritians as well as foreigners.
Nature lovers are bound to love Vallée des Couleurs; it offers a unique experience with the indigenous fauna and flora alongside various fun activities and excursions, suitable for all ages. Visitors are treated with a range of natural landscapes, including plateaus, mountains, valleys, craters and crater-lakes.
The visit of Vallée des Couleurs begins with access to the park's exhibition room. This provides an outline of the different places of interest which you will discover through your visit to this domain-park.
You will also enjoy the visit to the fern garden, without which, any visit of Vallée des Couleurs Nature Park would be incomplete. This is where you get to see the beauty of tree ferns, wild orchids or other native flowers like Trochetia (Boucle d'oreille/Earring) and Bouquet Banané (achna Mauriciana), which only bloom at the end of every year.
The unspoiled beauty of the land captures every heart and soul; some of the domain's landmarks such as the remarkable 23 Coloured Earths has gained a reputation worldwide as a 'must visit' site in Mauritius. The park is also home to tortoises, monkeys, stags, fish and also birds such as Pink Pigeon, Paille en Queue, Cateau Vert, amongst others. Various endemic trees like Ebony, Bois de Natte, Takamaka and some other rare plants also contribute to the beauty of the nature park.
Note: Each of these zip line activities is offered separately, accompanied by the guides. As such, you have maximum flexibility to take part in one or more zip lines.
More information on Zip line Activities at Vallée des Couleurs:
Your amazing journey starts with meeting your guide who will take you to the launching spot of your preferred zip lines package riding on the park's 4x4 vehicle.
Enjoy the view of the beautiful surroundings, spotting some animals as you pass through the forest. As you arrive at the spot, you will be provided with all the necessary zip line equipment as well as have a safety briefing on the zip line activity.
The topmost priority is your safety and as such, all the equipment used for the zip-line activities adhere to the highest safety standards and are regularly checked, then double-checked.
Below, you have more information about the zip line activities offered at the nature park:
1 Line Zip line (500m)
Enjoy an unforgettable adventure as you slide from one platform to the other along a steel cable, set among the stunning natural surroundings of Vallée des Couleurs.
We offer an amazing guided zip-lining activity of 500m long for nature enthusiasts and adventure lovers. This activity can be enjoyed as from 8 years old with no previous experience required.
Super Longest Zip line (1.5km) - 3rd longest zipline in the world
Enjoy a day full of fun and adventures in nature with the Super Longest 1.5 km Zip line at Vallée des Couleurs, the 3rd longest in the world.
The 1.5 km zip line is recommended from 12 years old and is ideal for families which offer a great time together.
Extreme Full Set (1,6 Km)
Come enjoy the thrills of the 1.6 km zipline at Vallée des Couleurs including the new extreme waterfall zipline in a magnificent landscape. This is an incredible opportunity for you to admire the park's beauty from an incredible height and through a truly unique perspective.
Extreme Super Full Set
If the idea of zipping through the air gives you a buzz, then this Super Zipline Full Set is for you. It's packed with the best ziplines at Vallée des Couleurs, including the longest zip line of 1.5 Km and the new extreme waterfall zip line. In all, a thrilling zipline package that is an absolute treat for adrenaline junkies.
Additional packages offered at La Vallée des Couleurs Nature Park:
---
Sport Shoes

Sun cream & mosquito repellent

Cap

Camera
---
Vallée des Couleurs Lunch Package (Optional)
As part of this Zip Line package, we offer you to enjoy a 3 course set lunch menu (Starter, Main Course, Side Dish, Dessert and a Drink) served at the park's restaurant La Citronnelle. Nature lovers are bound to like the restaurant as it is literally found in nature's lap, offering a unique lunch experience in the midst of the indigenous fauna and flora of the park.
At La Citronnelle, you have a choice between two menus for lunch– a traditional Mauritian set menu (Menu B) or an International BBQ grilled menu (Menu A). The restaurant also offers a special child-friendly menu and dishes, directly available on the spot.
The 2 proposed lunch menus to choose from:
---
| Visit of Vallée des Couleurs (Entry Tickets): | |
| --- | --- |
| Price per Adult (12 years old and above): | 9 Euros |
| Price per Child (ages 6-11): | 5 Euros |
| Price per Child (ages 1-5): | Free of charge |
| Zip line Excursions: | |
| --- | --- |
| 1 Line Zip line (500m): | 22 Euros / Participant |
| Super Longest Zip line (1.5km) - 3rd longest zipline in the world: | 45 Euros / Participant |
| Extreme full set (1,6 Km): | 52 Euros / Participant |
| Extreme Super Full Set: | 79 Euros / Participant |
| Lunch: | |
| --- | --- |
| Price per Person for Lunch: | 18 Euros |
---
Avis
88% Niveau de satisfaction
Basé sur 3 avis
|
avis de Altepost – France
|
Décembre 20, 2019
Délai de réponse à vos requêtes et demandes
Niveau de professionnalisme de nos consultants en voyages
Les connaissances du consultant en voyages sur l'Île Maurice et l'éventail des produits/ services offerts
Satisfaction globale du service clientèle
Niveau des services fournis lors de l'activité
Niveau de professionnalisme des opérateurs / guides pendant l'activité
Votre niveau d'amusement par apport à vos attentes de l'activité
Facilité à réserver l'activité
Satisfaction globale de l'activité
---
|
avis de Franquemagne – France
|
Octobre 30, 2019
Délai de réponse à vos requêtes et demandes
Niveau de professionnalisme de nos consultants en voyages
Une valeur ajoutée qui vous a été apportée par notre consultant en voyages
Les connaissances du consultant en voyages sur l'Île Maurice et l'éventail des produits/ services offerts
Satisfaction globale du service clientèle
Niveau des services fournis lors de l'activité
Niveau de professionnalisme des opérateurs / guides pendant l'activité
Votre niveau d'amusement par apport à vos attentes de l'activité
Facilité à réserver l'activité
Satisfaction globale de l'activité
---
|
avis de Evras Nicolas – France
|
Avril 03, 2019
Délai de réponse à vos requêtes et demandes
Niveau de professionnalisme de nos consultants en voyages
Une valeur ajoutée qui vous a été apportée par notre consultant en voyages
Les connaissances du consultant en voyages sur l'Île Maurice et l'éventail des produits/ services offerts
Satisfaction globale du service clientèle
Niveau des services fournis lors de l'activité
Niveau de professionnalisme des opérateurs / guides pendant l'activité
Votre niveau d'amusement par apport à vos attentes de l'activité
Qualité des repas et des boissons inclus (si applicable)
Facilité à réserver l'activité
Satisfaction globale de l'activité
---