Wedding at Royal Palm Beachcomber
Ce contenu est actuellement non disponible en français.
Wedding at Royal Palm Beachcomber
About the Wedding Packages offered by Royal Palm Beachcomber
The "here comes the bride" moment is in every girl's dreams,and its realization shouldn't be representing anything less than the best. At Royal Palm Beachcomber 5-star hotel,let the natural beauty of the tropics bring you down the aisle to the love of your life, and dare to inject personality, meaning and romance to this splendid surrounding. With a dedicated wedding coordinator assigned by Royal Palm, we promise you to accomplish all of your inspirations that hold a special place in your heart.
And because we know that the way to a man's (or a woman's) heart is through their stomach,Royal Palm presents you its award-winning cuisine created by French Chef Michel de Matteis,who obtained the title of Best Craftsman of France.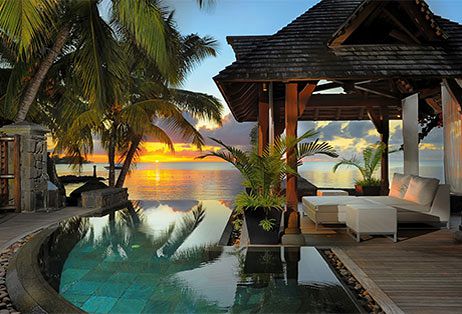 With the experience he brings from several Michelin star restaurants he has worked in, he only creates diverse and memorable dishes that reach perfection.
Undeniably,a wedding day demands in advance hard work. However,you don't have to focus on and stress over anything that you don't especially enjoy.
Royal Palm offers two wedding packages to choose from along with an array of à la carte items and services to help you enhance the day.
The Compulsory Wedding Package is a strong foundation to start with, and then to top it up with a series of additional options, such as first class beauty treatments,live music, flowers and decorations,special menu,and even a sunset cruise.
The Glamour Wedding Package takes a tremendous weight off your shoulders,as it's catering for demanding details and services,such as the wedding appetizers, the private dinner after the ceremony,the beauty and spa treatments for both the bride and groom-to-be,as well as the ambience of your room. Of course,there's always space for personalization and customization.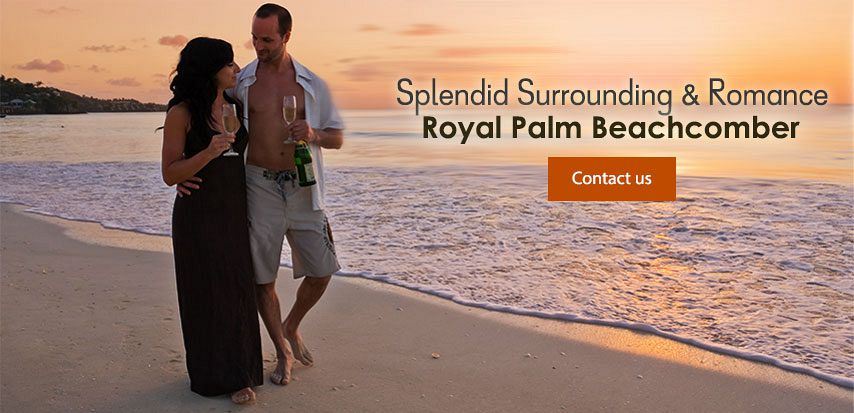 Whichever of the two wedding packages you decide to choose,at Royal Pam Beachcomber hotel,an elite wedding experience awaits you to live it! Every action will be based only on the things that you are comfortable with,and the primary focus is no one else but the couple. All you have to do is reveal a few things about yourself and your partner,and give Royal Palm the tools to create an atmosphere of timeless elegance. This will definitely be the best day of your life!
---
Included in the Royal Palm Beachcomber Wedding Packages
Included in the Compulsory Beachcomber Wedding Package
Only one wedding ceremony is organized per day on the premises to provide all attention to the couple
A dedicated wedding coordinator
Wedding location (decorated)
Celebration breakfast in room
Bridal bouquet
Groom's buttonhole
Wedding cake (10 pax)
*With supplement:Legal costs (civil status, administrative charges),transfer to and from the Registrar General Civil Status Office and apostille charges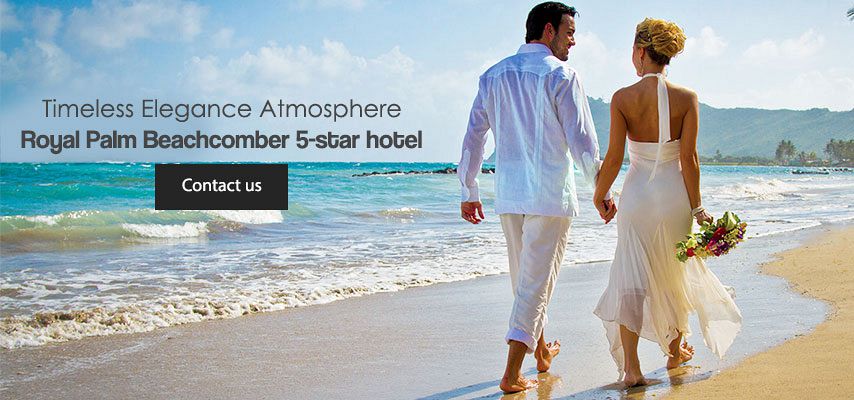 Included in the Glamour Beachcomber Wedding Package
Only one wedding ceremony is organized per day on the premises to provide all attention to the couple
A dedicated wedding coordinator
Wedding location (decorated)
Celebration breakfast in room
Bridal bouquet
Groom's buttonhole
Wedding cake (10 pax)
A separate room for the bride before the ceremony (subject to availability)
One bottle of champagne and canapés after the ceremony
Hair and make-up for the bride including a trial session
Bride's spa treatment including luxury manicure, pedicure and massage
Groom's spa treatment including a body polish and massage
A special four-course wedding dinner in a private location
Romantic setup in room
Gift from hotel
* With supplement:Legal costs (civil status, administrative charges),transfer to and from the Registrar General Civil Status Office and apostille charges
---
Optional Services Offered by the Royal Palm Beachcomber
Bridesmaid bouquet
Corsage
Cache-peigne
Half crown
Full crown
Table bouquet
Decoration of bridal armchair
Flowers arch
Pressed flowers
Photographer and prints/video filming
Guitarist
Harpist
Duo (per hour)
Trip (per hour)
Sega group (per hour)
Jazz band (2 hours)
Violinist (2 hours)
DJ (6 hours)
Recorded music
Snacks and canapés on request
Special dinner on request
Champagne and other beverages
Hairdressing (including trial)
Manicure
Make-up (including trial)
Ironing of wedding dress
Extra room for bride before ceremony (depending on availability)
Sunset cruise on request
Helicopter tour (reservation must be made 3 days in advance)
Heart-shaped design featuring initials burning into the sea
---
About the Royal Palm Beachcomber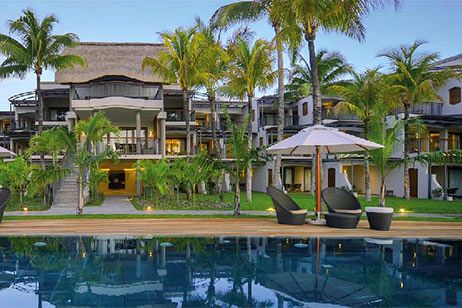 The Royal Palm is a luxurious 5-star hotel par excellence situated at the vibrating tourist village in Grand Bay. This fine hotel promises you a tranquil tropical haven and a warm Mauritian hospitality for an amazing vacation.
It is among one of the prestigious Beachcomber Hotels collection in the Indian Ocean.
Royal Palm's recent upgrade involved refurbishing the common areas and suites to create the ultimate luxury experience. All was done, however to preserve the hotel's unique atmosphere,natural charm and timeless elegance. Bathed in soft lighting,the rooms combine delicate and bold hues,fine fabrics, finishes in wood and marble,along with custom-made wooden furniture crafted by local artisans.
The Royal Palm offers 69 suites with elegant decoration, discreet luxury and personalized service,either on the beach-front,facing the sea,or in the heart of a sumptuous tropical garden. The exquisite accommodation features the Junior Suite, Tropical Suite,Ocean Suite, Palm Suite,Garden Suite,Senior Suite, Penthouse Suite,Presidential Suite and Royal Suite,all with a list of high quality room amenities.
With Royal Palm, you are always entertained by a long list of recreational activities,such as windsurfing, pedalling,canoeing, snorkelling, and rides on the speed boat, the glass bottom boat or the Hobie Cat. Other facilities include a fitness centre and a myriad of spa treatments in one of the best well-being centres of the Indian Ocean. Situated in the heart of beautiful gardens,Royal Palm's spa is a world class spa in Mauritius-a space that seamlessly blends the charm of indoors and outdoors,and promises serenity,sensorial pleasures and relaxation. Natural materials including lava stone,granite,wood and slate fit with the environment while providing a strong visual statement.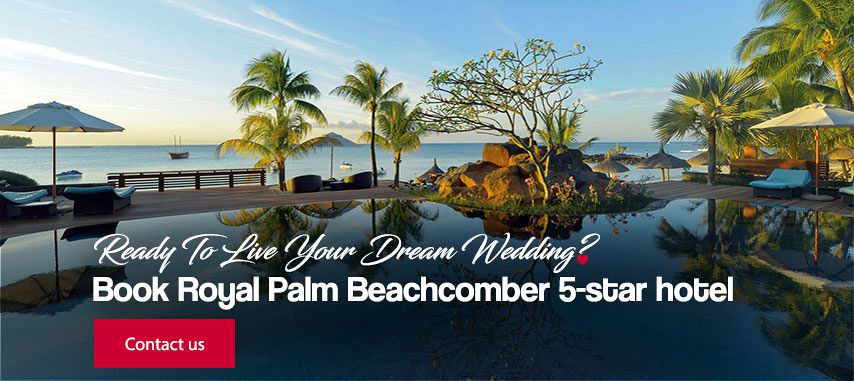 Royal Palm is also known for its award-winning cuisine. Three restaurants,presided over by French Chef Michel de Matteis,who obtained the tile of "Best Craftsman of France", invite you to a tantalizing culinary experience. You can choose from the casual elegance of Le Bar Plage,the spacious terrace of La Goélette or the intimate setting of the new Italian restaurant La Brezza.
Overlooking one of the most spectacular beaches in Mauritius, the hotel's main bar breathes elegance and gentility. Located at the heart of the hotel,it is fitted with stylish and comfortable furniture arranged with impeccable taste to complement the open-plan design. Guests may enjoy commanding views of the beach and sea below at any time of the day whether it be to relax,socialize with friends of admire one of the island's glorious sunsets.
---
The Royal Palm Beachcomber Location
The hotel is situated on the sheltered north-west coast of Mauritius,near the famous Grand Bay coastal village. Its premises stretch along a pure white sandy beach,which make it a tropical haven with an uncompromising commitment to excellence.
Located 11km north-east of Port Louis,Pamplemousses is a very interesting region to visit,if you want to familiarize yourself with the past and history of Mauritius. Start off with the Pamplemousses Botanical Garden-one of the oldest gardens in the southern hemisphere-that was brought to life in the 18th century by Mahé de Labourdonnais,the governor of "Ile de France",who initially used the site as a personal garden where he planted aromatic herbs. Today,you will be amazed by the many botanical treasures,such as the Giant Amazon Water Lilies.
Stay in the same area,and pay a visit to the Aventure du Sucre-Mauritius' historical sugar factory,which has been turned into a magnificent and very educational museum. For many years,sugar was the main product and industrial activity on the island. The Sugar Adventure invites visitors to discover the history of sugar,the manufacturing process and its influence on Mauritian society. The boutique offers a variety of exceptional souvenirs,and the opportunity to indulge in two tasting adventures of high quality local rum and sugar.
Just off the north coast of Mauritius,six islets are waiting to be discovered. These small islands are rich in history and natural beauty,and are perfect for a relaxing day trip. Flat Island (Ile Plate in French) lighthouse one of the two operating lighthouses in Mauritius,the Coin de Mire's cliffs are home to the famous white-tailed tropic bird,and in the clear waters of île d'Ambre there's high possibility that you will spot sea turtles.
Réservez ce Forfait de Mariage
Contactez Nous