Saut En Parachute En Tandem - Ile Maurice
86% Niveau de satisfaction
Basé sur 3 avis
| | |
| --- | --- |
| Lieu: | Nord-Est |
| L'âge minimum: | 15 |
| Heures de service | 06:30 - 17:00 |
| Jours Opérant | Lundi, Mardi, Mercredi, Jeudi, Vendredi, Samedi |
| Durée | 1 h |
| Heure de L'Activité | Flexible |
| Transports | Offert en Supplément |
| Commentaire | Limitation de poids doit être entre 40 kg - 95 kg |
Mauritius Skydive - Tandem Skydiving Overview
Mauritius Attractions gives you the incredible opportunity to cross off a thing on your bucket list – Skydiving! A 10,000 ft. skydive with a professional instructor and a 30-second freefall in Mauritius.
Skydiving is an adrenaline-pumping activity most adventurous people have on their bucket lists. More than incredible sensations, it is a fun way to help you realize that you're stronger than you think you are. The beauty of tandem skydiving is that it does not require first time skydivers to go through hours of training in order to skydive.
You will also get to enjoy a most spectacular scenic flight over Mauritius via the most visually stunning package you can ever imagine.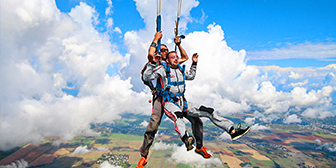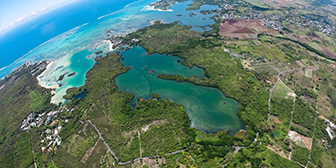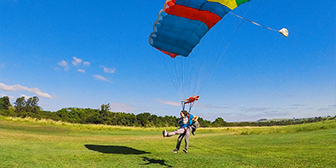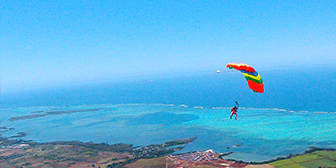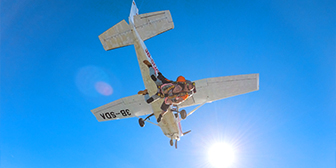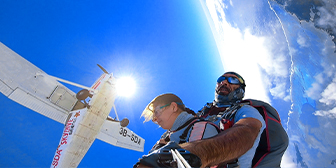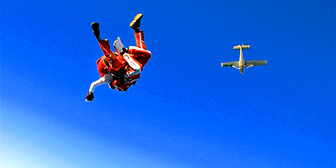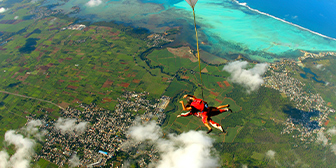 Highlights of the Tandem Skydiving Package :
A complete 360º bird's eye view of Mauritius's awesome coastal, inland and mountain scenery
Free falling for about half a minute reaching a speed of 200 Km/hour
See the beautiful surroundings on your way down until the safe landing
The take off is done from the magnificent Sugar Fields of Mon Loisir
Views of Mauritius's stunning lagoons and reefs stretching far into the Indian Ocean
Lifetime chance to fly over the top of one of the most spectacular island paradise's in the World
---
Mauritius Skydive - Tandem Skydiving Inclusions:
Skydive excursion is about 1 hour
5-10 minute briefing
25 minute flight
Skydive from 10,000 feet
30- second free fall
3-5 minute parachute flight
Skydiving equipment
Optional (for a supplement):
Video
Pictures (+/-200 pics)
Video & Pictures Combo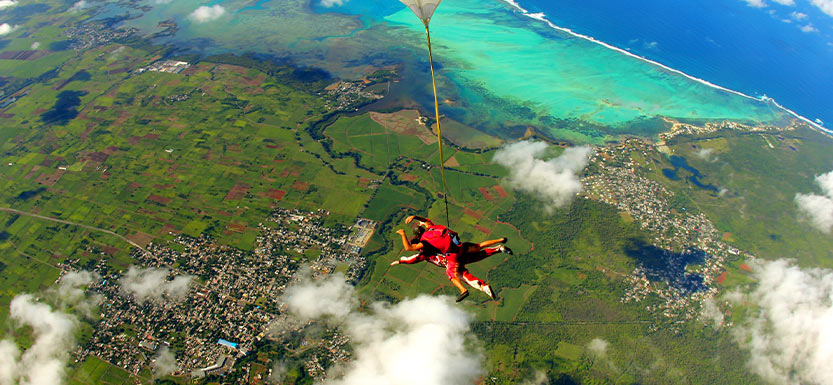 ---
Détails sur le Transport & le Chauffeur
Transport is available for an additional supplement and will include pick up and drop off from any hotel / place of accommodation in Mauritius.
Capacités des voitures
Vous pouvez choisir parmi une sélection de types de véhicules:
Family Car - Up to 4 passengers
6 Seater vehicle - Up to 6 passengers
Minivan - Up to 10 passengers
À propos des conducteurs
All drivers speak fluent English and French (Upon special request we can organize drivers who speak additional languages). The drivers, citizens of Mauritius, will be happy to provide you with information about Mauritius and each of its sights.
All drivers are very professional, time efficient and friendly. There is high emphasis on being always on time and providing reliable devoted service to customers.
---
Point de Rencontre & Horaires
Belle Vue Maurel, North East Region
Heures de début et de fin:
| | |
| --- | --- |
| Activity Time: | 06:30 - 16:00 |
| | The full duration of the skydiving excursion is of about 1 hour |
| Activity Days: | Monday - Saturday |
| | Closed on Public Holidays and Sundays |
---
Mauritius Tandem Skydiving – Experience skydiving in Mauritius
Upon your arrival you will be welcomed by the airfield team who will help you to put on your jump suit and your safety harness while briefing you about the different steps of your jump - positions to be adopted during your unique experience, the climb in the plane, the exit and the free fall, the flight under sail and of course the landing.
Once fully prepared as well as mentally ready, time to board the skydive aircraft for your once in a lifetime experience. You will be attached securely to one of the qualified and licensed tandem instructors via a dual harness system. You will enjoy a 25 minutes flight as you climb to altitude and maximum opportunity to take in the impressive views on the way up to the 10,000 feets skydive altitude.
The free-fall - An unforgettable experience! An amazing feeling of floating in the air! Open your arms, smile and jump! Enjoy this unique experience in the air - 30 seconds of freefall. Remember to keep that lovely smile on as your instructor who will be attached to you will be glad to snap your amazing experience.
As you approach the land, the instructor will open the parachute so that you can enjoy a 5 to 7 minute parachute ride while feasting your eyes with unrivalled and uninterrupted views of the island from above before a nice soft landing on the runway. This moment will remain unforgettable!
Also, for a small additional cost you will receive a pendrive with the recording of your skydive.
What is Tandem Skydiving?
Tandem skydiving refers to a type of skydiving where a student skydiver is connected via a harness to a tandem instructor. The instructor guides the student through the whole jump from exit through freefall, piloting the canopy, and landing. The student needs only minimal instruction before making a tandem jump.
Tandem skydiving is a very popular training method for first time skydivers. It exposes first-time jumpers with minimal training and experience to skydiving.
The training before the jump may consist of basic training of how to exit the aircraft, how to do maneuvers in freefall, and how to deploy the main canopy themselves. However, the tandem skydiving instructor remains primarily responsible for safe and timely parachute deployment.
Modern parachute equipment is very reliable and instances of malfunctions are rare. However, in the unlikely event of a fault with the main parachute, the system is fitted with a back-up reserve parachute to guarantee maximum safety.
For first time jumpers it is always recommended to have a small bite to eat shortly before your jump to maintain your blood sugar level at a reasonable level.
---
Ce qu'il faut apporter/porter:
Suitable footwear - Training shoes or sport shoes are ideal.
---
Questions fréquemment posées
---
| | |
| --- | --- |
| Booking Deposit - In order to secure the booking for the Skydive a deposit advance payment is required | 49 Euros / Person |
| Outstanding Amount - The outstanding amount should be paid on the day of the skydive activity directly at the airfield before the jump | Rs 14,650 / Person (Approx 345 Euros) |
Skydive Pendrive - you can also choose to have either pictures or videos or both of your Skydive saved in a Pendrive. The booking and payment for the Pendrive can be done at the airfield before the jump.
| | |
| --- | --- |
| Video Only | Rs 4,750 |
| Pictures Only | Rs 4,750 |
| Video & Pictures | Rs 6,250 |
---
Avis
86% Niveau de satisfaction
Basé sur 3 avis
|
avis de Pierre-Jean Audiffren – France
|
Novembre 23, 2019
Délai de réponse à vos requêtes et demandes
Niveau de professionnalisme de nos consultants en voyages
Une valeur ajoutée qui vous a été apportée par notre consultant en voyages
Les connaissances du consultant en voyages sur l'Île Maurice et l'éventail des produits/ services offerts
Satisfaction globale du service clientèle
Niveau des services fournis lors de l'activité
Niveau de professionnalisme des opérateurs / guides pendant l'activité
Votre niveau d'amusement par apport à vos attentes de l'activité
Facilité à réserver l'activité
Satisfaction globale de l'activité
---
|
avis de victorien binetruy – Reunion
|
Août 09, 2017
Délai de réponse à vos requêtes et demandes
Niveau de professionnalisme de nos consultants en voyages
Satisfaction globale du service clientèle
Niveau des services fournis lors de l'activité
Niveau de professionnalisme des opérateurs / guides pendant l'activité
Votre niveau d'amusement par apport à vos attentes de l'activité
Facilité à réserver l'activité
Satisfaction globale de l'activité
Personnels du saut en parachute tres professionnels et sympathique
---
|
avis de Guerra Donatela – Maunick lane Quatre Bornes
|
Mai 30, 2017
Délai de réponse à vos requêtes et demandes
Niveau de professionnalisme de nos consultants en voyages
Une valeur ajoutée qui vous a été apportée par notre consultant en voyages
Les connaissances du consultant en voyages sur l'Île Maurice et l'éventail des produits/ services offerts
Satisfaction globale du service clientèle
Niveau des services fournis lors de l'activité
Niveau de professionnalisme des opérateurs / guides pendant l'activité
Votre niveau d'amusement par apport à vos attentes de l'activité
Facilité à réserver l'activité
Satisfaction globale de l'activité
---