Tour romantique privé - Côte sud de l'île Maurice
99% Niveau de satisfaction
Basé sur 3 avis
| | |
| --- | --- |
| Lieu: | du Sud |
| Jours Opérant | Lundi, Mardi, Mercredi, Jeudi, Vendredi, Samedi |
| Durée | 7 h |
| Heure de L'Activité | 13:00 - 23:15 |
| Transports | Inclus dans le prix |
| Commentaire | Lors de la commande de ce forfait vous bénéficiez un prix spécial - Ce forfait n'est pas offert les dimanches et les jours fériés. |
Ce contenu est actuellement non disponible en français
Private Romantic Tour along the South Coast of Mauritius
Cette activité n'est pas opérationnelle jusqu'à nouvel ordre
Treat yourself and your partner to a perfect afternoon and evening of romance where a unique selection of wonderful activities await you for amazing experiences in the calm and secluded southern region of the island.
Show your loved one how much they mean to you by ensuring that you both have the most memorable time during your holiday with incredible romantic experiences. This romantic tour along the south of Mauritius is also a great way to start off your honeymoon vacation on the island. Nothing strengthens a bond more than having a great time together, making special memories in beautiful new locations.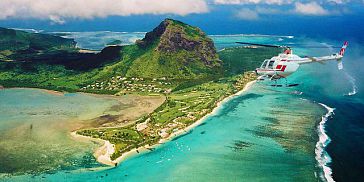 Enjoy a memorable moment, that will definitely be one of the highlights of your holiday in Mauritius.
As part of this romantic tour, you will uncover the beauty of the island with a 15-minute private helicopter tour, discover one of the most picturesque beaches on the south coast of Mauritius with an unforgettable horse-riding experience at sunset and finally end your beautiful evening with a gourmet Lobster dinner at the Tamassa Resort, a vibrant beach hotel, or opt for a gastronomic 3-course dinner in the enchanting setting of Heritage Le Château, an elegant 19th century mansion that has been transformed into a restaurant.
As part of this day package you will enjoy selection of activities:
15-minute Scenic Private Helicopter Tour
1-hour Private Romantic Sunset Horse Riding on the Riambel Beach
Dinner at Tamassa Resort or Heritage Le Château
Included in the price of this special day package are:
Pick up and drop off from any hotel / place of accommodation anywhere in Mauritius
Full transportation to all the sights
All excursions charges as part of the day package
A personal driver guide to show you around and inform you on each of the sights
Suggested Day Itinerary
13:00 - 14:15* - Pick up from your place of accommodation
15:00 - Scenic Private Helicopter Tour
19:00 – 22:00 - Dinner:
22:30 – 23:15* – Drop off at your place of accommodation
*Depending on the location of your accommodation on the island
---
Information about each Excursion / Sights
15-minute Scenic Private Helicopter Tour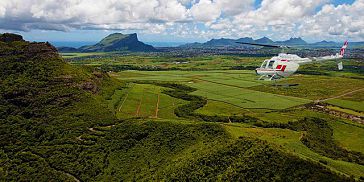 Enjoy the unique privilege to fly in total exclusivity with just you and your partner as you are taken above various landscapes and sites for an unparalleled view of Mauritius. This remarkable helicopter tour will definitely be one of the highlights of your holiday.
This private scenic helicopter tour offers an amazing and fantastic panoramic view of Mauritius. Throughout the trip you will get to experience the beauty of the island from above and feast your eyes on enchanting sights of transparent lagoons, pristine coastline, undulating sugar cane fields and other spectacular views.It is one of the best things to do in Mauritius and an experience you will cherish forever.
Romantic Sunset Horse Riding on the Riambel Beach
Experience the magic of horse riding on Riambel Beach, famed for its 2.5km stretch of white sand with no hotels or crowds- ideal for a wonderful and intimate riding experience.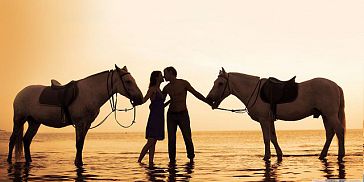 Enjoy riding a horse down this beach at sunset with your partner to have an incredible sense of freedom in a tranquil and beautiful romantic setting.
Few things can match the sheer magnificence of a tropical sunset - so do not miss this opportunity to witness the mesmerising shades of orange and yellow blending in the blue sky while the sun sinks below the horizon.
Saddle up and head to the deserted beach of Riambel for an exhilarating sunset ride where you can view the stunning surroundings of the southern coast, while on horseback.
Dinner:
Option 1: Lobster Dinner Package at Tamassa Hotel
Tamassa Hotel brings you a new concept about enjoying an elite evening experience with its special lobster dinner package. It is a golden opportunity to satisfy all the senses - in a relaxed al fresco setting, appreciate each bite of the delicious dishes while listening to the sounds of the ocean and feeling a gentle sea breeze.
As part of the evening package, you will have a sumptuous 3-course lobster dinner from a set menu at the hotel's Playa Restaurant. In a relaxed open-air setting, appreciate your divine seafood dishes while enjoying the views of the stunning blue lagoon. Whether you want to quench your thirst or simply want to sip a drink that will trigger your senses, the resort offers you an unlimited supply of soft drinks and water during your dinner.
Lobster Dinner Menu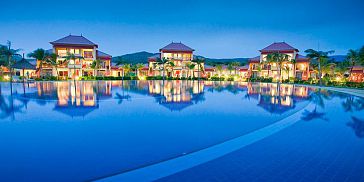 Starters:
Artichokes tartar with tiger prawn
Lobster soup flavored with cumin seeds and truffle oil
Main Courses:
Crab meat ravioli, parmesan cream and crispy vegetables followed by Lemon sorbet with Champagne
Grilled lobster, sautéed potatoes and vegetables, garlic butter
Dessert: Soft chocolate cake and vanilla ice cream
Drinks: Unlimited supply of soft drinks and water
Note:
The Lobster Dinner at Tamassa Hotel is offered only on Mondays and Thursdays.
All drinks, other than mentioned in the dinner package are offered at an additional cost and can be settled directly at the hotel's service outlet
Option 2: Gastronomic 3-Course Dinner at Heritage le Château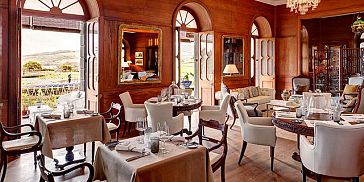 Enjoy a gastronomic 3-course dinner featuring a wide-ranging selection of gourmet delights, from a menu specially conceived by the Michelin-starred chef, David Toutain.
The ground floor reveals the Chefs dining room where gastronomic meals are served. The tableware from Maison Christofle is an artistic table icon- reminiscent of true castle life. The décor, service, and personnel are as sophisticated as the flavours presented on the plate. The dinner menu reinvents classic Mauritian dishes that are delightfully highlighted by local components such as jackfruit, hibiscus flowers, papaya chutney and more.
The Gastronomic 3-Course Dinner Menu:
(to be ordered at the restaurant)
Selection of Starters
The cherry tomato fine tartlets - Roasted cherry tomato| Smoked paprika | Thyme | Tomato | Strawberry sorbet | Orange blossom
Potato capuccino - Beef cheeks confit | Potato capuccino | Cacao powder
Crab tartare - Crab tartare flavored with combava | Apple | Soft Galantine | Apple | Cucumber cider | Capers powder
Octopus vindaye - Chargrilled octopus | Vindaye mayonnaise | Celery
Smoked marlin raviolis - Smoked marlin in clear broth | Dashi | Basil oil
Poached king prawn with vadouvan spice - Poached king prawn | combava | Green melon | Burnt apple mayonnaise | Cranberry | Hibiscus | Basil vinegar | Basil seeds | Coriander oil
Quinoa with garden vegetable | Pickle cauliflower | Truffle (N) - Quinoa | Cauliflower pickle | Roast butternut pumpkin | Honey | Almond crumble | Ricotta cheese | Garden herbs | Truffle
Foie gras ballotine - Guava chutney| Toast brioche | Takamaka wine | Lychee jelly
Palm heart from the Domaine and caviar of Madagascar - Palm heart mille-feuille | ''L'Estugeon Sibérien Baeri'' Caviar
Selection of Mains
Seafood
Seabass Fish fillet - Seabass Fish | Crab raviolis | Cauliflower | Vanilla puree | Parsley oil | White butter
Dorado fillet in shellfish ''barigoule'' - Slow cooked Sea bream fillet | Zucchini scales | Shell ''Barigoule'' from our lagoon | Potato | Celery
''Gueule pavé'' curry, combava and spinach - Pan seared ''gueule pavé'' spinach | Combava cream | Fresh herbs
Blue Lobster - ''Spaghetti box'' | Blue lobster ragout | Salicornia
From the Garden
Pumpkin texture - Smooth pumpkin espuma | Roasted butternut | Nut (N)
From the Land
Wild boar loin from ''Bel Ombre'' (P) - Wild boar loin | Praline choux | Celery puree | Smoked pear | Salted butter caramel
Grain fed yellow chicken from ''Mont Choisy'' - Chicken cooked under skin | Tarragon Butter | Sweet corn | Garden vegetables | Albufera emulsion | Blossom | Spicy popcorn
Angus grass fed fillet & roots vegetables texture - Chargrilled Angus Beef | Roasted potato foam | Potato fondant | Crispy taro | Sweet potato mousseline | Beef jus
Welsh Lamb - Lamb | Peas mousseline| Fava bean ragout | Pastilla | Creamy polenta | Glazed shallot with Cranberry wine jus
Duck breast slow roasted - Honey Duck breast | Confit duck leg samossa | Glazed turnip and radish | Mandarin jelly | Jus
Matured Cheese
Cheese - Fromage - Cheese slate | crackers (N)
Selection of Desserts
Apple tarte tatin (N) - ''Tarte tatin'' style with Granny smith's apple Almond cream | Toasted coconut ice cream
Shortbread with coriander beans (N) - Shortbread with coriander beans | Cassava cream with saffron | Mango
Banana-chocolate - Chocolate mousse | Banana compote David Toutain Signature dish
Pink Grapefruit | Aged rum sabayon - Fresh grapefruit with aged rhum sabayon | Cracker
Roast Pineapple with vanilla (N) - Roast pineapple with vanilla | Lemongrass | Spice bread cracker| Tonka ice cream
Coconut, white chocolate | Green lemon (N) - Chocolate crumble | Coconut sorbet | Praline | Green lemon confiture
Lactic chocolate | Pistachio-hazelnut (N) - Chocolate | Hazelnut | Pistachio sponge cake
N: Contains Nut/ P: Pork
Note:
Drinks are not included and are payable at the restaurant.
---
Comments
General Info
This tour is not offered on Sundays and Public Holidays.
Reservation: Required 48 hours in advance & subject to availability
Helicopter Tour
Please note that the duration of this Exclusive Helicopter Sight-Seeing Tour is 15 minutes.
This helicopter sightseeing trip departs from the Avalon Golf Estate.
The helicopters are piloted by trained & experienced helicopter pilots according to global safety standards
The exact flight time is to be confirmed only on the day prior to the activity date, as per the time availability and the discretion of the helicopter operator.
Horse Riding
For the Horse Riding, you need to be at the departure point 30 minutes before the trip.
Participants must have a maximum weight of 95kg
This trip is not recommended for pregnant women
This activity is suitable for all levels, including those with no prior horse riding experience. Only experienced riders will be allowed to gallop with horses.
You will be accompanied by a professional team member on foot or on horse depending level of rider.
It is recommended to wear long jeans, trousers or leggings as well as closed shoes for a more comfortable experience.
Horse Riding equipment will be provided.
---
Additional information regarding the Private Romantic Tour - South Coast of Mauritius
Car Capacities:
You can choose from a selection of vehicles types:
Family Car - Up to 4 passengers
6-Seater vehicle - Up to 6 passengers
About the drivers
All drivers speak fluent English and French (Upon special request we can organize driver who speaks additional languages). The drivers, citizens of Mauritius, will be happy to provide you with information about Mauritius and each of its sights.
All drivers are very professional, time efficient and friendly. There is high emphasis on being always on time and providing reliable devoted service to customers.
---
Prices
Transport:
Private Daily Tour in a family Car (for up to 4 people): 95 Euro
Private Daily Tour in a 6 Seater vehicle (for up to 6 people): 105 Euro
Price per Person:
1 Person: 695 Euro
2 Persons: 925 Euro
3 Persons: 1185 Euro
4 Persons: 1490 Euro
Cette activité n'est pas opérationnelle jusqu'à nouvel ordre
Avis
99% Niveau de satisfaction
Basé sur 3 avis
|
avis de Toupe Jean François – France
|
Avril 03, 2019
Votre niveau de plaisir et d'amusement dans le cadre du forfait / de la visite
---
|
avis de Sophie Vercruysse – France
|
Décembre 16, 2017
Délai de réponse à vos requêtes et demandes
Niveau de professionnalisme de nos consultants en voyages
Une valeur ajoutée qui vous a été apportée par notre consultant en voyages
Les connaissances du consultant en voyages sur l'Île Maurice et l'éventail des produits/ services offerts
Satisfaction globale du service clientèle
Le niveau des services reçus dans le cadre du forfait / circuit?
Niveau de professionnalisme par le guide / personnel sur place?
Votre niveau de plaisir et d'amusement dans le cadre du forfait / de la visite
Qualité des repas et des boissons inclus (si applicable)
Facilité à réserver le forfait/ circuit
Satisfaction globale du forfait / de la visite
Merci à votre conseillère voyage Hinna. Très réactive et au top.
---
|
avis de LECIGNE HERVE – France
|
Septembre 15, 2017
---