Romantic Horseback Riding & Swimming at Riambel Beach
| | |
| --- | --- |
| Lieu: | du Sud |
| Jours Opérant | Tous les jours |
| Durée | 2 h |
| Heure de L'Activité | Flexible |
| Transports | Offert en Supplément |
| Commentaire | Minimum no. of person: 2 pax |
Jours Opérant
Tous les jours
Heure de L'Activité
Flexible
Transports
Offert en Supplément
Commentaire
Minimum no. of person: 2 pax
Not Available Until Further Notice
Romantic Horseback Riding & Swimming at Riambel Beach - Overview
Mauritius Attractions brings you this magical horse riding experience along the beautiful southern coast of Mauritius. Saddle up and get on this whimsical ride on the deserted beach of Riambel, a 2.5 km stretch of beach without hotels where your senses will be flooded with pure beauty and serenity of the Mauritian scenery.
For 2 hours, feel the cool, salty breeze and tour the crystal beaches on your friendly horse. Seize this once-in-a-lifetime opportunity to swim with your newfound friend in the azure blue lagoon. Accompanied by your professional guide, you're sure to have a safe and memorable time on horseback, whether you are a beginner or an experienced rider.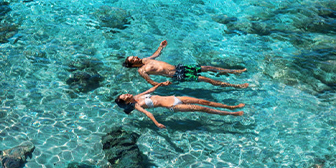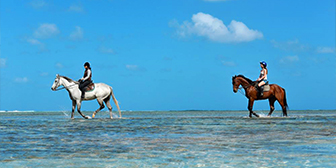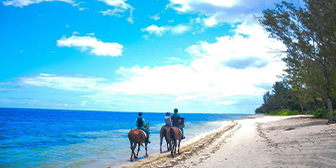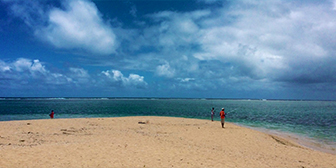 Highlights of this Activity:
Perfect setting for a romantic date with your soulmate
Revel in a 2-Hour Leisure Horseback Ride on the idyllic Beach
View the clear waters & iconic sandy beaches at Riambel Beach
Ride in a safe environment, with experienced guides by your sides
Take a dip in the Mauritian waters, accompanied by your friendly horse
---
Romantic Horseback Riding & Swimming at Riambel Beach includes:
Romantic couple package at Riambel
2 Hours Horseback Riding on the beach
Opportunity to swim with the horse
Stunning views of the lagoon and secluded beach
Friendly Guides by your side to ensure your safety and wellbeing
Horse Riding equipment will be provided.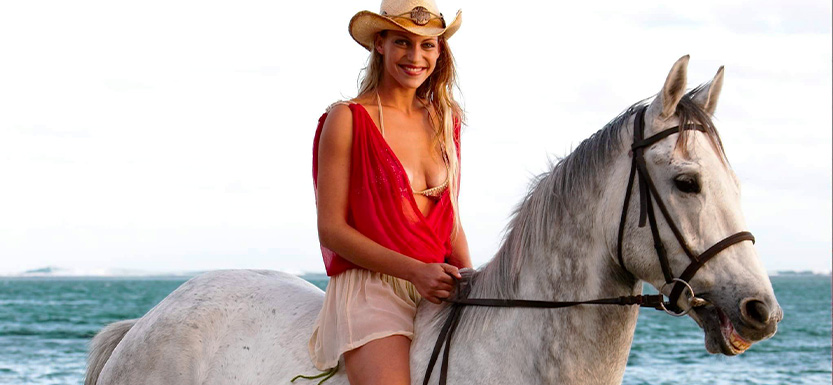 ---
Détails sur le Transport & le Chauffeur
Transport is available for an additional supplement and will include pick up and drop off from any hotel / place of accommodation in Mauritius.
Capacités des voitures
Vous pouvez choisir parmi une sélection de types de véhicules:
Family Car - Up to 4 passengers
6 Seater vehicle - Up to 6 passengers
Minivan - Up to 10 passengers
À propos des conducteurs
All drivers speak fluent English and French (Upon special request we can organise drivers who speak additional languages). The drivers, citizens of Mauritius, will be happy to provide you with information about Mauritius and each of its sights.
All drivers are very professional, time efficient and friendly. There is high emphasis on being always on time and providing reliable devoted service to customers.
---
Point de Rencontre & Horaires
Heures de début et de fin:
| | |
| --- | --- |
| Operational Days: | Monday to Saturday |
| Duration: | 2 hours |
| Activity Time: | Flexible. You are requested to arrive at least 30 mins prior to activity time |
---
About the Romantic Horseback Riding & Swimming at Riambel Beach
If you were looking for a private and intimate activity to enjoy with your better half, then you're in the right place. A unique, horse riding session awaits you and your partner in an enchanting setting, ideal for a romantic retreat.
Horse riding is not just an activity, but it is an inspiring and emotional moment which allows you to connect with one of the friendliest animals as you command it to transport you at your own leisurely pace. Ditch the urban living and get closer to nature for a serene, beautiful and magnificent experience along the picturesque Riambel Beach.
Immerse yourself in a horse ride on the shore of Riambel. Contemplate on the sensational surroundings and peaceful atmosphere as you ride along the secluded beach. Whether you are a total beginner or advanced rider, you are sure to have a good time on the horseback.
Included in this package is a thrilling and unforgettable chance to swim with the wonderful horse. If that's not the most incredible experience ever, we don't know what is! Feel the thrill of riding your horse into the refreshing, scintillating lagoon waters, ready to take a swim like never before. All throughout your journey, you'll be accompanied by professional guides to ensure you have a fantastic horse riding session in maximum safety without compromising on your privacy.
Feel free to click as many pictures as you wish to show off to your friends and family back home; the guides will be more than happy to assist you get the perfect shot. This makes for the perfect chance to get the most beautiful pictures, where you and your lover will be the main characters on a horse with a postcard-worthy background of the turquoise lagoon- a scene straight out of a movie!
Once done, you might retreat to a secluded spot to cherish the romantic feels with your other half, or take a stroll on the spectacular beach to soak in the heavenly vibes for as long as you can.
About the Riambel Beach
The public beach at Riambel is a dream beach located on the South coast of the island, with an expansive stretch of powdery white sand bordered by palm trees. You are sure to have a wonderful time on this deserted beach with the tranquil atmosphere along with the lulling sounds of waves.
The Riambel beach is completely isolated and provides a true Robinson Crusoe feel, with no crowds or merchant stalls in sight. It's a great place to explore if you're looking for some solitude and an escapade in nature.
About the Stable
The Centre has a small rustic stable of 10 horses and 1 pony. Situated amidst the sugarcane fields and close to the beach, the horses are reared in a friendly atmosphere. The stable accommodates both beginners and experienced riders. Rides are personalised and adapted to the level of the rider, ensuring maximum security during their excursion on the beach.
---
Ce qu'il faut apporter/porter
It is recommended to wear long jeans, trousers or leggings as well as closed shoes for a more comfortable experience.

Camera or phone

Sunscreen

Towel

Change of clothes
---
| Romantic Horseback Riding & Swimming at Riambel Beach | |
| --- | --- |
| Price per Couple | 290 Euros |
| Price for Additional Participant | 140 Euros / Pax |
---
Not Available Until Further Notice
Veuillez nous contacter au +230 269 1000 ou +230 5257 5757 pour vérifier la disponibilité avant de procéder à la réservation.