Randonnée Equestre Privée & Croisière Coucher de Soleil
| | |
| --- | --- |
| Lieu: | Sud-Ouest |
| Jours Opérant | Tous les jours |
| Durée | Flexible |
| Heure de L'Activité | 12:30 - 20:30 |
| Transports | Inclus dans le prix |
| Commentaire | L'heure qu'on va venir vous récupéré et l'heure qu'on va venir vous déposer sera déterminé en fonction de l'emplacement de votre lieu d'hébergement. |
Horseback Beach Riding & Sunset Catamaran Cruise - Overview
Mauritius Attractions brings you the perfect date you've been dreaming of - a magical horse riding session with your partner on the beach followed by an amazing private catamaran cruise where you can literally sail off into the sunset with the love of your life!
Rekindle the love with this unmissable package for couples and make your stay on paradise island nothing short of iconic. A blissful horse ride side by side with your partner on majestic horses along a beautiful sandy beach - this picture-perfect experience gets even better with a romantic private sunset catamaran cruise where you can contemplate the ocean views and admire the tropical colours of the sky as the sun goes down. Fulfil your paradisiacal dreams in the most memorable ways whilst holidaying in Mauritius.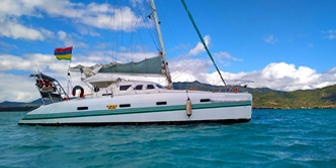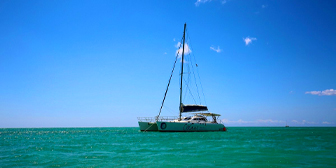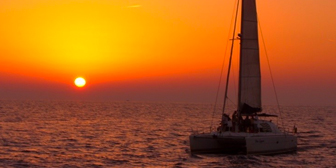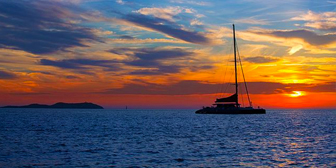 Bask in a dreamy & romantic afternoon-evening with your better half
Befriend the horse before setting out on a surreal journey on horseback along the crystal beach
Witness spectacular views amidst the vast azure lagoon and luxe hotels
End the private horse riding trip by stepping into the ocean as the water splashes around
Embark on your private catamaran & cruise along the west coast, admiring the beautiful seascapes
Get a taste of typical Mauritian flavours as you munch on the snacks and sip on your drinks
Sail towards the sunset and watch the sky get painted with the most vibrant colours
Enjoy the luxury of having a personal driver to drive you to all the sights for a hassle-free experience
---
Horseback Beach Riding & Sunset Catamaran Cruise - Inclusions
An Exclusive Romantic afternoon-evening package
Private Horse Riding on the Beach (1 hour)
Horse riding equipment provided: riding helmets, chaps, boots and clothes
Private Sunset Catamaran Cruise along the west coast (2 hours)
Local Snacks and Drinks on board cruise
Full transportation to all the sights with a personal driver
Pick up and drop off from any hotel / place of accommodation anywhere in Mauritius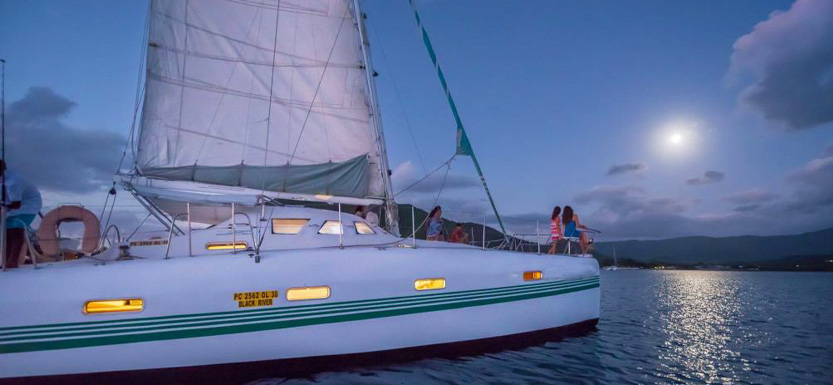 ---
Détails sur le Transport & le Chauffeur
Capacités des voitures
Vous pouvez choisir parmi une sélection de types de véhicules:
Family Car - Up to 4 passengers
6 Seater vehicle - Up to 6 passengers
À propos des conducteurs
All drivers speak fluent English and French (Upon special request we can organize drivers who speak additional languages).
All drivers are very professional, time efficient and friendly. There is high emphasis on being always on time and providing reliable devoted service to customers.
---
Point de Rencontre & Horaires
Your Hotel / Place of accommodation anywhere in Mauritius
Heures de début et de fin:
| | |
| --- | --- |
| Meeting Time: | As from 12:30 |
| | This private tour is offered every day except Saturday and Sunday |
| Departure time: | 12:30 from your hotel / place of accommodation |
| Return time: | by 20:30 back to your hotel / place of accommodation |
(Upon request it is possible to start or finish the tour in a different time)
| | |
| --- | --- |
| Activity Duration: | |
| | Private Horse Riding on the Beach: 1 hour |
| | Exclusive sunset cruise along the west coast: 2 hours |
---
12:30 – 13:30 : Pick up from your place of accommodation
A 10 mins initiation to horse riding before leaving the paddock
14:00 – 15:30 : Private Horse Riding on the Beach (1 hour)
17:00 – 19:00 : Exclusive sunset cruise along the west coast (2 hours)
19:45 – 20:30 : Drop off at your place of accommodation
The exact pick up / drop off times will be determined according to the location of your place of accommodation.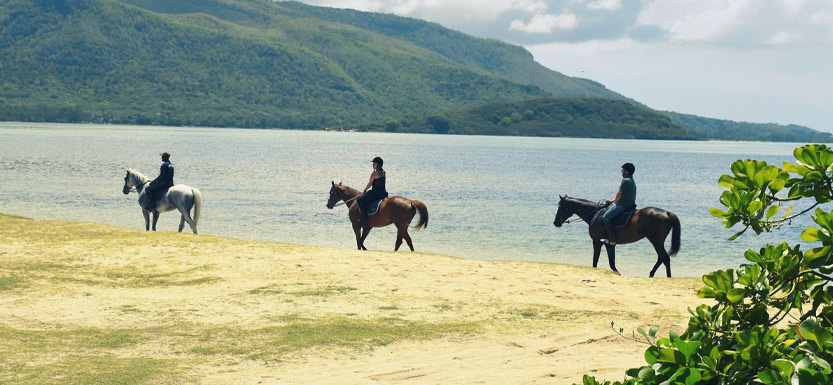 ---
Horseback Beach Riding & Sunset Catamaran Cruise
This is a great romantic afternoon-evening package including riding the most majestic horses along the beach, with the crystal turquoise blue lagoon contrasting the pristine white sandy beaches in the background.
You will be ending the day in romance with an unforgettable sunset cruise including snacks and drinks, on your own exclusive catamaran cruise - just for you and your partner to enjoy in maximum privacy.
Information about each Excursion
About the Private Horse Riding on the Beach
Upon arrival you will be welcomed by the very friendly staff who will introduce you to your horse. You will have 10 minutes of initiation before leaving the paddock. Novice riders will be taught how to mount their horse and will be given basic tuition on how to control their horse.
The instructor will watch you ride in the paddock first, which will help you build up your confidence. Now, it's time to set out from the stables and go for a ride along these long stretches of white sand and turquoise sea.
Le Morne's landscape is exceptional and magical! Its unique landscape is one of the most appealing mountains on the island.
As part of this horse riding trip you will ride along the beautiful beaches of the Le Morne Peninsula starting from the South west tip of the peninsula where some of the best hotels in Mauritius are situated and ending the trip at its north part, having beautiful views of Benitiers Island and of the large west coast lagoon.
You will start this ride in-land and finish right into the sea splashing through the waves riding your horse. So, take your time and enjoy this outstanding landscape with your horse.
During your horse ride, you can have a nice chat with the professional guides, who would be happy to share their experience and love for the horses with you.
After the 1 hour ride, you will return to the stables where you can spend more time with the horses. Refreshments are offered at the end of the horse ride
About the Stables
The horses are kept and trained in this unique environment of Le Morne. The horses are treated and vaccinated. They are taken care of with regular exercise everyday and are fed with freshly cut grass and cereals. These horses are ideal for both beginners and experienced riders. They are very calm and ensure a safe and pleasant ride also for the non-experienced riders.
About the Exclusive West Coast Sunset Cruise:
Enjoy a unique cruising experience as you set sail on a private catamaran and watch the sunset paint the sky in the most charming kaleidoscopic hues. This private sunset cruise will have you sailing along the west coast, departing from Island Sports Club at Black River.
An ideal setting - sailing in a beautiful catamaran within one of the largest lagoons of Mauritius, an ethereal sunset, Sega music in the background and divine refreshments served to you by the boat staff - a truly exclusive and memorable experience in Mauritius.
The entire cruise is done inside Mauritius' largest lagoon, so you can be self assured to have great cruising conditions and calm seas. This mountainous part of the island contrasts the rich fauna of the Black River Gorges with the wild and crystal sandy beaches of Tamarin Bay where one can admire incredible sunsets with surfers on the horizon.
A selection of snacks are available during the cruise. Watch over the mesmerising, uninterrupted skyline with a drink in hand as you delight your taste buds with Mauritian delicacies, olives and cheese, among other appetisers. If that ain't the most tropical paradise scene of your dreams…
The sunsets seen on the entire west coast of Mauritius are legendary, and the best way to experience one is from the ocean. You will see a symphony of colours in the sky, a mixture of red, purple, blues, pinks and mesmerising yellow.
This cruise is all about having a romantic and relaxed evening on board a catamaran, while enjoying the company of your loved ones or friends. If it's something you've only seen in the movies, well just know that you're about to live in the moment and be the main character.
About the catamaran
It is a spacious and stable catamaran vessel, 44-ft long, built for comfort, safety, ease of viewing and performance. It has large flat decks and trampolines for lounging in the sun, a huge shaded cockpit with seating for all passengers. It is also equipped with all-modern navigational instruments and safety devices to ensure passenger safety. The catamarans, with their large open seating areas on deck and at the front and rear, are uniquely designed for sunset viewing, photograph taking and socializing. They also have a bar facility, a top-of-the-line stereo system and a tasteful music collection.
Onboard Facilities
Luxurious Catamaran
Cabins
Two large trampolines for sunbathing
Toilets
Stereo and Public Announcement system
---
When embarking on board the beautiful 44 feet luxury catamaran for an unforgettable two hours unique sunset cruise done inside Mauritius' largest lagoon along the west coast, one can enjoy complimentary local snacks and homemade punch as part of the cruise.
---
Transportation
| | |
| --- | --- |
| Private Daily Tour in a family Car (for up to 4 people) | 85 Euro |
| Private Daily Tour in a 6 Seater vehicle (for up to 6 people) | 95 Euro |
The Prices are per vehicle referring to the number of passengers applicable for each vehicle type.
Special discounted price for the package
| | |
| --- | --- |
| Total price the Horseback Beach Riding & Evening Cruise for 2 people | 600 Euro (300 Euro / person) |
| Supplement for each additional adult | 135 Euro |
| Supplement for each additional child (ages 3-12) | 105 Euro |
---