Journée En Croisière Luxueuse Et Privée - Ile Aux Bénitiers
| | |
| --- | --- |
| Lieu: | Sud-Ouest |
| Jours Opérant | Tous les jours |
| Durée | 6 h |
| Heure de L'Activité | 09:30 - 15:30 |
| Transports | Offert en Supplément |
| Commentaire | Le matériel de plongée n'est pas fourni en raison des mesures sanitaires. Les clients sont priés d'apporter leur propre masque, tuba et palmes. |
Jours Opérant
Tous les jours
Heure de L'Activité
09:30 - 15:30
Transports
Offert en Supplément
Commentaire
Le matériel de plongée n'est pas fourni en raison des mesures sanitaires. Les clients sont priés d'apporter leur propre masque, tuba et palmes.
Full Day Private Luxurious Catamaran Cruise At Benitiers Island
Get ready with your friends, and family and set sail on the turquoise water of the south western coast of Mauritius-the beautiful Benitiers Island for a wonderful full day catamaran cruise in a fun and relaxed ambience. You will also an all inclusive trip at sea, including a hearty BBQ lunch and drinks with a variety of choices.
This cruise will have you enjoy the discovery of the beautiful sea on a luxurious catamaran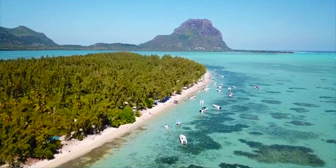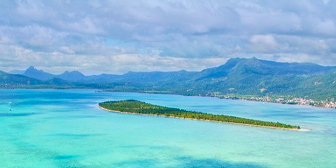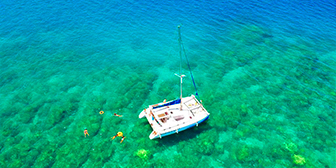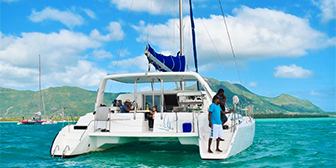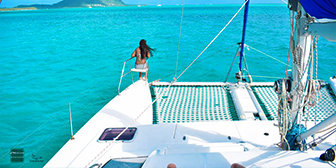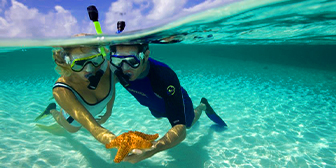 Highlights of this trip:
Embark on this luxurious catamaran and experience sailing in the tropical lagoon
Enjoy an amazing trip to enchanting Benitiers Island with possible dolphins encounters
Enjoy swimming in the turquoise blue sea, or snorkel to discover the marine life
Chill and relax under the pleasant warm sun and laze on the soft sandy beach
Relish a delicious lunch onboard or on the shore of Benitiers Islands
Enjoy relaxation and quality time on the beach of Benitiers Island
---
Full Day Private Luxurious Catamaran Cruise At Benitiers Island - Inclusions
The Full Day Private Luxurious Catamaran includes:
Full Day Exclusive Catamaran Cruise
Possible Dolphin Encounter
BBQ lunch served (for a surcharge)
Selection of drinks throughout the trip (for a surcharge)
Snorkelling break near reefs
Visit Crystal Rock and Benitiers Island
Music onboard
Leisure time on the island after lunch
Note: Snorkeling equipment is not provided due to sanitary measures. Clients are requested to bring their own - mask, snorkel and fins.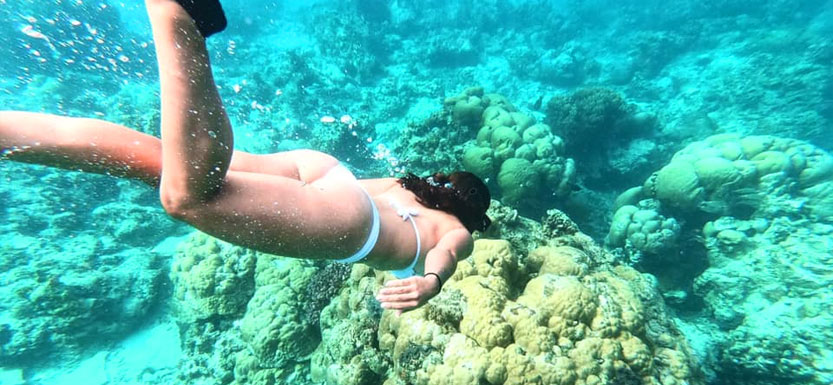 ---
Détails sur le Transport & le Chauffeur
Transport is available for an additional supplement and will include pick up and drop off from any hotel / place of accommodation in Mauritius.
Capacités des voitures
Vous pouvez choisir parmi une sélection de types de véhicules:
Family Car - Up to 4 passengers
6 Seater vehicle - Up to 6 passengers
Minivan - Up to 10 passengers
À propos des conducteurs
All drivers speak fluent English and French (Upon special request we can organize drivers who speak additional languages). The drivers, citizens of Mauritius, will be happy to provide you with information about Mauritius and each of its sights.
All drivers are very professional, time efficient and friendly. There is a high emphasis on being always on time and providing reliable devoted service to customers.
---
Point de Rencontre & Horaires
La Balise Marina, South West Region
Heures de début et de fin:
| | |
| --- | --- |
| Meeting Time | 09:15 |
| Departure time | 09:30 |
| Return time | 15:30 |
---
Full Day Private Luxurious Catamaran Cruise At Benitiers Island
Enjoy a full day sea trip on a luxurious catamaran exclusively for you and whoever you want to share this experience with. Enjoy some relaxation time on a beautiful island with your loved ones and have fun creating lifelong memories. You will feast on a sumptuous BBQ lunch with the freshest ingredients for a full burst of flavour.
About the Exclusive Full Day Catamaran Cruise with Lunch & Drinks
Your journey starts in the morning in the catamaran which will lead you to the pristine south western coast of Mauritius. Early mornings are the best times to catch dolphins as they swim on the west coast of the island
During the cruise, the catamaran will stop for breaks in some key locations, where you can enjoy a swim and some snorkeling in the sea, or enjoy the sun and drinks on board the catamaran. Snorkeling is a great way to have a glimpse into the mesmerizing marine life and the underwater world of Mauritius.
Before arriving at the Island you will visit the famous Crystal Rock and will have a spectacular view of the Rempart Mountain, the Black River mountain range, and of the magnificent Le Morne Mountain. The famous Crystal Rock (mostly known as the Diamond or Benitiers rock) is a naturally carved out to look like a plate coral, this 'rock' stands unrivalled in the vastness of the Indian Ocean, with sparse young filao trees growing on its rocky structures. The catamaran will then head to the beautiful Island of Benitiers.
On Benitiers Island, enjoy a delicious BBQ lunch buffet set either on the catamaran or on the Island. In case you are a vegetarian, please inform us in advance so we can arrange the necessary additions to the lunch.
After lunch you can enjoy some relaxation time - have the leisure to tan on the beach, walk along the endless beaches of Benitiers Island or explore the amazing lagoons and coral reefs which are in close proximity to the beach.
During the cruise the crew members will make your time enjoyable, they will tell you about local folklore, and play local Mauritian music which will lift the spirits of everyone on board.
Following the visit to Benitiers Island, the catamaran will cruise back to La Balise Marina in Black River around 15:30.
About the Benitiers Island
Find this little relaxing haven of 2km long and 500m wide-the Benitiers Island offering you a fine white sandy beach, exotic coconut and casuarina trees, along with the incredible backdrop of the majestic Le Morne Brabant.
This gorgeous islet is ideal for those who want to restore their inner energy. Enjoy swimming in the turquoise blue sea, or snorkel and discover marvelous marine life. Chill and relax under the pleasant warm sunlight, and let go. To the northern end of the main island find small colonies of migratory birds where you can click some gorgeous pictures.
About The Catamaran
It is a luxurious 38 feet catamaran offering comfort and space bearing in mind the numerous features that it has. A sunshade is part of the catamaran for you to protect yourself from the elements of nature. Also, you will enjoy some music played on a Hi-Fi Stereo (MP3).
Onboard Facilities:
Luxurious Catamaran 38 Feet (Margy Rose)
Lounge-Dining Area
3 Luxury Cabins
Bathroom
Shower
---
Ce qu'il faut apporter/porter
Hats
T-shirts
Sun cream
Cameras
Swimsuits
Snorkeling equipment
---
Full Day Private Luxurious Catamaran Cruise - Food & Beverages
---
| | |
| --- | --- |
| Private Charter of Catamaran Only | 550 Euro |
| Supplement for Food & Beverage | 29 Euro /Person |
| Add-on: Lobster (500g) | 55 Euro /Person |
---
Options disponibles: