Croisière D'une Nuit En Catamaran Privé - Côte Nord
87% Niveau de satisfaction
Basé sur 1 avis
| | |
| --- | --- |
| Lieu: | Nord |
| Jours Opérant | Tous les jours |
| Durée | 15 h |
| Heure de L'Activité | 17:00 - 08:00 |
| Transports | Offert en Supplément |
| Commentaire | La croisière de nuit peut accueillir jusqu'à 8 adultes + 2 enfants |
Jours Opérant
Tous les jours
Heure de L'Activité
17:00 - 08:00
Transports
Offert en Supplément
Commentaire
La croisière de nuit peut accueillir jusqu'à 8 adultes + 2 enfants
Private Overnight Catamaran Cruise - North Coast Overview
Spend 22 hours at sea with your loved ones, with incredible views, good food and unlimited drinks for a moment you will never forget. Contemplate the beauty of Grand Bay from the sea during a breathtaking overnight venture in the North lagoon. This will be the ideal cruise choice for those looking for an intimate and romantic cruising experience in their own private-exclusive catamaran.
Share some cheerful moments with your loved ones; family and friends during this all-inclusive package. Sail through the calm water of the North Coast and enjoy the spirit of the ocean as you glide over the waves. You will enjoy an incredible sunset and sunrise, where you will see the colours in the sky change, creating a memorable paradise setting!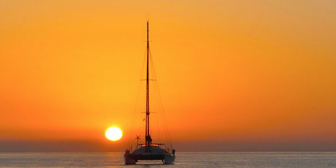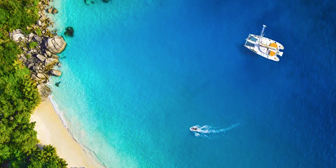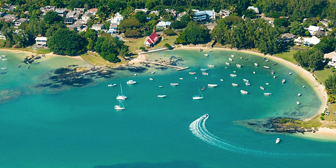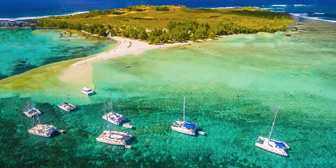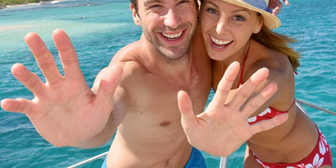 Highlights of the Package:
Enjoy an exclusive catamaran cruise at night aboard the Leopard 43
A breathtaking overnight venture in the North lagoon
Sail towards the famous islands of the North Coast which are Flat Island and Gabriel Island
Witness the iconic island sunset and sunrises firsthand while being at sea
Ideal Cruise for an intimate and romantic cruising experience
Exquisite Dinner and peaceful Overnight experience on-board
Stay in your own cabin on the luxurious catamaran
---
Private Overnight Catamaran Cruise - North Coast inclusions
15 hours aboard a Fully equipped Catamaran- Leopard 43
All-inclusive Package with Overnight stay on the Cruise
View famous islets in the north
Unlimited drinks
Dinner & Drinks offered at night
Continental Breakfast
Snorkelling break in the morning
Note: Snorkeling equipment is not provided due to sanitary measures. Clients are requested to bring their own - mask,snorkel and fins.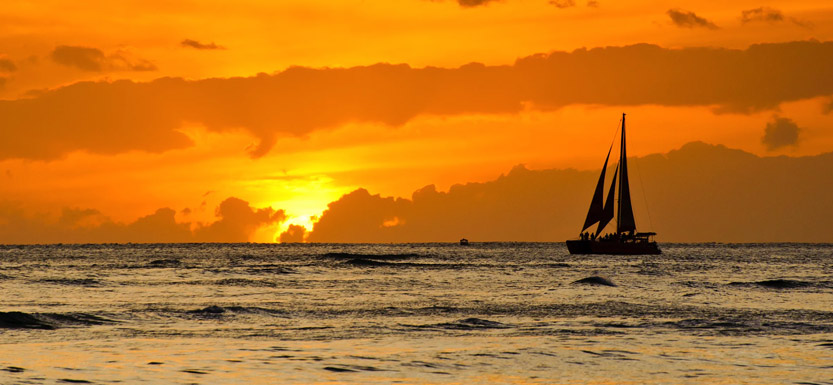 ---
Détails sur le Transport & le Chauffeur
Transport is available for an additional supplement and will include pick up and drop off from any place / place of accommodation in Mauritius.
Capacités des voitures
Vous pouvez choisir parmi une sélection de types de véhicules:
Family Car - Up to 4 passengers
6 Seater vehicle - Up to 6 passengers
Minivan - Up to 10 passengers
À propos des conducteurs
All drivers speak fluent English and French (Upon special request we can organize drivers who speak additional languages). The drivers, citizens of Mauritius, will be happy to provide you with information about Mauritius and each of its sights.
All drivers are very professional, time efficient and friendly. There is high emphasis on being always on time and providing reliable devoted service to customers.
---
Point de Rencontre & Horaires
Grand Baie - North Region
Heures de début et de fin:
| | |
| --- | --- |
| Duration: | The duration of this trip is 15 hours |
| | The Catamaran cruise is operational all days |
| Departure time: | 17:00 from Sunset Boulevard |
| Return time: | 08:00 (the next day) at Sunset Boulevard |
---
Private Overnight Catamaran Cruise Itinerary:
Join your catamaran team at around 16:30 at Sunset Boulevard, Grand Bay and be prepared to enjoy a VIP treatment. Your catamaran cruise will depart from the jetty at around 17:00. Enjoy the tranquility of the paradise setting surrounding the North Coast of Mauritius.
Your itinerary is as follows:
Day 1
Welcoming cocktail
Cruising towards the Gunner's Quoin and other famous islands
Sailing in the stunning lagoon of the North Coast
Stop for an incredible and tropical Sunset
Dinner between Flat Island and Gabriel Island with unlimited of drinks*
Spend the night on board
Day 2
Continental Breakfast served on board
Snorkelling in the stunning lagoon
Sail back to Sunset Boulevard, Grand Bay at around 8 a.m
The itinerary can be modified upon client's request and with Management's approval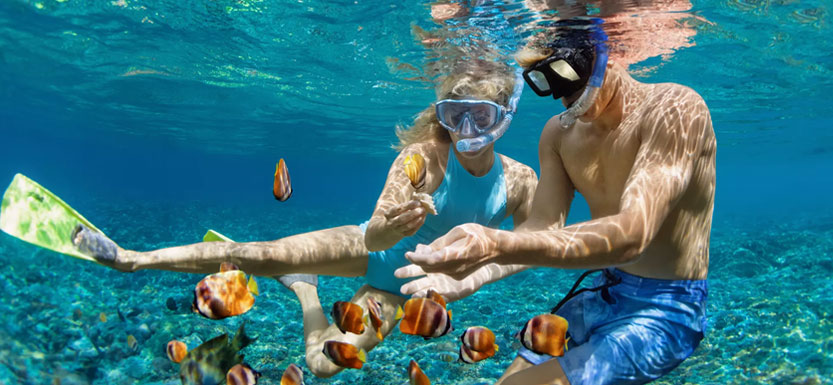 ---
Private Overnight Catamaran Cruise - North Coast
This exclusive overnight catamaran cruise is all about intimacy, romance and VIP treatments. For a more pampering time, a professional team will accompany you during your trip to ensure that you spend real special moments on the water. They will attend to each and every need of yours.
Embark on the Leopard 43 and enjoy an amazing sunset, exquisite dinner and peaceful overnight experience on-board.
*Important Info: The overnight cruise will be in front of the famous Flat Island and Gabriel Island but depending on the weather conditions, the itinerary might change. For your safety and security, the cruise may thus be done in the lagoon of Grand Bay; in front of the luxurious hotels along the Northern coastline.
More Information About the Private Overnight Catamaran Cruise
The cruise begins with a refreshing cocktail and a warm welcome from the staff members on-board.
The cruise will be along the coastline heading to the famous Gunner's Quoin passing by some of the luxurious hotels of the North. Contemplate the towering cliffs with their soaring colonies of white-tailed tropicbirds as the catamaran sails past Gunner's Quoin.
You will make a little stop at the most favourable view spot where you can enjoy the sunset in a true idyllic setting. Seize the opportunity to appreciate a great snorkelling activity before the final rays of the dawning sun.
The catamaran will then set sail towards the famous islands of the North Coast which are Flat Island and Gabriel Island. Enjoy an incredible view over the two unspoiled islands offering a postcard beauty with white sandy beaches, turquoise sea water and lush tropical vegetation.
The friendly and professional crew members will then serve a delicious dinner on-board, in the lagoon. Relish on the mouth-watering dishes proposed to you. For a supplement, you can enjoy a sumptuous lobster menu, all you have to do is to mention your request during the reservation process.
After enjoying an exquisite dinner with spectacular ocean view and gentle sea-breeze on your skin, you can choose to sit on the front deck of the catamaran and admire the beauty of the starry night sky. Enjoy maximum privacy for truly wonderful moments with your loved ones or with your family and friends on a spacious and luxurious catamaran.
On the next day, you can either choose to wake up early in the morning to watch the sunrise in the lap of the ocean or sleep late. The crew member will serve you a delicious continental breakfast to start the beautiful day.
You can opt for a refreshing swim in the lagoon between the two islands or snorkel with colorful reef fish to discover the rich marine life. All the equipment for the snorkelling activity is provided for free.
After this calm and peaceful morning in an idyllic setting, the catamaran will head back to the jetty of Sunset Boulevard at around 08:00. This private catamaran cruise will be a memorable adventure that you will cherish your whole life.
About The Catamaran - Leopard 43
The Leopard 43 features high standard materials, refined design and spacious areas for an amazing time at sea. Catering for groups of up to 18 participants, you are sure to enjoy an unforgettable day cruising experience.
The catamaran is air-conditioned and as such, you will enjoy luxury par excellence with a cozy setting. Benefit from various amenities such as a fully equipped kitchen, a spacious interior and exterior lounge including dining area, large comfortable sunbeds and two trampolines. This first class catamaran is also embedded with an auto-pilot, GPS navigation system and audio system with a smartphone's port.
In terms of accommodation, it offers four luxurious bedroom suites where one additional bed can be added for one child in each of the two front bedrooms. Each room is well air-conditioned and includes an HD TV, a private en-suite bathroom with mirror and a cupboard.
Catamaran Facilities on board
A fully equipped Leopard 43 Catamaran
2 front bedroom suites (8m2) with private bathroom
2 back bedroom suites (5m2) with private bathroom
Air-conditioned Catamaran
Lounge/ dining room (inside and outside) and1 large deck at the front of the vessel
Fully equipped kitchen
Large comfortable sunbeds and 2 trampolines at the front of the catamaran
Bath and beach towels
Snorkelling and basic fishing equipment
Mobile phone charger (on battery)
HD TV
CD and radio (port for smartphone)
Hot water (solar panels)
---
Ce qu'il faut apporter/porter
We suggest you to bring the following:
Hats
Spare clothes
Extra sun block cream for sun protection
Camera
Swimsuits
---
Private Overnight Catamaran Cruise - Food & Beverages
As part of your private overnight stay, you will enjoy an all-inclusive package where you will be provided with unlimited drinks access (wine, rum, beer, juice, water, soft drinks, tea and coffee) and as well as 2 meals - dinner and continental breakfast.
---
| Private Overnight Catamaran Cruise - North Coast | |
| --- | --- |
| Private Overnight Cruise - Boat Charter: | 845 Euros |
| Food and Beverage package: | 45 Euros /Participant |
---
Options disponibles:
Avis
87% Niveau de satisfaction
Basé sur 1 avis
|
avis de Steve Simon – Luxembourg
|
Août 15, 2019
Délai de réponse à vos requêtes et demandes
Niveau de professionnalisme de nos consultants en voyages
Une valeur ajoutée qui vous a été apportée par notre consultant en voyages
Les connaissances du consultant en voyages sur l'Île Maurice et l'éventail des produits/ services offerts
Satisfaction globale du service clientèle
Niveau des services fournis lors de l'activité
Niveau de professionnalisme des opérateurs / guides pendant l'activité
Votre niveau d'amusement par apport à vos attentes de l'activité
Qualité des repas et des boissons inclus (si applicable)
Facilité à réserver l'activité
Satisfaction globale de l'activité
---