Croisiere en Catamaran All Inclusive - Cote Ouest
96% Niveau de satisfaction
Basé sur 1 avis
| | |
| --- | --- |
| Lieu: | Sud-Ouest |
| Jours Opérant | Mardi, Mercredi, Jeudi, Vendredi, Samedi, Dimanche |
| Durée | 6 h |
| Heure de L'Activité | 09:30 - 15:30 |
| Transports | Offert en Supplément |
| Commentaire | Le matériel de plongée n'est pas fourni en raison des mesures sanitaires. Les clients sont priés d'apporter leur propre masque, tuba et palmes. |
Cette activité n'est pas opérationnelle jusqu'au 6 février 2022
Luxury Catamaran Cruise with Dolphin Watching - West Coast Overview
Mauritius Attractions offers you an unforgettable cruising experience aboard a top class luxury Catamaran along the South West coast of Mauritius- which is considered as one of the best places to visit when holidaying in Mauritius.
Discover this pristine region of Mauritius, sailing on a comfortable catamaran with the chance to encounter dolphins in Tamarin Bay; you won't stop smiling. All throughout the day, you can grab yourself unlimited drinks from the bar, whilst you enjoy a nice chat with the crew members. To keep your tummy happy, you get to relish a hearty BBQ meal for lunch! Contemplate the underwater world on your snorkelling break, and make the most of your leisure time on Benitiers Island.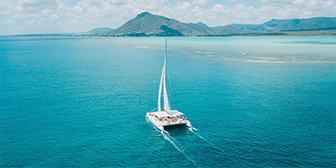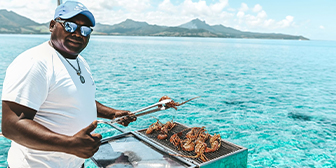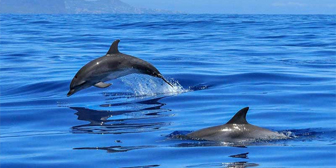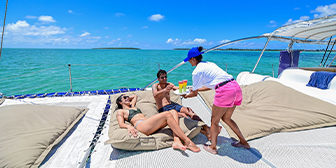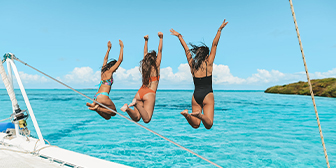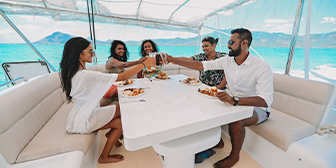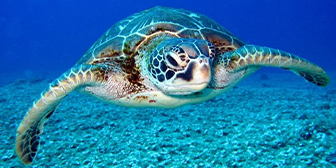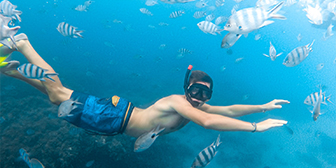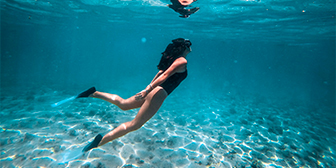 Highlights of this package:
Indulge in an All Inclusive Luxury Catamaran Trip on the west coast
Encounter beautiful beaches, lagoons, and the mountain peaks visible from the sea
Possibility to see dolphins out at sea in their natural habitat
View the underwater scenery with hundreds of bright-colored fish when snorkelling
Enjoy a fish & chicken BBQ meal for lunch or request for the veg option beforehand
Have an unlimited supply of alcoholic and non alcoholic drinks at the open bar
Free time to explore Benitiers Island or to have a tanning session on the beach
---
Luxury Catamaran Cruise with Dolphin Watching - West Coast - Inclusions
A luxury trip on a 60ft Catamaran Cruise
Boat trip along the west coast and spotting of key sites (Le Morne Mountain, Crystal Rock…)
Encounter Dolphins
Snorkelling break near the reefs
BBQ Lunch on Benitiers Island or onboard (subject to change)
Open Bar all day - All inclusive
Leisure time including stop at Benitiers Island
Safety equipment and security measures
Music - CD Player upon request & from own selection
Note: Snorkeling equipment is not provided due to sanitary measures. Clients are requested to bring their own - mask, snorkel and fins.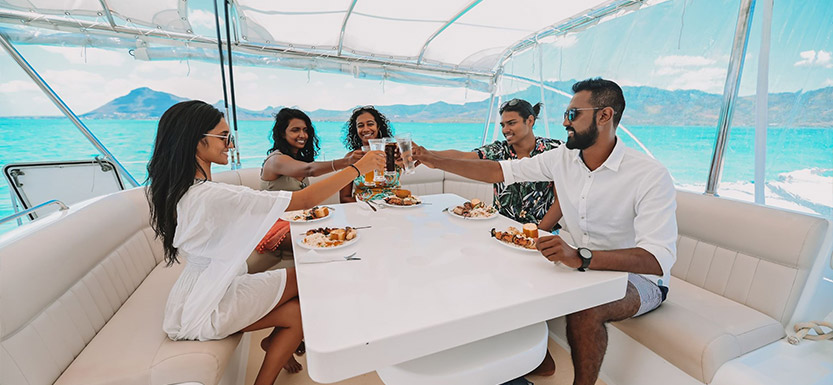 ---
Détails sur le Transport & le Chauffeur
Transport is available for an additional supplement and will include pick up and drop off from any place / place of accommodation in Mauritius.
Capacités des voitures
Vous pouvez choisir parmi une sélection de types de véhicules:
Family Car - Up to 4 passengers
6 Seater vehicle - Up to 6 passengers
Minivan - Up to 10 passengers
À propos des conducteurs
All drivers speak fluent English and French (Upon special request we can organize drivers who speak additional languages). The drivers, citizens of Mauritius, will be happy to provide you with information about Mauritius and each of its sights.
All drivers are very professional, time efficient and friendly. There is high emphasis on being always on time and providing reliable devoted service to customers.
---
Point de Rencontre & Horaires
Riviere Noire - Black River Village
Heures de début et de fin:
| | |
| --- | --- |
| Duration: | The duration of this trip is 6 hours 30 minutes |
| | The Catamaran cruise is operational all days |
| Meeting time: | 09:00 at Le Morne Anglers Club Jetty, Black River |
| Return time: | 15:30 at Le Morne Anglers Club Jetty, Black River |
---
Depart from Black River
Head towards Tamarin Bay for Dolphins Watching
You will then cruise to the lagoon of La Preneuse
Depending on sea conditions, the catamaran will stop at La Preneuse for a snorkelling break
BBQ Lunch with unlimited drinks on Benitiers Island or onboard (subject to change)
Leisure time with stop at Benitiers Island
Head to crystal Rock
Sail back to Tamarin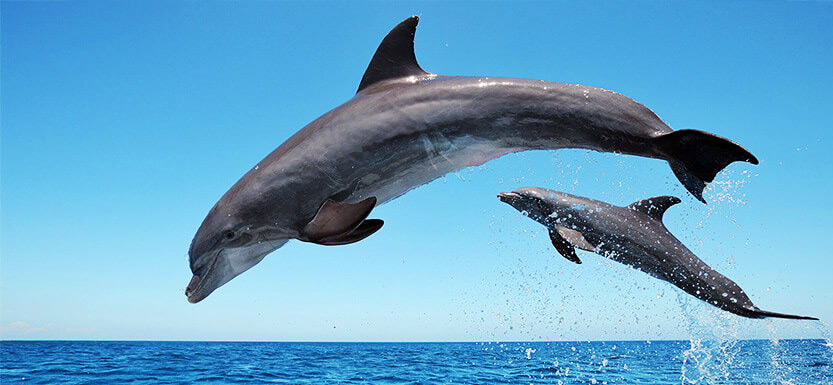 ---
Luxury Catamaran Trip, including Lunch and drinks, along the West coast of Mauritius
This full day cruise guarantees sheer fun, refreshing drinks and delicious food under the sun on a luxury 60ft Racing Catamaran along the West Coast of Mauritius!
Discover the true beauty of one of Mauritius' less touristy areas, but no doubt, one of the most beautiful ones, featuring beautiful beaches, lagoons, and the mountain peaks visible from the sea.
The catamaran cruise departs from the area of Tamarin (Black River) and will head towards the first key site on the journey- Tamarin Bay. With some luck you will get to encounter dolphins in the crystal clear waters of the bay. This is a unique chance to explore the spectacular lives of these magnificent marine mammals in their aquatic habitat. From Tamarin Bay the catamaran will cruise along the coral reefs to the lagoon of La Preneuse.
During the cruise, in some key locations, the catamaran will stop for snorkelling breaks, where you can swim amidst the schools of tropical fish and vivid corals. This is a great way to have a glimpse into the beauty of Mauritius' marine life and underwater world. You will be able to see the amazing marine life, full of hundreds of bright-colored fish!
After the snorkelling break, you will take delight in a full delicious BBQ lunch buffet set on the catamaran or on Benitiers Island (subject to change). The menu is carefully crafted using the freshest products- fresh fish, fresh chicken and a selection of fresh salads. If you are a vegetarian, please advise us beforehand so we can arrange the necessary additions to the lunch.
Whilst on Benitiers Island, you'll have ample leisure time to bask in the sun, soak in the salty scent and experience total relaxation on the sand. Stroll around the island, get that tropical tan or simply sit back and contemplate the splendid seascape that's unique to the islet. Turquoise waters, light blue sky, golden sand and lush greenery- a scenery that will bring some colours to your otherwise dull, monotonous life.
Afterwards, you will be heading towards the Crystal Rock, admiring spectacular views of the Rempart Mountain and Black River range along the way, before heading back to Tamarin. As an added bonus for this catamaran excursion, you get to enjoy a full open bar service for free including both alcoholic and non-alcoholic drinks!
About the Catamaran
An 18 meters racing catamaran (60ft) with 2 30 hp engines. The catamaran was expressly built for ocean racing and offers a high-speed cruise experience. More than just a luxurious catamaran trip, you will have expansive walking space as well as a small bar aboard. There are also dedicated seating areas with 4 covered lounges with a maximum of 6 persons seated per lounge. Trendy bean bags are placed on the trampoline to enhance the comfort of guests.
4 private and covered lounge areas
Bar area
Wifi available
A very wide 57 m2 trampoline area
A kitchen area + toilets
Life jackets & first-aid kit
Distress rockets & fire extinguisher
Mobile telephone & radio
Life-boat (dinghy)
Note: Snorkeling equipment is not provided due to sanitary measures. Clients are requested to bring their own - mask,snorkel and fins.
Private or Exclusivity VIP option
The Activity can be done on both exclusivity as well as sharing basis; it's up to you to choose.
Get the ultimate VIP experience you deserve with personalised service, upscale treatment and maximum privacy. Call us on +230 269 1000 to Book this activity on a private-exclusive basis.
---
Ce qu'il faut apporter/porter:
Snorkeling equipment
Soft carry bag
Swimsuit
Spare clothes
Sand shoes
Sun cream
Hat
Beach towel
Camera
---
You will enjoy a wide selection of foods and beverages on this luxurious catamaran.
---
| | |
| --- | --- |
| Price per Adult | 55 Euro |
| Price per Child (ages 3-12) | 35 Euro |
| Price per Baby (ages 0-2) | Free of Charge |
---
Cette activité n'est pas opérationnelle jusqu'au 6 février 2022
Avis
96% Niveau de satisfaction
Basé sur 1 avis
|
avis de lepainturier reynald – France
|
Juin 14, 2019
Délai de réponse à vos requêtes et demandes
Niveau de professionnalisme de nos consultants en voyages
Une valeur ajoutée qui vous a été apportée par notre consultant en voyages
Les connaissances du consultant en voyages sur l'Île Maurice et l'éventail des produits/ services offerts
Satisfaction globale du service clientèle
Niveau des services fournis lors de l'activité
Niveau de professionnalisme des opérateurs / guides pendant l'activité
Votre niveau d'amusement par apport à vos attentes de l'activité
Qualité des repas et des boissons inclus (si applicable)
Facilité à réserver l'activité
Satisfaction globale de l'activité
Moment très agréable avec un équipage très agréable et dynamique. Parfait très bon souvenir
---