R Beach Club Day Package
| | |
| --- | --- |
| Lieu: | Nord |
| Jours Opérant | Mardi, Mercredi, Jeudi, Vendredi |
| Durée | 7 h |
| Heure de L'Activité | 10:00 - 17:00 |
| Transports | Offert en Supplément |
"
Saviez vous?
En plus des treks classiques sur l'ile Maurice, vous pouvez aussi opter pour une aventure unique avec la
Randonnée avec Tyroliennes
.
Cette activité n'est pas disponible jusqu'à nouvel ordre
Ce contenu est actuellement non disponible en français
Overview of the R Beach Club Day Package
Ideally situated in the coastal village of Mont Choisy, the R Beach Club invites you to spend quality time with your family or friends in its very cosy and chic setting through a 7-hour day package. The beach club's quiet atmosphere is perfect for a relaxing retreat in an elegant setting while enjoying great service from friendly staff.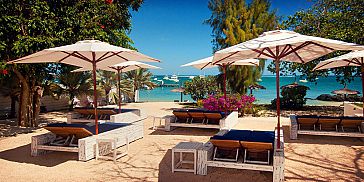 The R Beach Club offers you free access to the pristine beach of Mont Choisy and allows you to make the most of what the tropical island of Mauritius has to offer; magnificent views of the splendid Indian Ocean and the possibility to enjoy a natural sun tanning session on a white sandy beach, amongst others.
You will most definitely love taking a long stroll along the beach, feeling the gentle sea breeze on your face and contemplating the beautiful surroundings.
The R Beach Club essentially presents an opportunity for you to have a great holiday retreat on the island.
---
About the R Beach Club Day Package
Discover the R Beach Club located on the secluded bay of Mont Choisy, a charming village, in the beautiful northern coast of Mauritius. The chic yet laid back style of the beach club will lure you right in. This relaxed venue is ideal for a day of fun with your friends, family or partner.
You will be warmly greeted by very friendly staff, offering you a refreshing cocktail upon your arrival. Afterwards, you can enjoy a delicious 3-course meal in the colonial décor of the R Beach Club. Savour traditional Mauritian flavours and appreciate the exotic local cuisine.
Next, you may choose to make the most of the warm tropical sun and laze around on the beach or by the swimming pool. For complete relaxation, head to R Beach Club's spa for a 60-min Aromatherapy relaxing massage, offered against a supplement. The massage is designed to improve blood circulation in the body and ease stiffness as well as pains in your muscles.
The Day Package at R Beach Club includes:
Free Welcome Cocktail upon arrival
3-Course lunch (Veg or Non-Veg Option)
1 soft drink and 0.5l of Mineral water per person
Access to Swimming Pool & Beach
Beach towels offered
Access to Restaurant & Lounge
60-min Aromatherapy Massage (against a supplement) or a 20% Spa Discount
Free WiFi
---
Lunch Menu at the R Beach Club
3-Course Menu
Starter: Parmesan Sablé , Eggplant Caviar
Main Course:
Non Veg Option: Chicken thigh marinated in thyme, espelette pepper, honey and lime
Veg Option: Bruschetta with parmesan vegetables, sautéed vegetables and fries
Dessert: Molten chocolate cake with crystallised bilimbis
---
About R Beach Club
The luxurious R Beach Club, situated on the coast of Mont Choisy, provides a tranquil location with refined modern decor, that gives people the opportunity to catch up in a relaxing atmosphere.
The beach club's concept is founded on several elements such as very friendly and warm staff, authentic cuisine and simplicity, which jointly makes the R Beach Club a place of choice to visit. The club also encompasses a spa to help you reconnect with a constructive state of mind, thanks to deeply revitalising treatments and massages that will invigorate both your mind and body.
Enjoy a moment of absolute relaxation at the R Beach Club.
---
About the 60-Minute Aromatherapy Relaxing Massage (Optional)
Let yourself be pampered into a state of absolute well-being by the therapists' expert hands. The gentle aromatherapy massage, with soothing essential oils, focuses on the backside of the body, beginning with the feet and legs and working up to the scalp. This massage will aid in relieving back tension and pain, hence improving circulation and energy flow. The inhaled aromas from these "essential" oils stimulate the brain, thus promoting good health and well-being.
---
Comments
Location: Mont Choisy
What to bring: We suggest bringing hats, extra sun block cream for sun protection, cameras, and swimsuits.
Note: All Extras to be settled at the Restaurant directly
---
Prices
Day Pass + 3-course Lunch - 45 Euro / Person
Supplement for 60 min Aromatherapy Massage: 40 Euro / person
Cher client, pour réserver cette activité, veuillez nous contacter sur le +230 269 1000.