Randonnée - Parc des gorges de Rivière Noire - Demi Journée
100% Niveau de satisfaction
Basé sur 2 avis
| | |
| --- | --- |
| Lieu: | Sud-Ouest |
| L'âge minimum: | 8 |
| Jours Opérant | Tous les jours |
| Durée | 3 h |
| Heure de L'Activité | Flexible |
| Transports | Offert en Supplément |
| Commentaire | Starting time is subject to change |
Hiking Trip - Black River Gorges Park (Half Day) - Overview
Come and experience the true beauty of nature in Mauritius on this hiking trip. Feed the adrenaline junkie in you with this package by Mauritius Attractions, which takes you through the lush forests, crossing rivers and admiring absolutely sensational views with a professional guide by your side.
The Black River Gorges is worth visiting for all trekkers, as well as for the pure nature lovers and bird-watchers. Black River Gorges is the largest national park in Mauritius. Famous for its waterfalls, vistas and hiking, the gorge is in the central highlands, making it cooler than much of the island.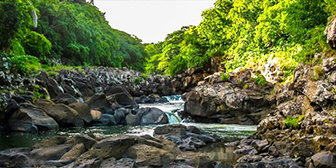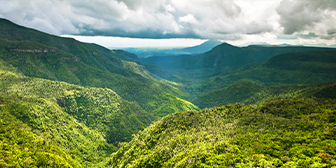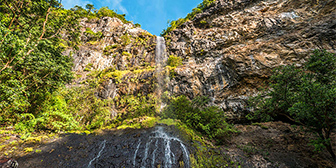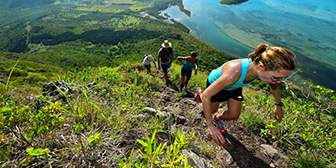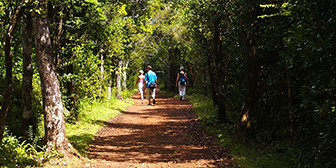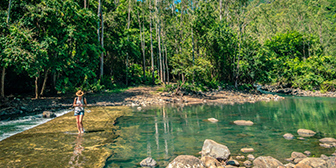 Highlights of this package
Hiking in Black River Gorges, the largest national park in Mauritius
Easy hike suitable for the elderly & the younger ones as it requires no past experience or high fitness level
Breathtaking views of mountains, waterfalls, and a mighty gorge during the hike
Discover Mauritius' natural heritage in this unique area including endemic plants and several species of birds
Refuel your energy with the complimentary Snacks, Cakes & Juice
Hiking excursions will be under experienced and professional guidance
---
Hiking Trip - Black River Gorges Park - Half Day includes:
Half day 10-12 km hiking trip
Visit the famed Black River Gorges National Park
Trek through forested trails and streams
Discover endemic plants & endangered birds unique to Mauritius
Accompanied by a experienced and professional guide
Snacks, cakes & juice will be provided during the trip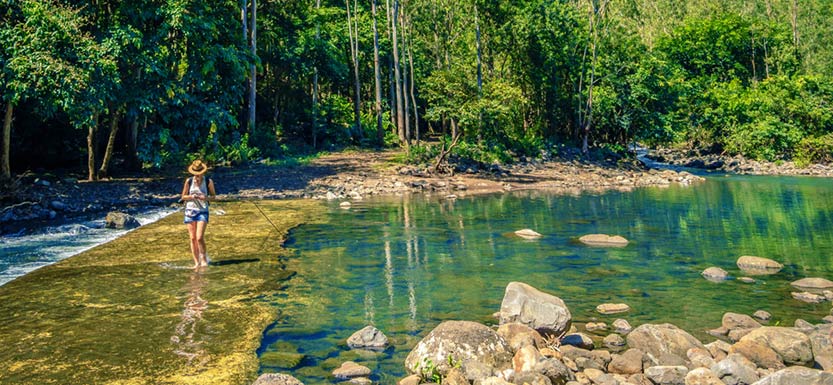 ---
Détails sur le Transport & le Chauffeur
Transport is available for an additional supplement and will include pick up and drop off from any hotel / place of accommodation in Mauritius.
Capacités des voitures
Vous pouvez choisir parmi une sélection de types de véhicules:
Family Car - Up to 4 passengers
6 Seater vehicle - Up to 6 passengers
Minivan - Up to 10 passengers
À propos des conducteurs
All drivers speak fluent English and French (Upon special request we can organize drivers who speak additional languages). The drivers, citizens of Mauritius, will be happy to provide you with information about Mauritius and each of its sights.
All drivers are very professional, time efficient and friendly. There is high emphasis on being always on time and providing reliable devoted service to customers.
---
Point de Rencontre & Horaires
Black River Gorges National Park, South West Region
Heures de début et de fin:
| | |
| --- | --- |
| Duration: | 3 Hours* |
| Operational Days: | Everyday |
| Activity Time: | 09h30 (starting time is subject to change) |
*Depending on participant's physical fitness
---
Hiking Trip - Black River Gorges Park - Half Day
Located in the hilly south-western part of Mauritius, the Black River Gorges National Park extends over an area of 6,754 hectares of the surface of Mauritius Island! With the help of the guides, you will discover Mauritius' natural heritage in this unique area which houses one of the rarest forests in the world. It harbours over 300 species of native and endemic flowering plants and 9 species of birds, which are found only in Mauritius.
If the thought of getting worn out is holding you back, then you have nothing to worry about! This is a fairly easy trail that anyone can undertake, irrespective of fitness level. It's a popular hike among the teens but also the elderly people, requiring no experience whatsoever.
This 10-12 km hike will take you into the heart of the indigenous Machabee forest with many panoramic views. Seize this unique chance to learn about the natives vegetation as well as the endemic and exotic bird life. The accompanying guide will be keen to share interesting insights on the marvellous fauna and flora.
Other than expanding your knowledge on our native wildlife, having a guide by your side gives you a feeling of reassurance. You don't need to worry about being left behind- getting lost is out of question. With years of experience, the guide has also learnt the trail inside out, hence, you might access shortcut paths and secret alleys that lead to wondrous spots that you'd have never expected.
The views you will encounter during this hike are breathtaking- a wide, beautiful gorge (canyon) curving dramatically down between a series of mountains; spectacular waterfalls cascading down the hillside with a range of mountains behind them and many more.
The park protects most of the island's remaining rainforest. Many endemic plants and animals can be found in the park, including the Mauritian flying fox and all of the island's endemic birds: Mauritius kestrel, Pink Pigeon, Mauritius Parakeet, Mauritius Cuckoo-Shrike, Mauritius Bulbul, Mauritius Olive White-Eye, Mauritius Grey White-Eye and the Mauritius Fody.
About the guide and the spirit of the trip
All hiking excursions and treks will be under the experienced and professional guidance of one of the top guides in Mauritius, while sharing his local knowledge, passion for sports and love of nature.
Each trip is carried out with a total respect towards nature and while making it a top priority to stress the importance of its preservation. The trip will take you around some of the most beautiful places in Mauritius and you will get to learn more about the fauna and flora and what's being done towards its preservation, making this a unique and enriching experience.
About Hiking in Mauritius
Mauritius, being a volcanic island, has several breathtaking summits and valleys to explore on foot. The island is well known for its natural beauty.
Mauritius is famous for its breathtaking nature, beautiful birds, flora, coastlines and with many magnificent views.
The flora of Mauritius is composed of 700 species of indigenous plants.
To learn more about hiking and trekking in Mauritius check our Trekking in Mauritius page.
---
Ce qu'il faut apporter/porter:
Hiking shoes

Sun cream

Mosquito repellent

Spare clothes
---
| Hiking Trip - Black River Gorges Park - Half Day | |
| --- | --- |
| Price per Participant | 55 Euros |
---
Avis
100% Niveau de satisfaction
Basé sur 2 avis
|
avis de Francois Ichard – Mahebourg
|
Décembre 24, 2019
Délai de réponse à vos requêtes et demandes
Niveau de professionnalisme de nos consultants en voyages
Une valeur ajoutée qui vous a été apportée par notre consultant en voyages
Les connaissances du consultant en voyages sur l'Île Maurice et l'éventail des produits/ services offerts
Satisfaction globale du service clientèle
Niveau des services fournis lors de l'activité
Niveau de professionnalisme des opérateurs / guides pendant l'activité
Votre niveau d'amusement par apport à vos attentes de l'activité
Qualité des repas et des boissons inclus (si applicable)
Facilité à réserver l'activité
Satisfaction globale de l'activité
---
|
avis de CANAKIS JF – France
|
Août 15, 2019
Délai de réponse à vos requêtes et demandes
Niveau de professionnalisme de nos consultants en voyages
Une valeur ajoutée qui vous a été apportée par notre consultant en voyages
Les connaissances du consultant en voyages sur l'Île Maurice et l'éventail des produits/ services offerts
Satisfaction globale du service clientèle
Niveau des services fournis lors de l'activité
Niveau de professionnalisme des opérateurs / guides pendant l'activité
Votre niveau d'amusement par apport à vos attentes de l'activité
Qualité des repas et des boissons inclus (si applicable)
Facilité à réserver l'activité
Satisfaction globale de l'activité
---