Pieter Both Mountain Hiking Adventure
| | |
| --- | --- |
| Lieu: | Centre |
| L'âge minimum: | 15 |
| Jours Opérant | Tous les jours |
| Durée | Flexible |
| Heure de L'Activité | Flexible |
| Transports | Offert en Supplément |
| Commentaire | Nombre minimum de participants : 2 |
Jours Opérant
Tous les jours
Heure de L'Activité
Flexible
Transports
Offert en Supplément
Commentaire
Nombre minimum de participants : 2
Hiking Adventure at Pieter Both Mountain - Overview
Climb this Mythical mountain and satisfy your thirst for adventures in one of the greenest parts of the paradise Island. Pieter Both is one the most iconic mountains and the second highest mountain of Mauritius - a must experience for hiking adventurers.
It is the dream of hikers to reach its summit for the amazing 360 degree panoramic view over the region. An incomparable green scene with a rewarding hike that can be enjoyed by everyone. The notable feature of this mountain is the gigantic rock formation at the very top of it, which resembles a human head and also the hardest part to climb in this journey.
Guides with years of experience will accompany you on your trek to give you useful insights about the surrounding flora and the history of the island while ensuring your safety is put first and you make the most out of your trekking experience!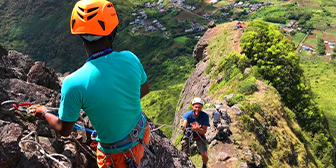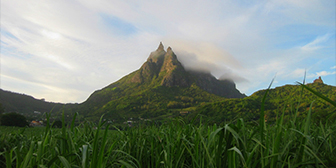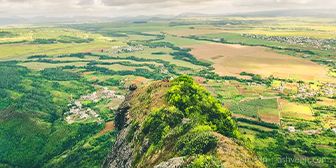 Highlights of this activity:
Hike up the second highest mountain of Mauritius
Enjoy 4 hours in the wild, discovering well hidden nature treasures
Have a rewarding panoramic view at the end of your hike
Click picture perfect shots throughout your trek
Enjoy some refreshments once you have completed the ascent of the mountain
---
Hiking in Mauritius - Pieter Both Mountain - Inclusions
4 hours Hiking trip up Pieter Both
Guided hike with experienced climbers and instructors
Rewarding 360 panoramic view over the Nearby settlements including the city of Port-louis
Climbing equipments and ropes provided
Experts will teach you basic climbing techniques.
Mauritian lunch/fruits provided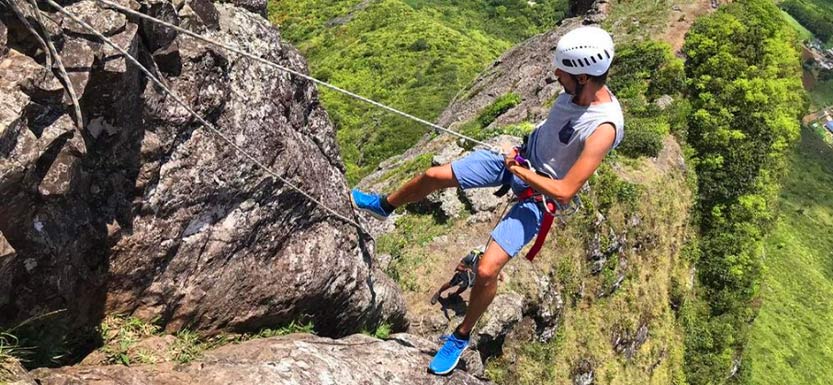 ---
Détails sur le Transport & le Chauffeur
Transport is available for an additional supplement and will include pick up and drop off from any hotel / place of accommodation in Mauritius.
Capacités des voitures
Vous pouvez choisir parmi une sélection de types de véhicules:
Family Car - Up to 4 passengers
6 Seater vehicle - Up to 6 passengers
Minivan - Up to 10 passengers
À propos des conducteurs
All drivers speak fluent English and French (Upon special request we can organize drivers who speak additional languages). The drivers, citizens of Mauritius, will be happy to provide you with information about Mauritius and each of its sights.
All drivers are very professional, time efficient and friendly. There is high emphasis on being always on time and providing reliable devoted service to customers.
---
Point de Rencontre & Horaires
La Laura Top Rank Sport and Environment Club, Central Region
Heures de début et de fin:
| | |
| --- | --- |
| Activity time: | Start at 08h00 (you are requested to reach at least 15-30 minutes before the activity start time) |
| Duration: | Flexible (Depend on Hiking pace) |
---
About the Thrilling Hiking Trip at Pieter Both Mountain (4-hour Hike)
A guided hike in the natural flora of Mauritius with rewarding breath-taking 360 degree views from the second highest peak of the island.
The Pieter Both stands majestically in the Moka Mountain Range. It is visible from most of the western, central and northern roads you may take if you go out on scenic road trips in Mauritius. Climbing the mountain and getting back down is a good challenge for everyone passionate about outdoor activities and adventures.
The 4-hour route begins in La Laura, a small peaceful village in the surrounding area. You will meet your guide who will give a briefing and instructions to guide you along your journey. You will begin walking on the trail that will lead to the notch just below the summit.
Throughout the trek, the guides will accompany you and help you whenever needed. They will also show you a few hidden treasures on the way to the top and narrate many stories about Mauritius and Pieter Both itself. The "main" attraction of the mountain is the big boulder , the gigantic rock formation at the very top of it which resembles a human head. This is often the most challenging part of the hike and to climb up, you will need the help of some ropes and the instructions of the guides.
Once at the top, take in the well deserved views of the island along with a great feeling of accomplishment. Get your pictures taken like the ones you have seen all over postcards and social media - this is after all a moment to never forget and to celebrate. You will then start to make your way back, satisfied with the day you have had and while enjoying a Mauritian Lunch/fruits.
About The Guide And The Spirit Of The Trip
All hiking excursions and treks will be supervised by experienced and professional guides in Mauritius. During the hike, the guide will share extensive knowledge about the reserve and its surrounding areas.
The trip will take you around some of the most beautiful places in Mauritius and you will get to learn more about the fauna and flora and what's being done towards its preservation, making this a unique and enriching experience.
When booking this trip you will be part of an amazing comradery where you will be helping each other to get to the destination, hence it might be a good idea to book this activity as a group, to ensure you already know each other.
About Hiking In Mauritius
The little gem of Mauritius raises its glory much more above the elongated white sandy beaches, swaying palm trees and stretched blue azure lagoons. Being a volcanic island, it has several breathtaking summits and valleys to explore on foot. The island is well known for its distinct flora and fauna. It's flora is composed of 700 species of indigenous plants.
---
Ce qu'il faut apporter/porter
Trainers or hiking shoes
Mosquito repellent
Camera - to capture those memories.
Hat
Water Bottle
Sunscreen
Backpack
---
| Pieter Both Mountain Hiking Adventure | |
| --- | --- |
| Pieter Both Hike (4hrs) | 79 Euros |
---
Options disponibles: