Villa Crecerelle - Casita Bay - Pereybere Mauritius
Villa Crecerelle Grand Bay
Address:
Coastal Road, Pereybere, Mauritius
Reservation:
(230) 269 0333
Email:
Click here for Email
Note:
Special Discounted rates when booking via Mauritius Attractions
Content is not available in French for the moment.
Villa Crecerelle – Pereyere Mauritius
Villa Crecerelle is a beautiful 4 bedroom beachfront villa ideally situated between Grand Bay and Pereybere along Casita Bay.
The Crecerelle Villa is spacious and can easily accommodate 6 adults and 2 children in its 4 bedrooms.
Villa Crecerelle offers amazing value for money and is a true gem.
About Villa Crecerelle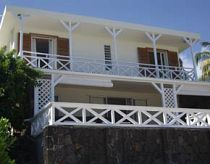 This beautiful beachfront villa, within a family complex, is unique for its location .
The villa is overlooking Casita Bay, one of the most beautiful beaches of the northern region with a magnificent swimming.
A real postcard view from its terrace… white sandy beach and tropical turquoise sea.
Ideal for swimming, snorkelling and enjoying life on the beach!
The rate includes the service of a maid every day from 09h00 to 13h00 except on Sundays and public holidays. There will be a supplement of Rs 100 per extra hour for cooking and baby-sitting.
The villa is very well situated; close to Pereybere village (5 minutes walk) with all facilities nearby (supermarket, bank, and restaurants) and 5 mns drive to Grand Bay village.
Villa Location
1hr 15 drive to the airport, depending on traffic and peak-hour
30 minutes drive to the capital city, Port Louis
5 minutes drive to Grand Bay village (Supermarkets, Bars, Casino, Night Clubs & Restaurants)
5 minutes walk to Pereybere village
1 minute walk to a Spa
2 minutes walk to Bus Stop
5 minutes walk to a bank ATM
5 minutes walk to restaurants
10 minutes walk to a supermarket
Villa Facilities
Ground Floor
Dining and living room
A veranda overlooking the sea
A fully equipped kitchen (fridge, oven, gas stove, microwave, dishwasher, tableware, cutlery and glasses)
A double room with en suite bathroom (shower & toilets) with sea view
A laundry (washing machine, ironing board and iron)
First Floor
1 double room with sea view and en suite bathroom (shower and toilets)
1 twin room
1 room with 2 child beds
1 independent bathroom (shower)
1 WC

Equipment & extras
Each room is equipped with air-conditioning and large cupboards (+ceiling fans in 3 rooms)
Linen, towels, beach towels
Telephone
Internet access
Television
Satellite channels (TNT)
DVD player
Safe
Generator
Prices & Booking details
Price: the villa is offered as from 200 Euro / night
Occupancy: 4 rooms, maximum occupancy 6 adults and 2 children