Journée Exclusive - Nager avec les dauphins, Déjeuner et Quad
| | |
| --- | --- |
| Lieu: | du Sud |
| L'âge minimum: | 5 |
| Jours Opérant | Tous les jours |
| Durée | 10 h 30 mins |
| Heure de L'Activité | 07:30 - 18:00 |
| Transports | Inclus dans le prix |
| Commentaire | Ceci est un forfait exclusif et privé pouvant accueillir jusqu'à 6 personnes. Les enfants doivent être accompagnés de leurs parents. |
Jours Opérant
Tous les jours
Heure de L'Activité
07:30 - 18:00
Transports
Inclus dans le prix
Commentaire
Ceci est un forfait exclusif et privé pouvant accueillir jusqu'à 6 personnes. Les enfants doivent être accompagnés de leurs parents.
Exclusive Day Package - Swimming with Dolphins, Lunch & Quad - Overview
Discover the south of Mauritius in an exciting way with this package. Nature lovers, this is your chance to spend a full day (over 10 hours) witnessing mother nature's creation from up close.
Begin the day with one of the most unique experiences by swimming with dolphins in the open sea. You will then head back to land and spend some time at Le Chamarel Restaurant, a fabulous spot amidst nature where a delicious 3-Course Creole lunch awaits. Ultimately, ride off in the wild south on your quad bike and discover the best natural sites.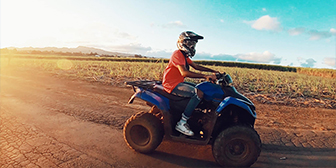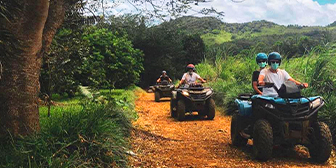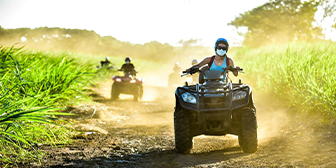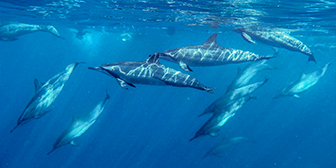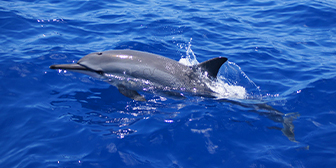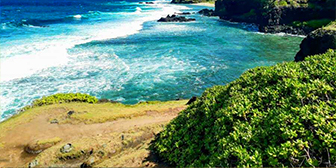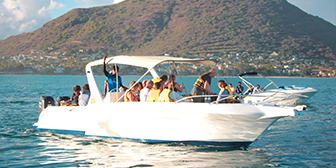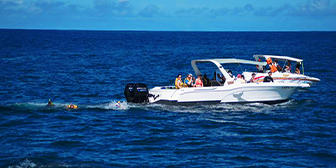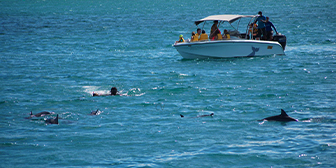 As part of this amazing Exclusive & Private Day Package you will enjoy:
Over 10 hours of fun in the South of Mauritius
A memorable swim with dolphins
A thrilling speedboat ride
A nature retreat with delicious Creole lunch
A 2-hour quad drive to beautiful surrounding key sites like the waterfalls
Opportunity to spot some rare native birds like the Mauritius Black Bulbul & Pink Pigeon
---
The day package includes:
10+ hours of Exclusive fun at sea and on land
2.5 hours Private speedboat trip
Swim with Dolphins
Snorkelling break
3-course Lunch at Le Chamarel Restaurant
2-hour Quad drive in the South
Explore the Bel Ombre Nature Resevre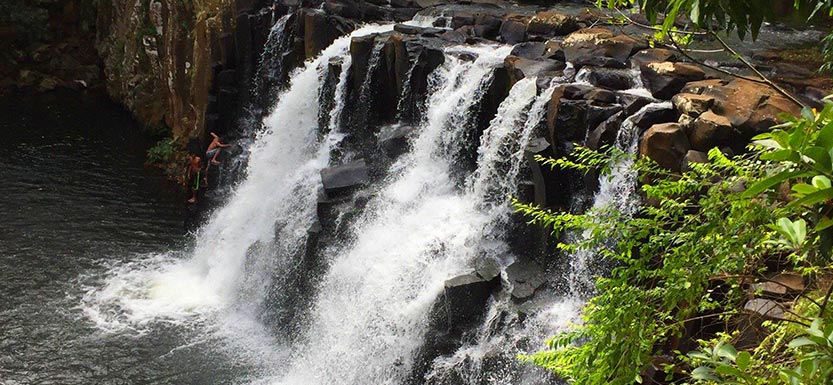 ---
Détails sur le Transport & le Chauffeur
The Transportation prices are per vehicle (and not per person). You can choose the vehicle type according to the number of passengers in your group.
Capacités des voitures
Vous pouvez choisir parmi une sélection de types de véhicules:
Private Daily Tour in a family Car (for up to 4 people)
Private Daily Tour in a 6 Seater vehicle (for up to 6 people)
Private Daily Tour in a Minivan (up to 12 people)
À propos des conducteurs
All drivers speak fluent English and French (Upon special request we can organize drivers who speak additional languages). The drivers, citizens of Mauritius, will be happy to provide you with information about Mauritius and each of its sights.
All drivers are very professional, time efficient and friendly. There is high emphasis on being always on time and providing reliable devoted service to customers.
---
Point de Rencontre & Horaires
Your Hotel / Place of accommodation anywhere in Mauritius
Heures de début et de fin:
| | |
| --- | --- |
| Duration: | Around 10 hrs and 30 mins |
| | This private tour is offered every day |
| Departure Time: | 07:30 from your hotel / place of accommodation |
| Return Time: | 18:00 back to your hotel / place of accommodation |
| | This is an exclusive-private day package suitable for up to 6 people. Children must be accompanied by parents. |
---
Private 2.5 hours of Swimming with Dolphins
Road trip along the Southwest Coast
Lunch at Le Chamarel Restaurant
2-hour Single or Double Quad in the South
Return back to your hotel / place of accommodation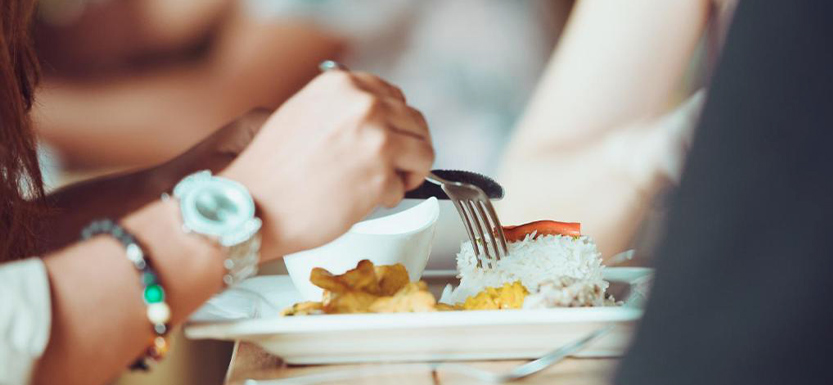 ---
Exclusive Day Package - Swimming with Dolphins, Lunch & Quad
A moment to bond
Experiences like swimming with dolphins are probably the ones which mark us forever. The best way to make it more memorable is by sharing it with people who matter to us. Live this unforgettable moment together and feel this mutual happiness and sense of peace this trip will provide you with. This package will allow you to make memories along with your own people, discovering beautiful sites and sharing the fun together. This trip is just for you and your loved ones!
Swim with the dolphins and snorkel
The west coast is particularly renowned for whales and dolphin watching. As part of this package you will do more than just watch them, you will get to swim amongst the friendly dolphins. Swimming with dolphins is an incredibly moving experience which will bring you into contact with strikingly beautiful scenery, unspoiled landscapes and wonderful animals. Plunge into the remarkable world of these marine mammals and come face to face with the dolphins.
Unlike many other dolphin facilities that limit a swim with dolphins to pools or shallow water encounters, you will have the unique opportunity to enter the dolphins' natural environment and enjoy an encounter with the dolphins in the open sea for 2.5 hours! You will get to snorkel near the reefs as well where the wonderful underwater life can be witnessed. Colourful fishes, beautiful anemones and corals and if you are lucky you might even spot a turtle!
Marvel at the beauty of the Southwest coast
Discover the beautiful southern and western coasts of the island through this delightful trip. The South of Mauritius is known for its picturesque, uncrowded beaches and preserved environment.
While heading south, you will come across Le Morne Brabant, a UNESCO World Heritage site with a summit of 500 meters and known to be an escape haven for runaway slaves in the 19th century. The mountain is also the natural habitat of a very large variety of endemic species, such as the rare Trochetia Boutoniana, which is the floral emblem of Mauritius.
You will also go to the Macondé Viewpoint, located between Le Morne and Baie du Cap. Set on the curve of the coastal road, the peak of the small rocky cliff allows you to enjoy breathtaking views of the Indian Ocean and the majestic Le Morne mountain.
Your Mauritian Lunch at Le Chamarel Restaurant
Next stop is Le Chamarel Restaurant, where the only thing as delightful as the food is the unique bird's-eye view over a mountainous landscape and across to the captivating coastline fringed by the clear blue waters of the Indian Ocean and the horizon.
Food is the best excuse to share with guests the knowledge and history of the Creole gastronomic heritage as well as the thrill of mystery and discovery while connecting with our culture and music.
Prepare to immerse in a distinctive Creole culinary journey with soulful, authentic local cooking, a peaceful bucolic ambiance and superb service at 260m above sea level!
2-hour Eco Quad in the South
For those who would like to show off their off-road skills, this 2-hour quad biking trip is just the thing. Specially designed for adrenaline junkies, the 2-hour quad ride allows you to discover the South of the island in a fun way. During the quad biking activity, you will be able to witness the beautiful flora and fauna of Mauritius while also riding along splendid landscapes, including extraordinary views of the island and its marvellous valleys, mountains and waterfalls.
The Exclusive Quad Ride guarantees you personal guidance from the accompanying guide! Departing from the Bel Ombre Nature Reserve, the 2-hour ride will help you explore the most exotic and scenic sites of the south, like the volcanic cliffs of Gris-Gris, La Roche qui Pleure, Rochester Falls and others. The breathtaking scenery, cascading waterfalls, pools of clear water, and luxuriant greeneries surrounding the region, make them wonderful sites for you to explore.
---
Ce qu'il faut apporter/porter
Sunglasses

Sun cream

Towel

Swimming suit

Spare set of clothes

Mosquito repellent.

Snorkelling equipment

What to wear: It is recommended for participants to wear sports shoes with socks, trousers, t-shirt, sweatshirt, hat or cap.
---
Le Chamarel Restaurant - Food & Beverages
The 3-course menu is as below:
---
Transportation
The Transportation prices are per vehicle (and not per person). You can choose the vehicle type according to the number of passengers in your group.
| | |
| --- | --- |
| Private Daily Tour in a family Car (for up to 4 people): | 95 Euros |
| Private Daily Tour in a 6 Seater vehicle (for up to 6 people): | 105 Euros |
| Private Daily Tour in a Minivan (up to 12 people): | 125 Euros |
| Exclusive Day Package - Swimming with Dolphins, Lunch & Quad | |
| --- | --- |
| Price for 2 Participants | 585 Euros |
| Addtional Participants | 150 Euros / Pax |
---
Options disponibles: